Coveo Wins Salesforce AppJam Contest
March Madness is in full swing and enthusiasm is high around the the globe. But the energy at the March London Admin User Group was unrivaled. The event brings Salesforce admins based in London and the UK together for a tournament of its own. Unlike basketball, there was only one rule, ISV superstars had three minutes to pitch to The Admins of London and showcase new features and products within the Salesforce ecosystem in their App Jam. Coveo shared the stage with our friends, Ebsta, Skuid and DataDwell who all shared some exciting developments that are sure to simplify the lives of their users.
The audience voted and with the loudest cheer, Wim Nijmeijer, was deemed the winner and won a fabulous Salesforce lunchbox! A Senior Systems Engineer here at Coveo, Wim proudly pitched a three-minute Guide to a Single Relevant Personalized Result List from Content All Over the Place. Wim encouraged the audience to put themselves in the shoes of a brand new Coveo for Salesforce customer trying to integrate the solution into Salesforce Lightning.
What might a customer have to do to find answers to their integration questions? You might think they'd go to Chatter and look for integration information there. Then they might hop over to Sharepoint and search for more relevant tools there. Eventually they may end up on YouTube to watch an explainer video and might finally end up on Coveo.com for more answers. Do we really expect customers to go through all that trouble? No way.
Coveo builds unified indexes, for all content repositories, to create one simple and relevant search experience. Want to add a content source that's not in our index? No problem. Add your custom content sources with ease. Second, drag Coveo's lightning component into your community builder and you are ready to go. Our machine learning and reporting analytics continually improve the relevance of search results and evolve the experience over time. Companies like Salesforce, and Logitech are using these insights to improve their case deflection and customer self-service.
To listen to Wim's pitch, watch our video.
Congratulations to Andres Hermosa from NBC Universal for winning the GoPro at our business card draw and big thanks to the London Salesforce Admins community for having us. Until next time!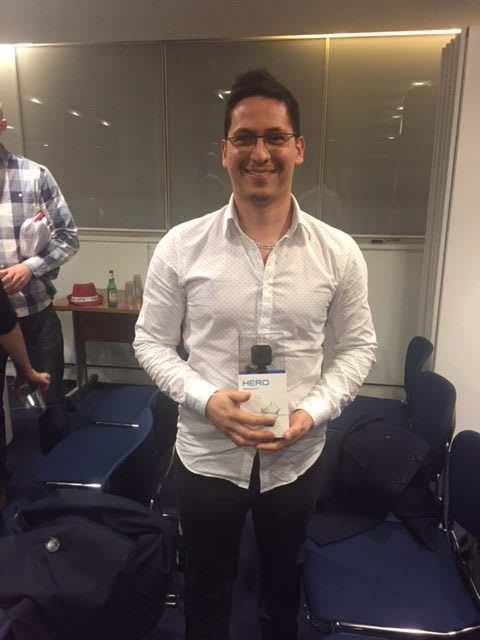 Want to give Coveo for Salesforce a try? Find us on App Exchange.