We're delighted to welcome the publication of The Forrester Wave™: Cognitive Search Q3 2021, which names Coveo as a Leader. The report evaluated 13 vendors on 26 criteria, grouped by Current Offering, Strategy and Market Presence. Coveo received the highest score in the Current Offering category. Coveo also scored among the highest scores in the Data criterion, and received the highest scores possible in the Development, Operations, Performance, Enablement and Market Awareness criteria.
Forrester's April 2021 "Now Tech: Cognitive Search, Q2 2021, report states: "Today's search engine technology has quickly evolved to become AI-powered." Taking advantage of the power of AI to deliver the most relevant results to a user, whether they are searching for something on a web site, an intranet, or within an application.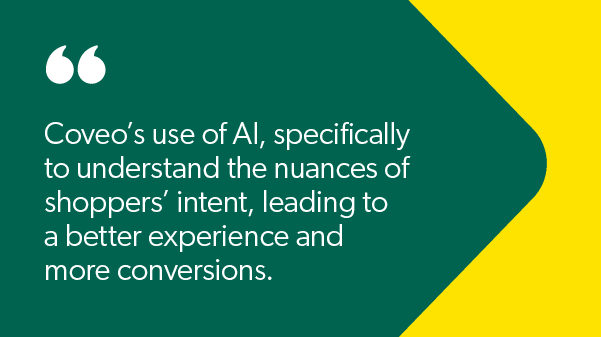 But AI depends on data – the more the merrier. So one key element of a cognitive search engine is its ability to connect to a wide variety of data sources – both structured and unstructured – and be able to make sense of them. Since way back in 2005, Coveo has been connecting to disparate enterprise data sources, building a unified index for each of our customers of their content, and delivering the most relevant results to their respective employees, partners, and customers in turn.
Along the way, we have built a platform that has enabled us to capture interaction data – signals, if you like, of what content people interact with, what they value, what they ignore – and use that data to proactively recommend additional information people are likely to need and to find useful.
In our view, cognitive search is about providing people with the most relevant information that they are looking for, and recommending what they're highly likely to find useful, too, that they weren't directly looking for, but we can predict they will find helpful as well. This in essence is tailoring each experience to each person, so that they can get done what they intended: whether that was to find an answer to how to fix something themselves; select the most suitable product for their needs, or solve a problem at work.
"We are honored to be recognized as a leader in The Forrester Wave™: Cognitive Search, Q3 2021," said Louis Têtu, Chairman and CEO at Coveo.  "We believe our position in this report reflects our innovation and the success we've had collaborating with our customers globally, many of which are leading brands. They rely on the Coveo Relevance Cloud™ AI platform as the intelligence behind the digital journeys of their customers, partners and employees."
Cognitive search is central to the mission here at Coveo. It is the starting point for almost all the enterprise customer relationships we have built up over the years: helping enterprises "fix their search", By providing a single platform that unifies content across the enterprise to serve a variety of users, internal and external, for search, recommendation and personalization, Coveo is helping our customers get ahead. We'd love to talk to you about it.
In the meantime, please do download the Forrester Wave: Cognitive Search Q3 2021 – and we can get in touch.