The sun, the water, the theme parks… Wait, that wasn't the biggest draw to be in Orlando in May. The biggest party was happening at the Marriott World Center, where the Technology and Services Industry Association (TSIA) held the 2023 iteration of their annual Interact event. 
The theme this year: The Path to Profitable XaaS. It was great seeing many old and new faces, as well as getting to connect with colleagues from across the industry. 
With three full days of events, it was hard to pinpoint just a few takeaways. But this post aims to provide just a bite-sized version of what TSIA can offer. 
1. Get out of the comfort zone
As much as we wish we could, we can't cut our way to success. This was the crux of the introduction given by J.B. Wood, TSIA President and CEO just before Executive Director and Executive VP Thomas Lah's keynote. Wood presented a compass as a visualization of the four priority directions that tech industry leaders could go in. 
In the past, tech companies have been comfortable driving revenue growth and building product functionality — and these areas worked. Up until now.
Winds of change are coming. A shifting economy and commoditization of features is creating strong headwinds pushing the tech industry into areas where they're less comfortable — cost containment and curating great customer experiences. But this is also where artificial intelligence (AI) can help. 
AI can help businesses understand their cost structure, identifying areas to maximize investments. Some areas already yielding results are data-driven sales and digital customer success. 
These winds aren't something that will pass — in fact, they're going to get stronger with time. Future focus will be on efficiency and providing an excellent end-to-end customer experience. 
2. Monetize services
Born-in-cloud companies traditionally bundled areas like tech support, customer success, and education into a subscription. But to find a path to profitability means monetizing service. 
As the data is starting to surface and companies are starting to diversify their business models, TSIA is starting to see in their benchmark that companies who are diversifying these different offers are more profitable.
And TSIA notes interesting benefits around those companies' ability to drive expansion, improve CSAT, NPS, and similar value metrics. The main factor is, if you're, say, monetizing customer success, you're not only driving margins for the company but you also have a greater amount of money to reinvest in your success function, building better tools, building better adoption plays — all of which the customer benefits from. It's cyclical.
But if you're not doing it and treating everyone as a cost center, you don't have the same investments as if you were a P&L organization and really monetizing these services. 
This is an area where Coveo is well positioned to help. One real-world example is Informatica, who leveraged Coveo to extend the value of their existing content. They accomplished this through embedding AI-powered recommendations in their customers' micro-learning paths to surface additional value-add content and courses — resulting in a $1M pipeline in the first year.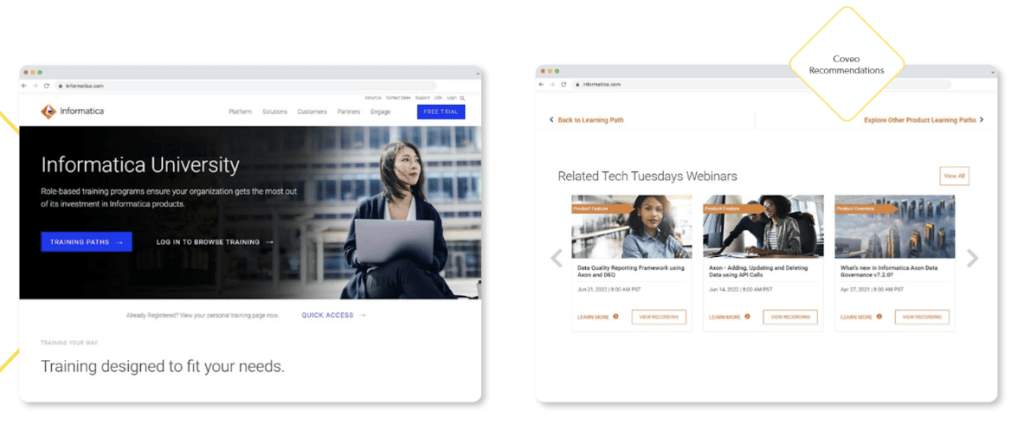 Companies need to carefully think about which billable services they can put forward, based on the needs of their customers. Coveo can help.
3. Addressing the culture problem
So if all of this great technology already exists, why haven't companies adopted it?
Well, according to John Ragsdale, it's not a tech problem — it's a culture problem. Companies are still operating from data silos peppered throughout their organizations, finding their way forward with a myopic view of the customer journey. 
What stands in the way of stitching together these disparate segments isn't a vehicle, but agreement and collaboration toward a common solution. After all, look at all the hype and excitement around generative AI — there are and will continue to be improvements when it comes to technology. 
Companies that do overcome the culture issue will craft views of their customer journeys that provide insights for data-driven sales, renewals, expansion opportunities, and much more. 
This calls for a larger shift away from tribal associations within a company and creating a 360-degree view not just of an enterprise's customer, but of the organization internally. 
4. Importance of the digital customer experience
If it was already hard to hear about changing cultural norms to adopt new technologies in the last learning, this one won't be much easier to stomach. 
One thing that's certain about life is change — and companies that don't have the flexibility to transform when needed are often trapped in what TSIA calls 'the service chasm.' This is a lag in understanding that companies no longer compete solely on product, but also on the perceived value of their customer service and experience.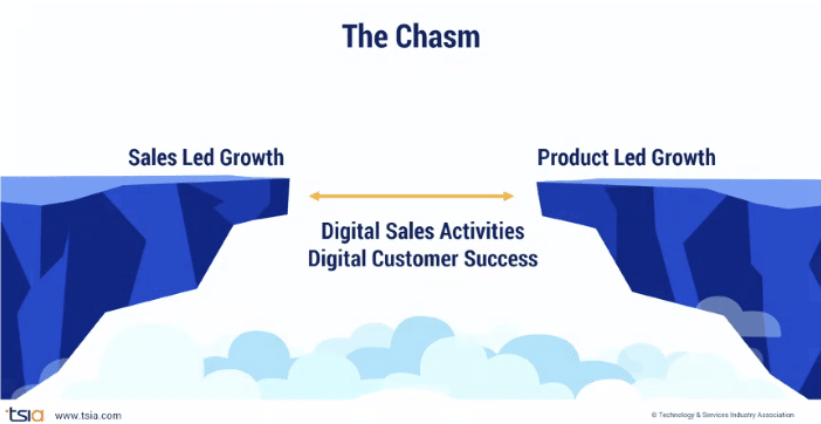 To bridge this gap, companies can evaluate activities that could be digitized — for example demos, trials, etc. And in addition, those assets should be embedded into the customer experience to provide proactive information before the customer even asks. 
When you know what leads to great adoption, investigate how that can be digitized. If customers are looking to achieve a particular outcome, and you understand what it takes to achieve that outcome in your platform, how can it be digitized? This can help alleviate adding headcount to solve a problem, and instead leverage digital capabilities to drive growth and expansion in your install base. 
Considering a platform that can index playbooks, understand behavioral data, offers natural language processing, and much more can make identifying these areas much easier. 
5. Generative AI will be a game changer
Surprising no one, generative AI was everywhere at TSIA. Everyone had a hot take — but embedding this technology won't be as easy as people think. There's a lot of privacy legislation that needs to be considered. But once everyone has figured these out, there will be some amazing offers that will come out of this. Everyone agrees that this will transform how we work. 
Just one example of this is Maria Chapman, Distinguished VP of the Education Services Research, cited about a platform called LearnExperts. You can feed the platform any type of content and within five minutes, you have a course that's up and running with great learnings, great objectives, and an assessment at the end. All of that is created with generative AI.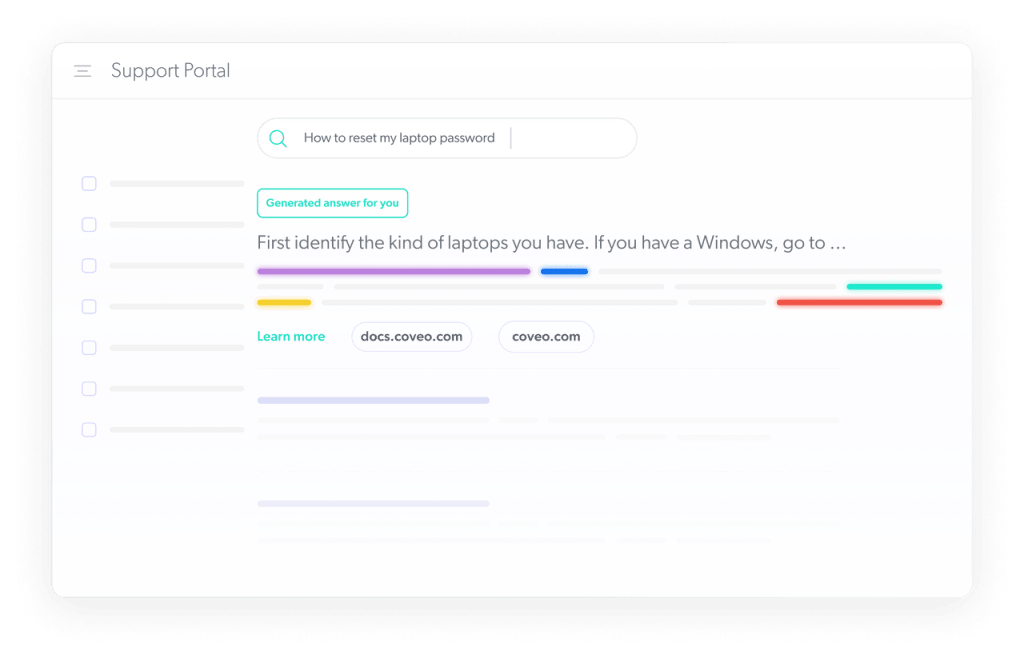 She said typically that one hour of learning has 40 hours of development behind it, so there's been a huge efficiency gain in creating and improving content. Leveraging tools like generative AI to better understand your customers can help you tailor messaging to specific markets, and drive greater efficiencies to specific markets and verticals. 
But the privacy issue remains a big obstacle, which reassures me that Coveo's choice in implementing generative AI in our platform is the right one. We're leveraging enterprise content, security, and managing all of that with the capabilities we already have. 
---
If you didn't have a chance to attend Interact in person, I hope this brief write up gave you a glimpse at the value this annual TSIA event can offer your organization. 
Will we see you at Envision in the fall?
Dig Deeper
Check out the full presentations from TSIA Interact on their website: