With +68M in the U.S. and 10M in the UK, Generation Z has had a significant impact on retailers' revenues. They will become even more critical to retail growth as they mature in the workforce and form families.
As of 2023, only half of Generation Zers have reached adulthood, and the youngest won't reach age 18 until 2030. This makes understanding their preferences, habits, and mindsets absolutely critical for retailers' future success. Knowing this helps you chart a plan to address them.
From Binky to iPad …
Coveo conducts an annual survey of 4,000 adults (aged 18+), evenly split between participants in the U.S. and UK. Because only adults were surveyed, Gen Z respondents to this study were born between 1995 and 2005. In our 2023 Ecommerce Relevance Report , Gen Z customers pulled away from the other cohorts. We believe they're creating a new pattern of likes and dislikes.
While Gen Y, or millennials, have been called the first digital generation, their experience was not nearly as immersive as Gen Zer's. True, millennials were able to access the internet from a young age, but they aren't true digital natives. Gen Z users came of age when mobile internet, wi-fi, and social media allowed an unprecedented integration of the web with daily life.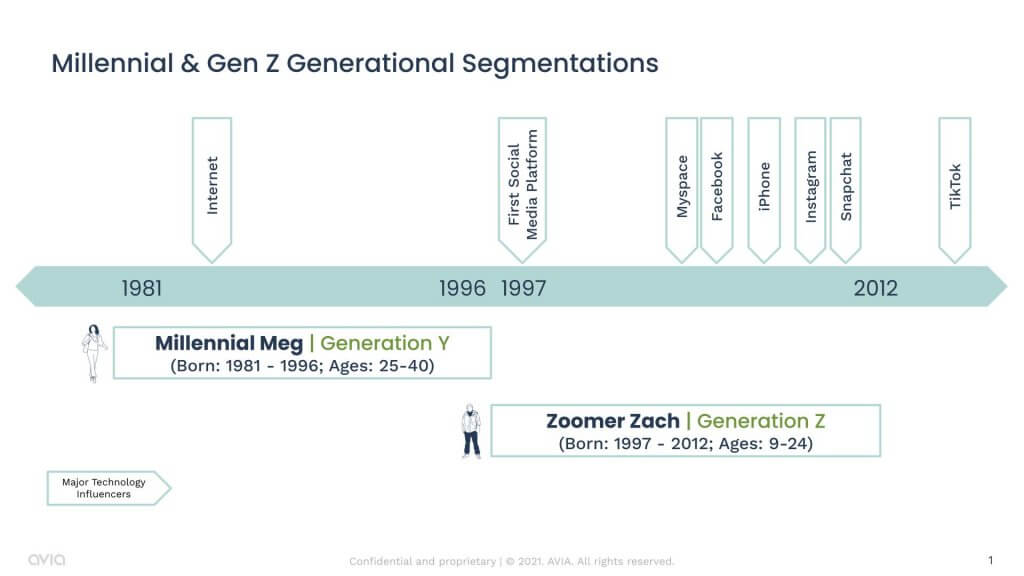 For instance, Apple's iPhone debuted in 2007 and the iPad in 2010. The Siri voice-activated digital assistant was integrated into iPhones starting with the 4S in 2011, making it even easier for youngsters to interact with the web. That was followed in 2015 with Amazon's first Echo smart speaker, better known as Alexa. Kids in connected homes no longer needed to pick up a mobile phone to get internet access.
Facebook was rolled out to the general public in 2006, before the oldest Gen Zs turned 10, transforming how people communicated, consumed information, and socialized in real life. While watching their lives unfold on their parents' social media feeds, Gen Zs too adopted social media direct messages in addition to, or instead of, getting together in-person. All of this has led to a marked difference in Gen Z shopping habits.
… to Extreme Customer Experience Expectations
Younger consumers part of the Gen Z demographic accept that anyone can develop a social media platform following. And, if they are creative and lucky, they might become an online "influencer," a now-popular aspiration that never existed before.
Case in point is young Gen Z Ryan Kaji (officially Guan), born October 6, 2011, who became a YouTube star at age three and one-half. Thanks to his parents, he's quickly become a multimillionaire. According to Forbes , Kaji makes about $27 million per year from advertising, a proprietary line of toys, books, and other merchandise. His net worth is estimated at $100 million.
Considering their upbringing, it should come as no surprise that Gen Zs have higher expectations of general business websites and ecommerce than any previous generation. And, they have little tolerance for subpar online experiences.
When interacting with businesses of all kinds online, more than half (52%) of Gen Zs experienced problems with website navigation and site search, 5 percentage points more than website users overall, according to Coveo's research.
More than one-third (34%) of Gen Zs found website navigation to be too complex at business websites, in comparison to 32% of total respondents. While 30% of respondents overall received irrelevant search results from businesses, the percentage rose to 34% with Gen Zs.
Gen Zs Approach Online Shopping With a Critical Eye
For Gen Zs, it's not enough for retailers' websites to be as good as their physical store. While 94% of Gen Z consumers and 93% overall expect ecommerce to be better than or equal to shopping in physical locations, 57% of Gen Zs expect online shopping to be better than in-store, as compared to 52% of adults overall.
An overwhelming majority of shoppers — 92% across all generations — say they have encountered problems when shopping online. But Gen Z has been disappointed almost universally, with 96% reporting that they've run into trouble.
When it comes to specific problems shoppers encounter, Generation Z consumers are more likely to have experienced most of them. (See chart.)
Online shoppers' most frequently reported issue is slow, poor performing websites. One-third of survey respondents are frustrated with website speed, but 36% of Gen Zs feel they've encountered sluggish sites. Since shoppers of all generations access many of the same websites, the difference is likely one of perception, with Gen Zs starting out with higher expectations than other generations.
The second most common problem is "lack of findability." In other words, the critical function of ecommerce search isn't working well. Thirty-two percent of all shoppers say it is difficult to find what they want at online stores, rising to 33% for Gen Zs. This indicates that a sizable portion of retailers don't understand that site search must do more than match the words in the search box; it must discern the intent behind those words.
Think Beyond Product Information
Gen Zs want more from ecommerce search than simply finding and buying products. To ensure that they can make the most of their purchases, Gen Z shoppers are more likely, at 56%, than adult shoppers in total, at 49%, to want to find supporting content such as manuals and instructions.
Gen Zs Will Trade Personal Information for Benefits
While 62% of shoppers are concerned about how online retailers use their personal data, only 53% of Gen Zs hold that view, the lowest percentage among all generations.
Gen Zs are more likely, at 26%, than adults overall, at 22%, to strongly agree that they're happy to share personal data if they can get better deals and offers when shopping online. And 25% of Gen Zs strongly agree that they're happy to share data online with brands they trust, as compared to 21% of adults overall.
Yet, privacy concerns affect Gen Zs' online shopping behavior more than other shoppers. While 38% of Gen Zs say they "always check out as a guest," only 32% of all shoppers do. While 45% of Gen Zs say they don't login at an ecommerce site until they are ready to check out, only 43% of all shoppers delay revealing who they are. However, Gen Zs are less likely, at 45%, than total shoppers, at 48%, to abandon a purchase when asked to create an account.
Gen Zs' ambivalence about sharing data came through in a recent Morning Consult survey, where 56% of Gen Zs aged 13 through 25 said personalized ads on social media "can sometimes invade their privacy, but it depends." Only 42% of U.S. adults held that same opinion. Instead, 28% of U.S. adults agreed that personalized advertising on social media is "always" an invasion of privacy, as compared to just 17% of Gen Zs.
Recommendations Are Key to Engaging Gen Z
Like young people throughout history, Gen Zs prioritize fashion and style. Where they're different is that they are more interested in looks that are individualized and unique rather than following the crowd with the latest trends, according to a report focused on U.S. Gen Zs by polling firm GWI. "It's important that [Gen Zs] are receiving personalized and unique recommendations when online shopping. They want products that can reflect their own unique style and individuality," the report says.
Coveo's Ecommerce Relevance Report bears this out. In the 2023 edition of the study, more than half (55%) of Gen Zs are willing to pay more to receive tailored recommendations, up from 53% in 2022. At 55%, Gen Zs are much more likely to want personalized recommendations than millennials (46%), Gen X (38%), or boomers (28%) in 2023.
Another finding that speaks to the importance of personalized recommendations is the spike in the share of Gen Zs who are "willing to pay more to discover something new" they didn't know they needed. While 54% of Gen Zs agreed with that statement in Coveo's 2022 Ecommerce Relevance Report, 57% agreed in 2023. Shoppers overall were slightly less interested in locating the latest things in 2023, slipping to 43% from 44% last year.
Impulsivity is another characteristic of the young. A recent GWI Zeitgeist study found that 41% of Gen Zs and the same percentage of millennials make an unplanned purchase online every two-to-three weeks. For boomers, only 10% make impulse purchases that frequently.
When asked what prompts their unplanned buying, 43% of Gen Zs say they want to take advantage of sales and deals, 39% want to treat or reward themselves, 37% think it's "fun to buy and discover new things," 37% respond to a quick and easy checkout process, and 36% just don't want to miss out, according to GWI.
Urgency Messaging Motivates
Retailers can help shoppers complete an online sale — rather than waffling on the decision — or prompt an unplanned purchase by adding urgency messages, such as limited-time discounts, showing the number of items left in stock, or counting down the time left for next-day delivery. Coveo's survey found that Gen Zs are just as likely as overall shoppers, at 48%, to respond to urgency messages.
However, Coveo's survey found that Gen Zs are more likely (at 51%) to make an immediate purchase based on reviews and recommendations than shoppers overall (at 47%).
Gen Zs research and buy products across multiple retail channels, with 97% of Gen Z shoppers using physical stores and 95% buying online, according to a March 2023 survey of more than 1,000 U.S. residents aged 16 to 26 for an ICSC report called "The Rise of the Gen Z Consumer." The attraction of brick-and-mortar for Gen Zs is the ability to get their purchases immediately (30%) and to see, touch, and try on items (28%).
While Gen Zs like to buy online and pick up at stores (BOPIS), 23% of Gen Zs and 22% of adults overall find that ecommerce sites don't allow them to select a relevant store or check available stock, according to Coveo's research. Thirty-eight percent of Gen Zs use physical stores to find and consider products and then buy them online, as compared to 36% of all shoppers.
Social media shopping is still at a nascent stage, but younger generations are the fastest adopters of this burgeoning channel. The biggest adopters of social commerce are millennials (51%) and Gen Zs (50%), in contrast to only 38% of shoppers overall, according to Insider Intelligence. Almost one-quarter (23%) of Gen Zs told Coveo that they consider items in physical stores and then buy them on social media. That's compared to 17% of millennials, 13% of Gen X, and just 8% of boomers.
Can Generative AI Help With Gen Zs?
Retailers looking to attract and retain this digital-savvy generation should know that artificial intelligence — particularly machine learning and deep learning — are essential. These technologies can help you understand shopper intent (even if they're anonymous), personalize at scale, and stitch customer journeys together across channels.
In ecommerce, this can look like answering high-level shopping questions. For example, answering the query: "I'm going hiking in Yosemite tomorrow – what should I pack?"
To relevantly (and consistently) answer this question, you'll need the capacity to bring all of your product data and educational content together. One way to do this is with a unified index. With this relevance layer, your enterprise knowledge is safeguarded by security layers that ensure only those who have permission to access information can do so.
This also ensures that the response your customer receives is technically correct, accurate, with source links for fact-checking. The ability to ask follow up questions to refine a query — "suggest more cost-effective products," "what is the most popular hiking shoe," "I'll need help for my disabled dog" — allows the user to mold their experience the way they want to.
Relevant AI makes your business agile enough to meet even Gen Z's high expectations.
With AI powered search, and perhaps soon, GenAI-powered search, you can find what Gen Z wants — perhaps before they do.  
Dig Deeper
Coveo's most downloaded annual ecommerce report deep dives into the minds of 4,000 UK and US shoppers to find their motivations and frustrations. The focus for this year? Customer expectations on Privacy, Personalization, and Affordability.
---