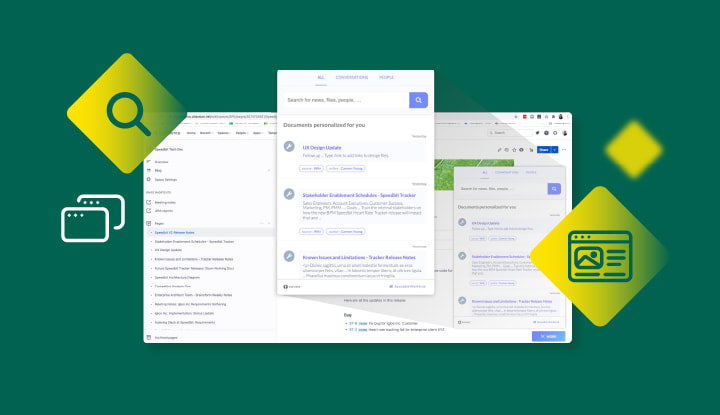 If you blinked you'd have missed it – but one of the more understated tech stories of last month was that Google Toolbar was pronounced officially dead after 21 years. To think that search has been woven into the fabric of our browsing experience for more than two decades only makes our experience at work feel even worse by comparison.
We also know that 'SaaS sprawl' is fatiguing workers, and causing many to abandon ship. So if improving your employee experience hasn't seemed urgent enough up to now, it's surely time to look at it again.
While centralizing your company knowledge and making it easily discoverable is the first step towards bringing that Google-like search experience into your digital workplace, the biggest employee experience innovators are going even further. They're augmenting the web applications employees are already using with personalized knowledge discovery via a deceptively simple seeming browser extension.
This eliminates the need to navigate away from an active project to find information, and keeps costly distractions to a minimum. With the sheer number of applications being used daily by employees in today's remote and hybrid workplaces, keeping knowledge at employees' fingertips is a powerful productivity-booster.
Let's take a look at how the Coveo Search Chrome Extension makes finding information at work as easy as Googling the answer under the table during trivia night.
The Importance of Bringing Knowledge into the Flow of Work
An employee's ability to focus is critical to their success at work.
Notifications from "always-on" SaaS applications such as Slack and email can cost us hours in lost focus every week. And that's before factoring in the time we spend searching for information — an estimated 2.5 hours every day, according to our own research.
Bringing enterprise search into the applications employees frequently use provides two main benefits:
It allows employees to maintain focus and reduce distractions. By cutting out the step of navigating away to an intranet or another knowledge base to find information, employees can maintain the flow state needed to stay productive and deliver their best work.

It allows the search engine to provide more relevant knowledge. By providing the AI-powered search algorithm with context about which application and project is currently open, it can predict what the employee needs at that moment much more effectively than an intranet or self-service portal.
Faster Access to Company Knowledge
Today's knowledge workers bounce between several web-based SaaS applications to get their jobs done. And with Google Chrome being the world's leading web browser, it's usually the gateway to these applications.
The Coveo Search Chrome Extension houses Coveo's AI-powered enterprise search and recommendations within a small, on-demand widget. When an employee needs to look up some information, they simply click the icon in the bottom right corner of their active tab to access Coveo's familiar search interface.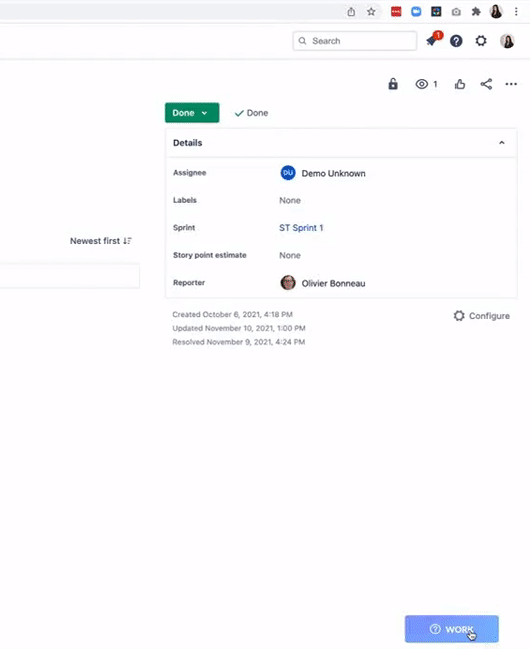 Although the Chrome extension interface is more compact than a full Coveo search, omitting facets and filters, it still returns relevant documents, people, and Slack conversations immediately. Proactive knowledge is served from that very first click, and employees can quickly search Coveo's unified index to track down specific files and documents.
This streamlines each employee's journey, making access to knowledge faster than they've ever had it before.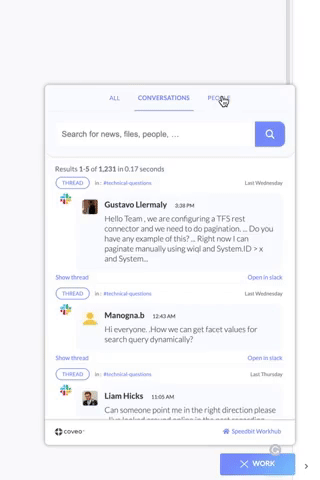 Project-based Relevance Tuning
While the Coveo Search Chrome Extension does not replace a Coveo-powered intranet search page or employee self-service portal, it does have some advantages over those deployments.
With some configuration, it can adjust the search experience to the document, task or issue that's open in the active tab, using AI. For example, if your employee is working on a project proposal in Google Drive, it can recommend Jira tasks related to that project at the top of the search results page, if it considers them to be relevant to the employee.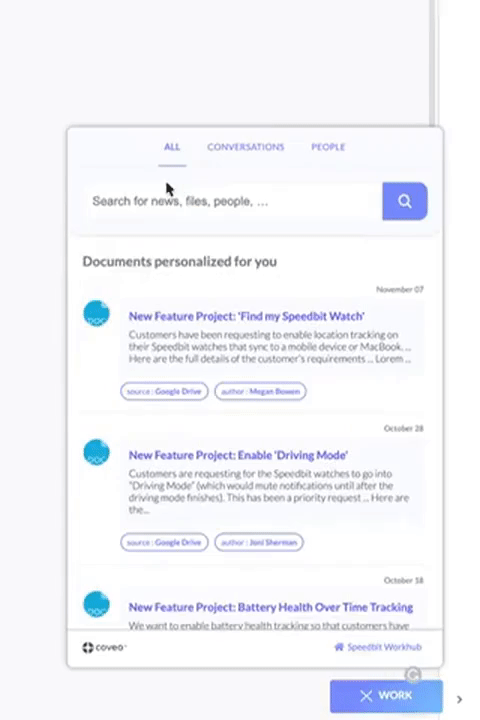 This project-based relevance tuning also influences the query suggestions that are made when the employee clicks into the search bar. It suggests project-related search terms that are likely to align with what the employee needs next to complete the task, in the interests of saving time and keeping each employee in the zone.
For enterprises that are already personalizing an employee's search experience with Coveo, the Chrome extension allows them to bring this experience to many more employee touchpoints.
Customizable for Style, as Well as Intelligence
As if having a bite-sized Coveo as your personal work assistant wasn't enough, enterprises can also customize the look and feel to reinforce their branding.
Through an easy-to-use interface in the Coveo platform, you can easily modify the styling and layout of your Coveo Search Chrome Extension. On top of that, for more advanced developers this whole customization can be done through one of our APIs.
Once the visual styling is right, you can then start customizing the intelligence to ensure that each employee gets the personalized experience they expect.
Through the Coveo platform, there are a variety of mechanisms to configure machine learning models and build extensive business rules to ensure that the content delivered is highly relevant, context aware and matches business requirements.
And rest assured, security and permissions requirements are accounted for. Each employee is logged into the Coveo platform through Single Sign-On when using the Chrome Extension, which ensures that nobody sees any documents they shouldn't be able to access.
Connecting the Dots in Your Digital Workplace
The Coveo Search Chrome Extension is a big leap forward in delivering a powerful and consistent knowledge experience across your digital workplace.
For companies already using Coveo to power intranets and self-service portals, or bring enterprise content into platforms like Salesforce and ServiceNow, the next step is to deliver this experience within the web-based applications your employees are using daily.
The Chrome extension not only makes this possible, but it also offers unique opportunities to deliver relevant experiences to your employees beyond what is achievable on a company intranet.
With Coveo as your digital workplace backbone, powering knowledge discovery at every touchpoint, your enterprise can deliver the fast, relevant and consistent experiences today's workers expect.
To find out more about the Coveo Search Chrome Extension, download our product sheet.