It's more than a search box.
For many companies, upgrading their search capabilities has transformed their digital workplace, and has affected key business outcomes, such as increased collaboration and upskilling employees.
Traditional, out-of-the-box, or federated enterprise search cannot do this; it requires a more intelligent search that uses context and machine learning to deliver the relevant content to the right person. Forrester Research has coined the term "cognitive search" to define this technology.
"While most people still think of search as a box and list of results, the underlying technology includes advanced analytics, natural language processing (nlP), and machine learning to enable organizations to see across wide arrays of enterprise data and stitch together insights hidden among them," analysts Rowan Curran and Mike Gualtieri state in the 2016 Forrester report on the technology.1
Forrester Research, Inc. recently named Coveo as a Leader in the cognitive search field, and it was top ranked for Strategy. "Search is successful when the results returned are relevant for the person querying for them. Coveo's R&D efforts have focused on using advanced analytics and machine learning to automatically learn the behaviors of individual users to return the results most relevant to them," the report states.2

Coveo CEO Louis Tetu reiterated the excitement of Coveo's position in a blog post published last week, where he also emphasized the business impact of this technology.
"The applications cognitive search capabilities have on a business's bottom line are varied and far reaching, from increased conversion rates on your online properties to increasing collaboration amongst your employees to improving the experiences your customers have online," he wrote.
The Impact of "Cognitive Search" on the Digital Workplace
Imagine you're a new employee. You have a question about protocol. You look to the intranet first, then dig through some shared folders. Documents and data are stored in multiple systems, both in the cloud and locally – making version control difficult and preventing you from easily identifying the right content. Your options are to ask another employee, risking that they may not know or have the time to answer, or you can just let the question go unanswered.
The situation above illustrates one of the most pervasive issues affecting businesses today: relevance. By forcing digital application upon digital application onto employees, organizations and IT leaders have lost sight of their end-users. Employees need relevant knowledge to perform their work – a tall order that many companies are not meeting today.
When cognitive search and powerful machine learning provide your employees with task-relevant insights, your employees are able to do more on their own, from making more informed decisions or learning more about how to perform their own job better.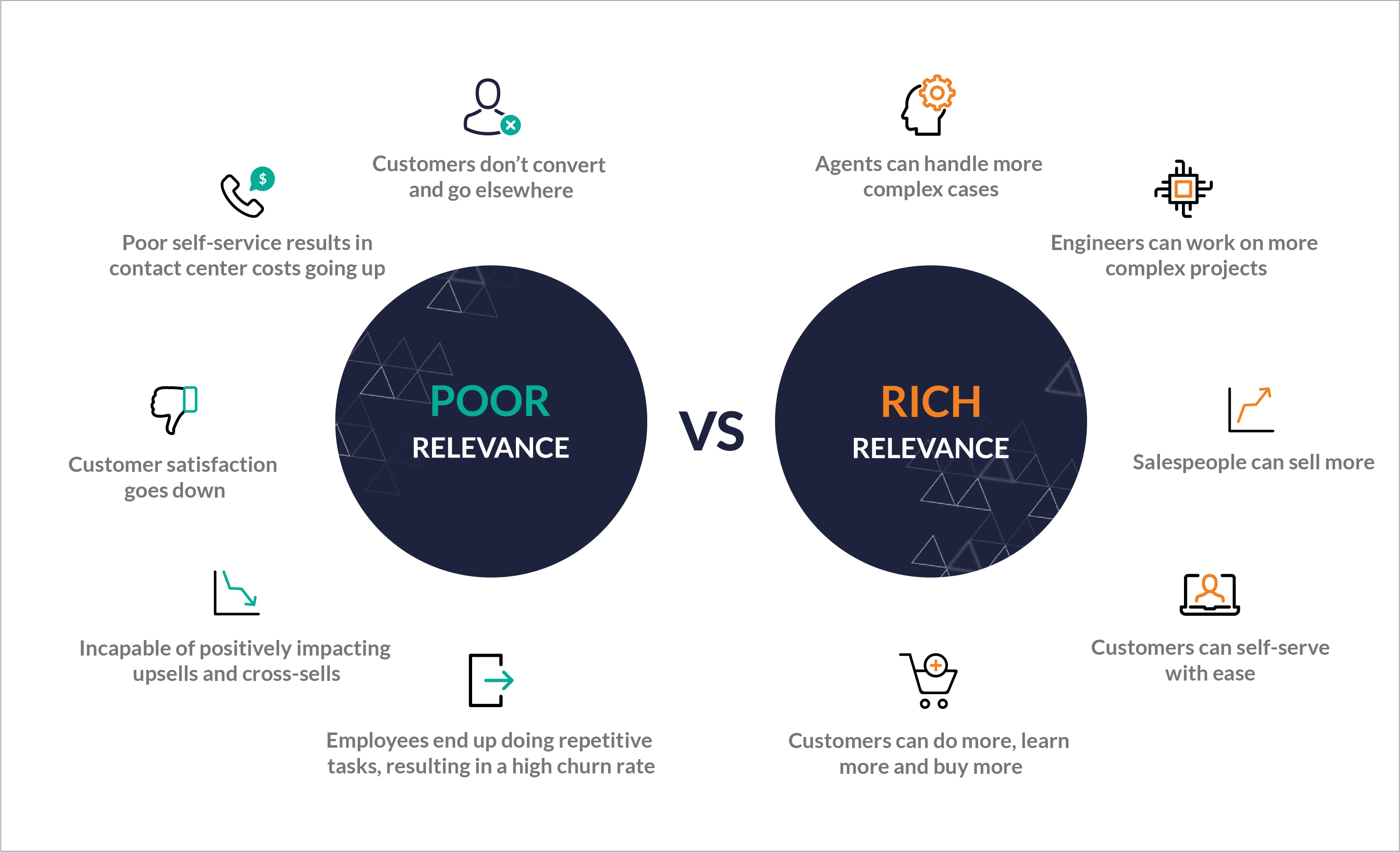 As you can see from the graphic above, the impact of relevance for the employee creates a seismic multiplier effect across the entire organization. It may be easy to discount the experience of one employee struggling to find information or use their coworkers' knowledge – but it's never just one employee.
Japan-based Tokyo Electron Limited struggled with providing their field service engineers with the skills and knowledge they needed to address customer issues and minimize costly downtime of their semiconductor equipment. After investing in AI-powered search, their business outcomes improved across the board: resolution times for worst-case issues cut by 33 percent; time to repair down by 20 percent; and first-time fix rates up by 20 percent. Customer satisfaction scores improved as their costs of equipment downtime decreased.
Cognitive search is another evolution of enterprise search – and one that is poised to make major changes for your digital workplace. To learn more about how cognitive search can transform your workplace, download Coveo's whitepaper, "From Relevance Laggard to Leader: Becoming More Relevant to Your Customers, Communities and Staff," to benchmark your organization's relevance efforts.
1. "Cognitive Search is Ready to Rev Up Your Enterprise's IQ." Forrester Research, Inc. May 2, 2016.
↩
2. "The Forrester Wave™: Cognitive Search And Knowledge Discovery Solutions, Q2 2017." Forrester Research, Inc. June 6, 2017.↩