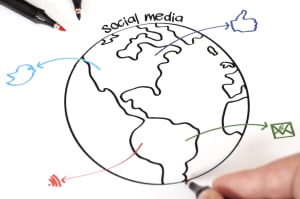 When thinking about the relationship between our organization's customer service operations and the conversations taking place about our company on social media channels, it's hard to overstate how truly connected they are. In our social-media savvy world, so many conversations about brands take place independent of the companies themselves, within channels and networks over which they have no control.  Customers are more empowered than ever to use social platforms like Twitter, Facebook, and Linkedin to voice their opinions, compare products and experiences with peers, seek help, and so on.  For many companies, these are exciting and nerve-wracking times.
Will companies ever really be able to control these conversations? Not so much.  Should companies recognize the incredible potential value of this grass roots conversation and commit resources to ensure they are proactively engaging in these conversations? Absolutely.
Can such social conversations be utilized to help optimize the company's own KM strategies and customer service? Yes!
With the right search-driven knowledge solution in place, a company can harness the valuable insights, expertise, and guidance customers and prospects share on social channels, integrate this information with the customer and product information that already resides in their enterprise IT systems (CRM, WCM, and knowledge bases, for example) and provide their service agents with a complete, contextualized, and actionable view of any particular customer, product, or case.  The type of view that increases first call resolution, reduces escalation rates, and drives agent productivity.
Take for instance a service agent for a global electronics company trying to help a customer resolve an issue of a flickering HD-TV screen. Using a search-driven knowledge solution like Coveo for Salesforce, the moment the agent opens a case within her Salesforce Service Cloud console, she will be provided with a detailed and intuitive view of helpful information – related precisely to the issue at hand – from across all of the company's various systems and social channels.  Customer and product details residing in Salesforce, and highly relevant and helpful information residing beyond Salesforce, such as:
The TV's FAQ documents, residing in the company's WCM system
An email exchange among two product managers, discussing how to resolve screen issues for this model of TV
A series of Twitter posts from various owners of the TV, suggesting that other owners keep their set away from home speakers to avoid screen flicker
This is possible because Coveo for Salesforce not only securely connects and consolidates information from across all of your enterprise systems and social channels, its advanced analytics engine maps relationships, themes, and insights from among this diverse and always-evolving data set.  It identifies subject-matter experts based upon not only their profiles, but also their contributions to highly relevant content, prior cases, and helpful correspondence – residing anywhere within the company's various systems and channels.
The end result is an agent that is empowered with a 360-degree, actionable view of the knowledge and expertise she needs to assist the customer with speed and precision. (All without ever leaving their Salesforce Service Cloud console.)  Such empowerment is the key to successful service in this new era of customer-centricity.
How do you think your company's customer service efforts could benefit if highly relevant insights about your customers and products shared in social channels were automatically made available to your agents? Let us know in the comments below.