Today's digital-first consumers—who are also patients—have increasingly higher expectations regarding their interactions with their healthcare providers' online presence. Basing their opinions on the online customer experiences they enjoy in other sectors (think: ecommerce), current and potential patients no longer settle for health website experiences that are less than stellar. And what we mean by stellar is: fast, relevant, and customized for each potential patient.
As Blake Morgan, a Customer Experience Futurist, Author and Keynote Speaker recently wrote in Forbes's online magazine:
"For decades, the healthcare industry has been full of confusion, red tape and bureaucracy. There's a reason it consistently ranks among the most hated industries by consumers—they are frustrated with having to jump through hoops and wade through confusion to get simple answers to their questions and understand their care."
Morgan indicates that customer-centric communications, through telehealth and proactive personalization, will be key for serving and treating modern-day patients.
How can a healthcare provider adapt to this need for a personalized patient experience? Traditional approaches simply cannot entirely fix the problem. Hiring more agents can be lengthy and costly. Assigning already limited resources from the front lines to address patient inquiries just puts extra strain on staff and processes.
One solution is technology, which can elevate online search experiences and enable healthcare providers to easily deliver personalized online service provision. After all, according to Econsultancy over 30% of all site visitors will perform a search at some point. The problem remains, however, that not all website search experiences are created equally and at par with patient needs. Many search experiences are complex, irrelevant and lead patients (ad nauseum) to dead ends. A spike in calls and emails then becomes inevitable. (Which leads to burned-out staff, continuing the cycle.)
Let's take a look at how some of the best healthcare websites are achieving relevant and personalized website search experiences for their site visitors—and how they can be implemented at scale with the right platform.
Tip #1: It all starts with a smart search box
When a potential patient visits a healthcare website, you have to remember that they are on a journey. Their intent is to get as much information about health topics as possible as fast as possible. A simple web design, using an eye-catching search box prominently displayed on your homepage, will guide visitors with little effort towards quick answers and optimal results.
Here's an example from Atrium Health, which makes its search box the star of the show: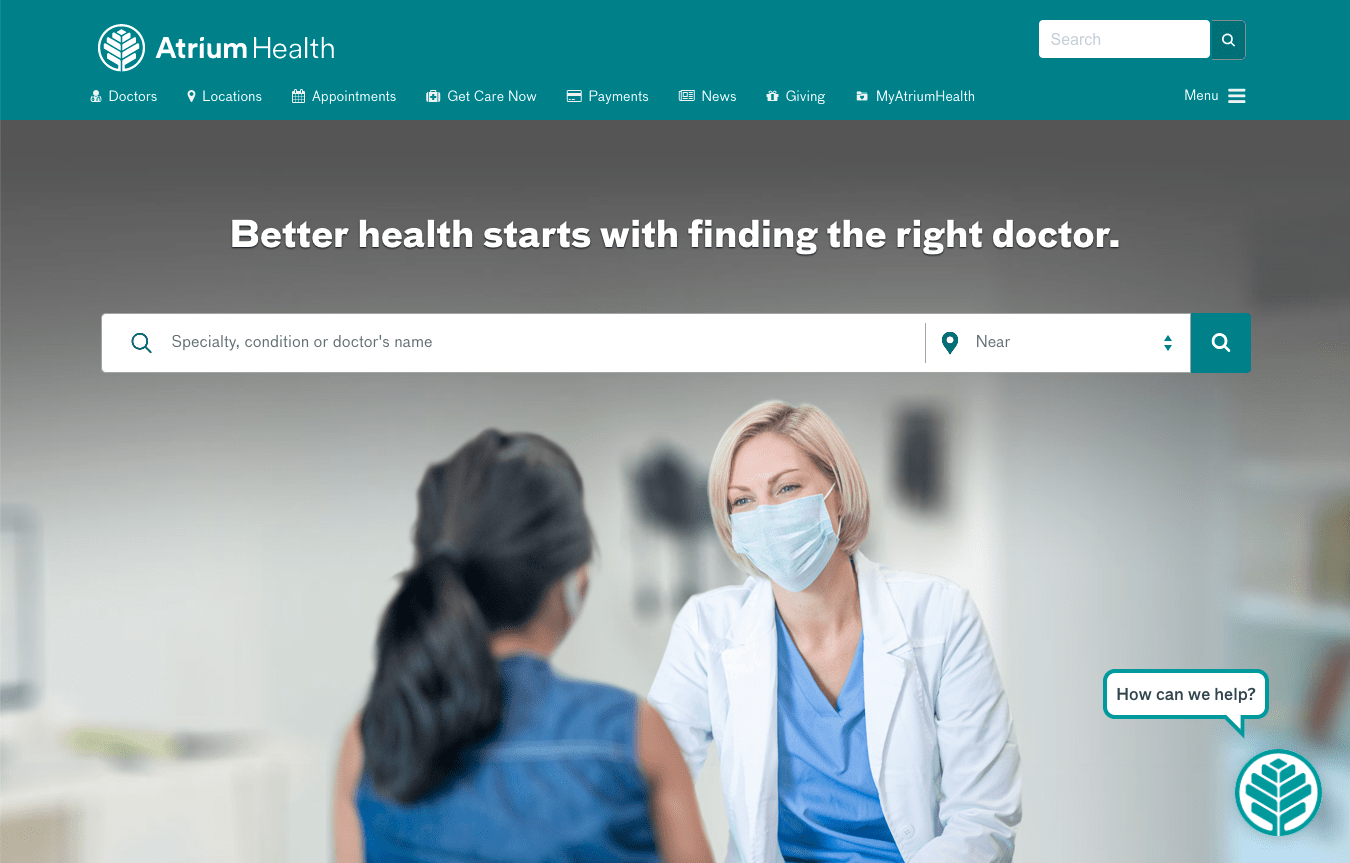 Tip #2: Make site search an integral part of your healthcare website design
Agile website search functionalities are key to helping patients navigate through webpages in more intuitive ways. This rings even more true if your site is dense in content, with multiple paths that lead to content and precise health information. Search tools should never be hidden in one specific website section or nestled on just a few pages; they should play a core role in your overall website design.
Here's how Arkansas Children's Hospital integrated search right in the website's main menu:
Tip #3: Smart suggestions for smart search results
Patients who reach out to a medical professional are often concerned with symptoms, underlying conditions, or questions that remain unanswered. That's where intelligent search comes in. Imagine being a patient typing words in a search box and having the search bar auto-complete the query based on user intent and what other patients have found useful in the past. Serving up the most relevant results in just a click or two eliminates frustration and speeds patient care.
Humana implemented AI-powered query suggestions to save its clients time and headaches: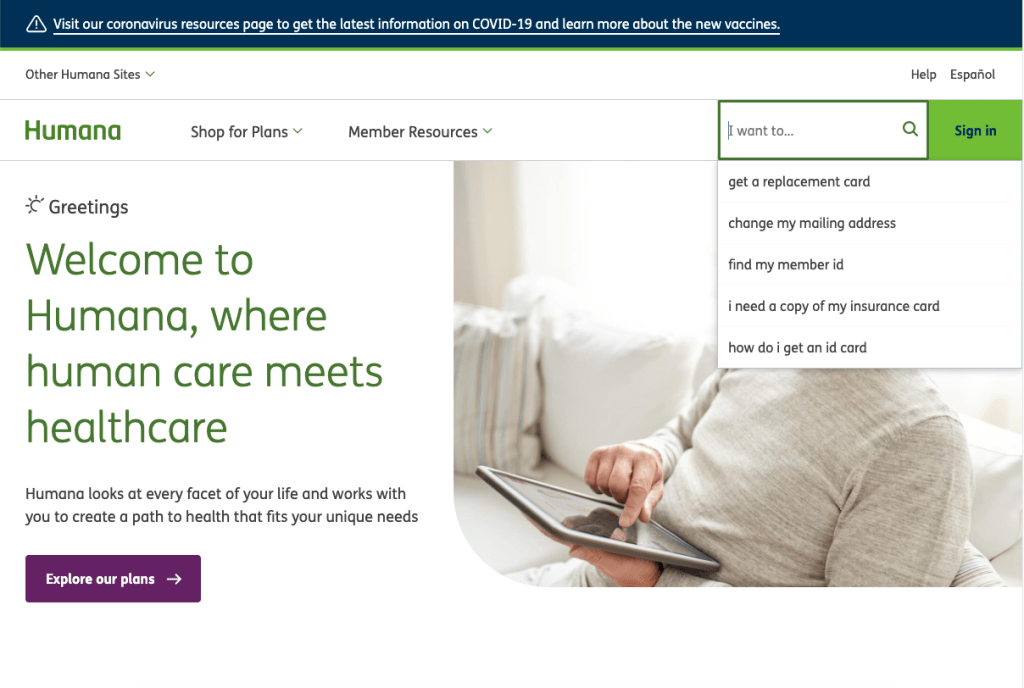 Tip #4: Speed up content discoverability through dynamic results pages
A dynamic results page features different filters users can apply. When each filter is activated, the results are only part of the page that reloads, reducing the load on your servers and shrinking the time to display the most relevant health topics. Even more importantly, dynamic results pages bring patients to the information they want, painlessly.
Yale New Haven Health's results page is an excellent example of an optimized results page: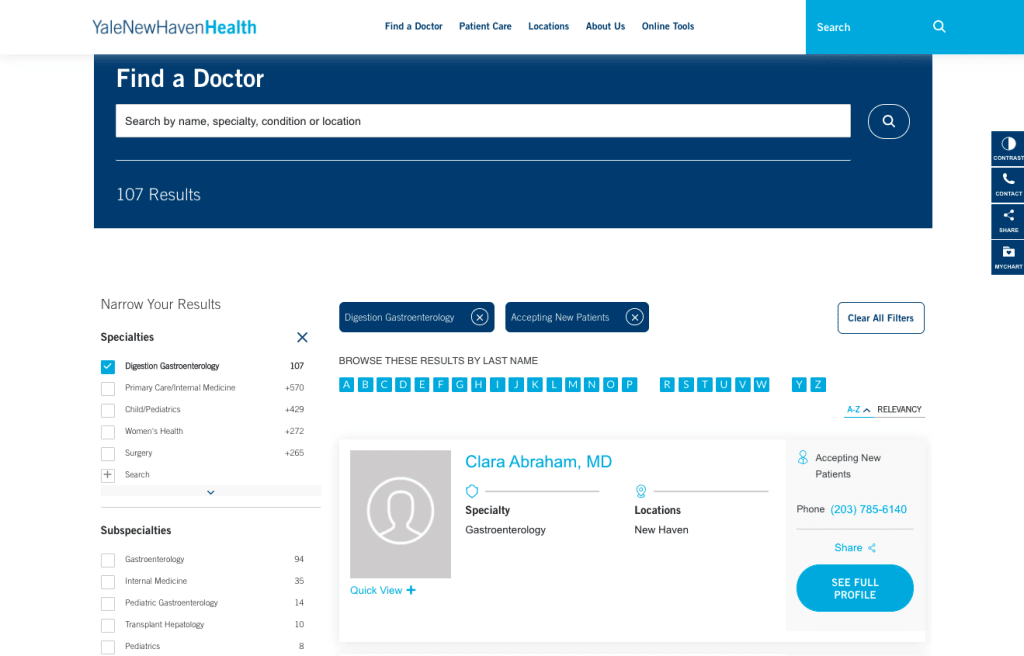 Tip #5: Don't display too much information
Nothing annoys patients—or any website user, for that matter—more than a results page with a glut of info. It's like analysis paralysis or looking for a needle in a haystack: too much information is just as bad as little-to-no information. Limiting the number of returned results, thanks to dynamic search filters and facets based on a patient's location, persona and previous searches, offers users the personalized information tailored to their unique situations. No mind-numbing scrolling or endless clicking required!
The Children's Hospital Association shows how easy it is to narrow down choices for each search: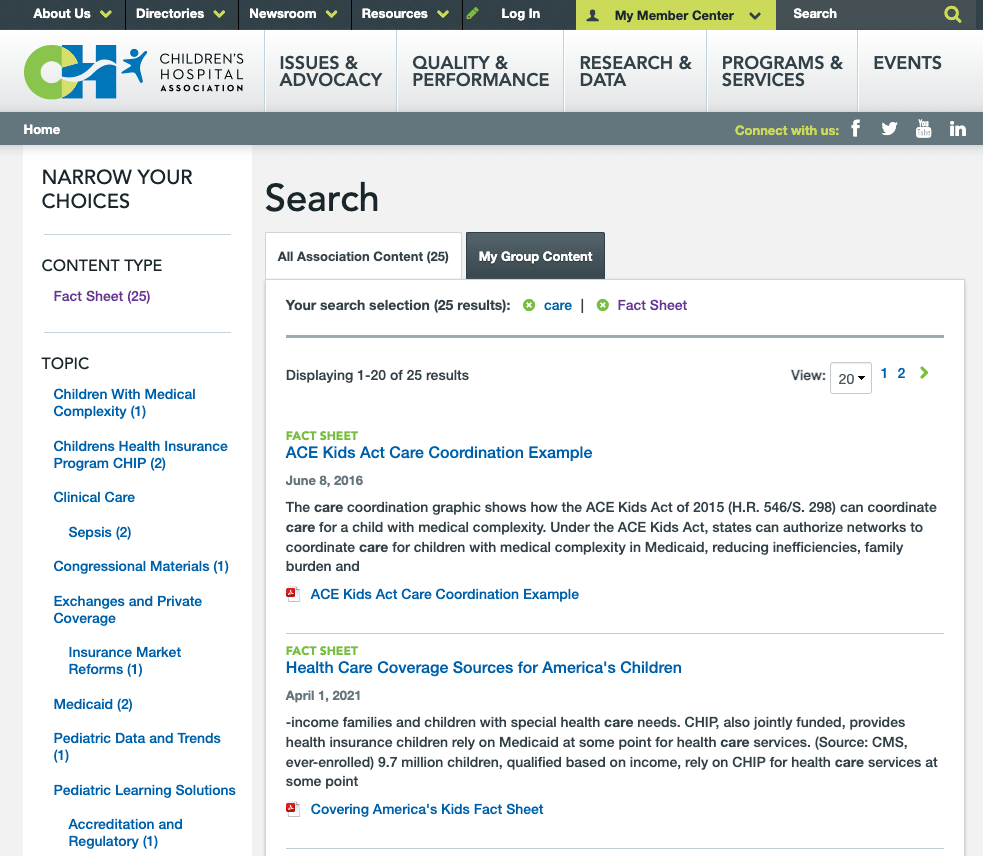 Tip #6: Healthcare searches often begin with mobile browsing
Healthcare journeys often start with a patient's mobile device. Not using responsive design in your search functionalities is a sure-fire way to send patients to another healthcare provider. Your search platform provider should automatically offer mobile-friendly search, despite the small visual real estate, and in the same intuitive manner as your desktop website.
Notice how BayCare's mobile search experience providers the most relevant results front and center: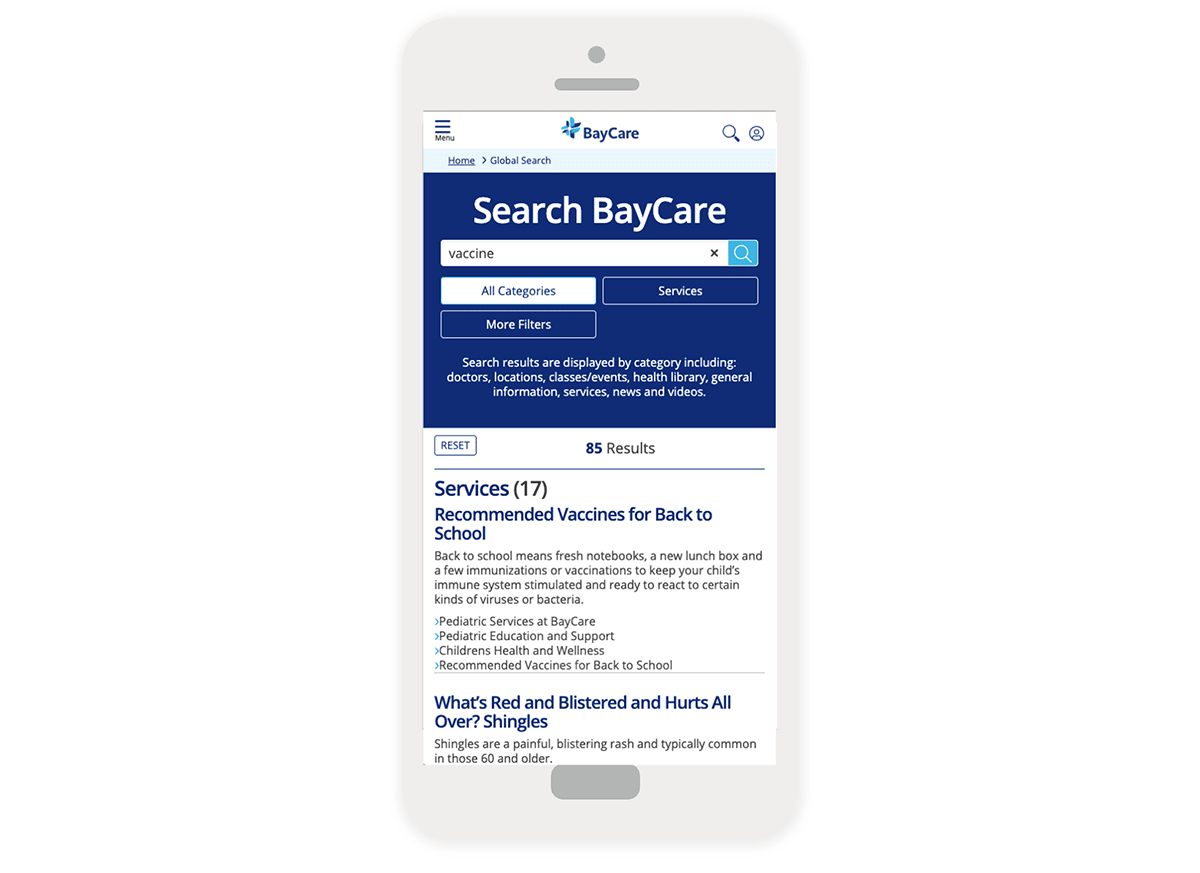 Tip #7: Site visitors are only human!
Keep in mind that patients can make mistakes when entering text in a search box or filtering information. Looking for a practitioner with an unusual name or unusual spelling is common. Some specialties can also be difficult to spell. Nevertheless, that should not prevent your search experience from being less than stellar. With an AI-powered search platform, alternate spellings for common misspellings make managing manual rules maintenance a thing of the past.
Main Line Health caught on fast to the tremendous potential of AI search to provide smart content recommendations, regardless of spelling: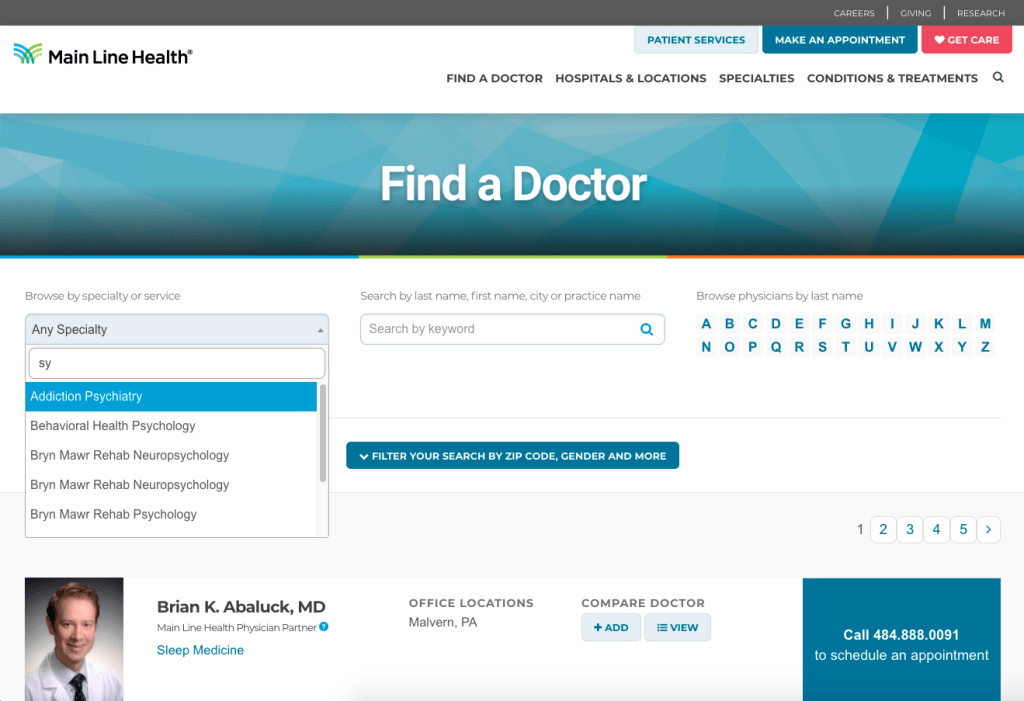 What's the common theme with all of these different examples? They not only follow best practices in website search design but also base their customer experience on a relevant search platform that leverages artificial intelligence (AI) and machine learning.
These advanced technologies, which can automate routine tasks, better understand your patients, and provide the personalization patients want. An added benefit? Your employees can spend more time offering in-depth, second-tier service for more positive outcomes.
Dig Deeper
Providing the best digital experience for all of your audiences extends well beyond your website. Check out our Blueprint to Personalizing Healthcare Member Services, which walks you through how leveraging artificial intelligence leads to efficient and effective service tailored for every member.