The thought of a 30-something Jeff Bezos hunkering down in his neighborhood Barnes and Noble (ironically) dreaming up an Ecommerce juggernaut would test most of our imaginations. But that fact is but one of many otherworldly truisms about the 25-year old Amazon and its founder. 
Once a fledgling online bookstore that was named for the South American river (although it easily could have been for the mythical female warriors), Amazon now sets the bar for B2C companies. And is quickly becoming the bellwether for B2B as well. In 2015 it launched Amazon Business, selling everything from office supplies, janitorial services to hospital supplies and rack-mounted servers. It eclipsed $10b in revenue in just three years, and is slated to exceed $25 billion by 2021 – and likely will eventually surpass its sibling in retail sales.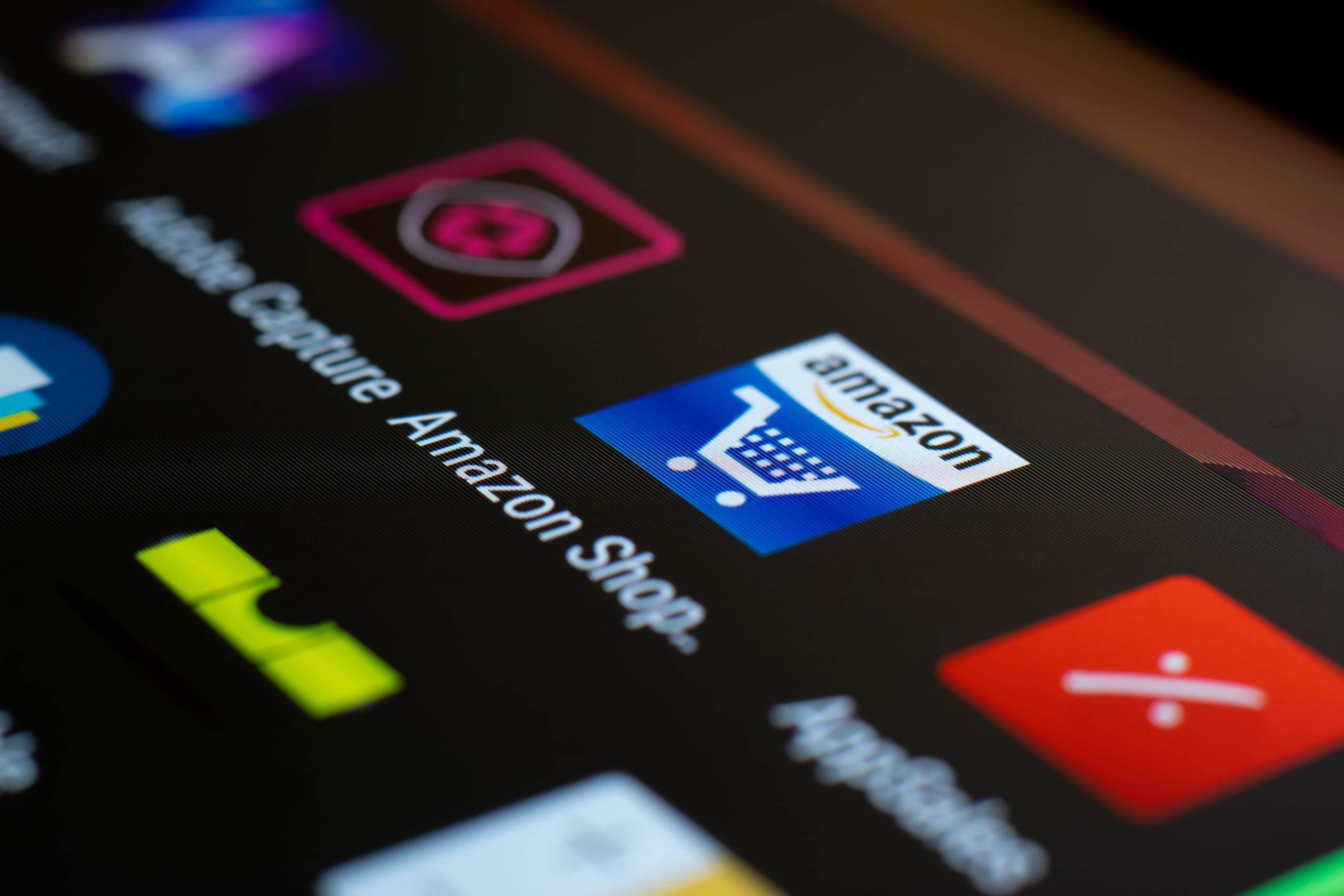 Indeed, the Amazon Factor is baked into most business plans and annual reports. Not to mention the psyche of every digital transformation specialist. 
All of them are chasing the Amazon promise of putting the customer first — and to innovate to simplify. And that innovation has translated into Amazon creating a platform to sell – virtually anything — in as frictionless a way as possible. That overly simplistic statement belies the fact that to achieve this platform, Amazon has invested more than $36 billion — with a b — to create it. 
Does that mean competing with Amazon — or any of the titans in your industry is an exercise in futility? No, assures Seth Godin, digital marketer and prolific best-selling author, but it does mean you have to be best at what you do. And use technology to leverage what you do best.
Should retailers think of Amazon as a friend, enemy or "frenemy"?
Tune into our podcast, The Ecom Edge!
Omnichannel Relevance
My boss, and Coveo CEO, Louis Têtu likes to say, "We live in an experience economy." We have left the digital economy behind and now, a brand is only as strong as its weakest channel. And instead of creating a great experience for a persona we need to create excellent personal experiences.
And the collective "we" wants our experience to be the sum total of all our other experiences. That translates to omnichannel, personally relevant experiences. And that requires amazing technology. 
So how do we go about doing this? 
First, understand that whatever you had planned for this year is likely moot, says Brian Beck, Ecommerce consultant and author of Billion Dollar B2B Ecommerce. He referred to a chart from Forrester and Bank of America that showed steady online growth over the last 10 years, and then shot straight up this year. "We saw 10 years of growth in 3 months," he exclaims, "We went from 16% Ecommerce purchases to 35%."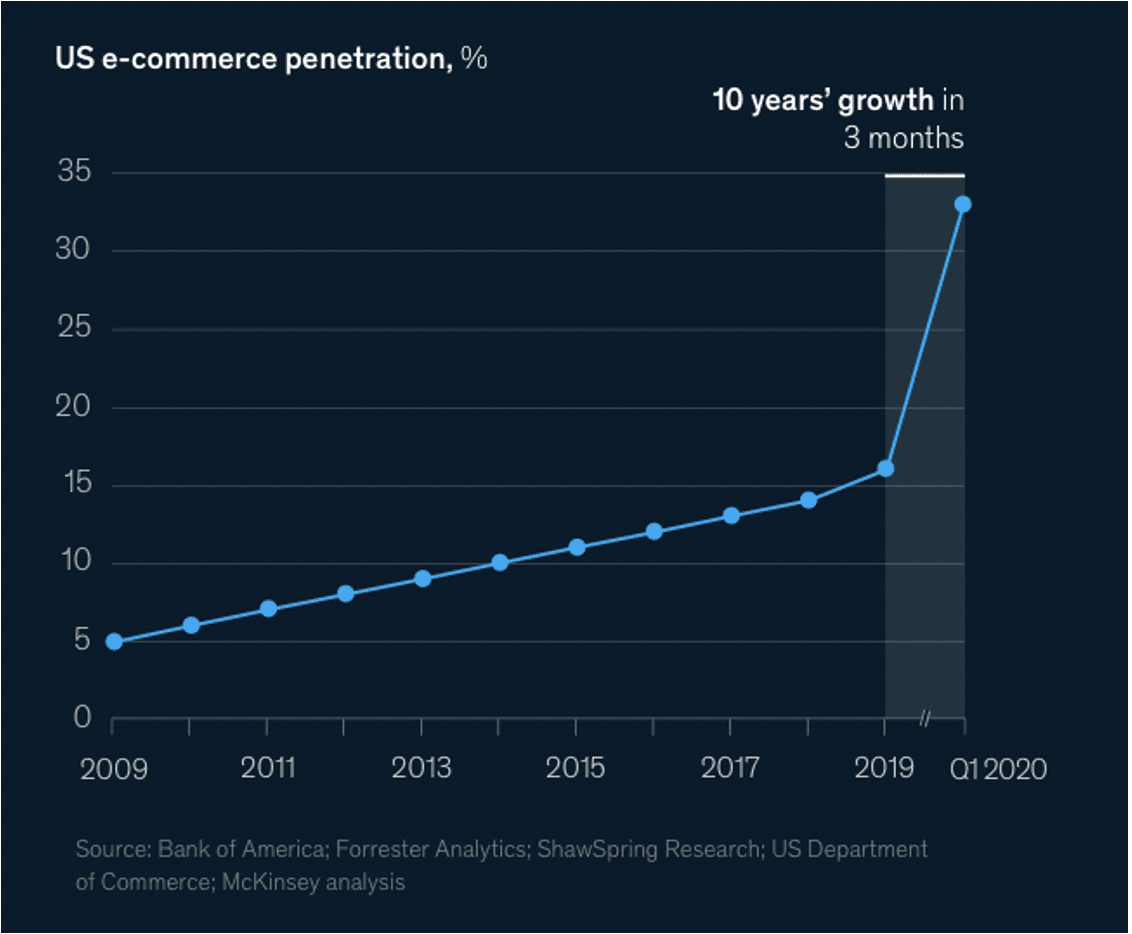 That's a decade of acceleration in a single quarter. With people shunning physical locations and face-to-face for online buying, terrible search experiences and broken supply chains tested customer's loyalty.
Thinking that their customers were tied into them, companies became lax about transforming. They were in for a shock. "Fifty percent of buyers are buying products from companies they have never bought from before," says Beck. "The whole notion of loyalty is challenged."
So how do you adapt your vision and technology stack in time to be one of the companies that gets new customers – vs loses them? In addition to having a unified vision between all the stakeholders, and a great understanding of your data, you need a flexible tech stack that can marry search and applied AI.  
Alignment Across Stakeholders
Joining Beck at the recent Relevance 360 Conference were two speakers from companies that are great at what they do – and serve multiple audiences through multiple channels. Both companies have been on a mission to transform so that no matter the channel — people are getting a consistently relevant and personalized experience. 
Listen to the full session to learn how you can do this yourself
Watch:
Reinvent Your Commerce Strategy with AI to Engage and Convert
Hearts on Fire (HoF) is one of the world's largest suppliers of diamonds for jewelry stores. Artie Sharpe is senior director of innovation and design for HoF and addressed the sometimes struggle between technology and marketers. Having come from the tech side, he acknowledged that in response to a request, technology would often throw the solution over the wall and say good luck! "There wasn't a beautiful dance" of the two groups working together. 
That was solved when HoF created an innovation and design team that pulled in marketers, technologists, developers — people really focused on the customer. That group has developed a good chemistry, and he attributes it to really understanding customer needs. 
And since they sell to both retail stores and direct to consumers (DTC), customers meant two very distinct audiences. 
One Platform, Multiple Brands, Multiple Audiences
Sharpe was joined on the panel by Lindsey Riner, vice president of marketing operations and creative services for Acuity Brands. Acuity is a billion-dollar maker and distributor of lighting products. It has a flagship brand and another 20 brands rolling up under it. Acuity has a global audience, with North America being the largest.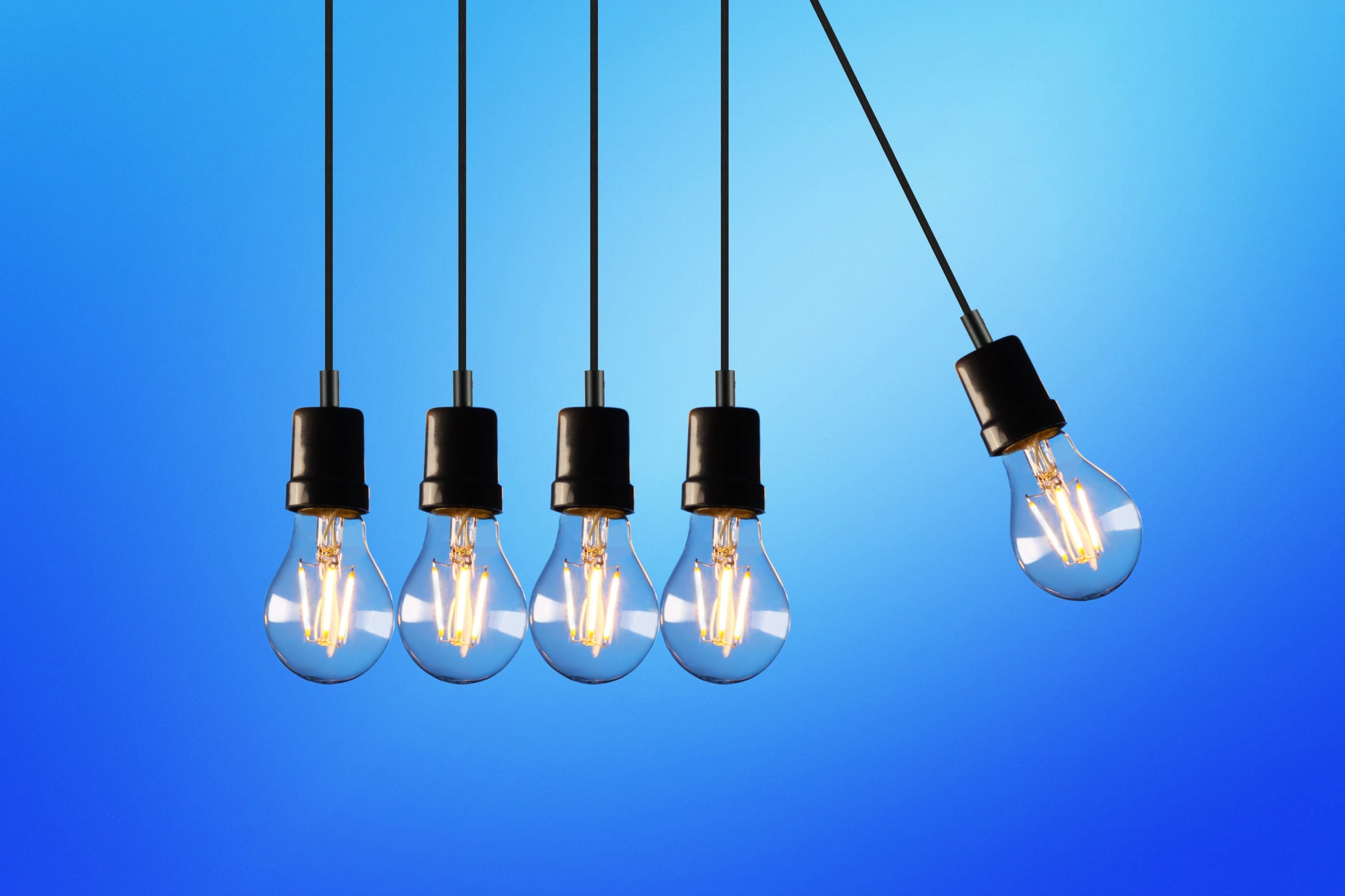 While they too have multiple audiences, Acuity also has multiple masters. Each brand has worked almost as an independent entity, with customers having a distinct loyalty to that brand. As such, brand masters are protective of that customer, and offered their own web experiences. 
That translated into 20 different websites, many on different platforms, each containing different types of information, with different search engines. Further, its websites served primarily B2B customers. They are starting to sell direct-to-consumers now. Creating a single platform was the vision — but it meant tremendous navigation of potential channel conflicts. 
"The data doesn't always line up," admits Riner. 'We had to digest a lot of opinions on how stakeholders want to sell the product." She adds that in general she doesn't think stakeholder opinions and concerns are considered enough. "What is important to one stakeholder is not for another."
To accommodate the opinions, they iterate and then take time to assess. 
B2B Buyers Are Consumers Too
People aren't 'B2B buyers' any longer, asserts Sharpe. They are working from home, shopping from home, home-schooling from home, and when they are on their B2B site — they are still wearing their consumer hats. B2B will only fare as well it meets that consumer expectation.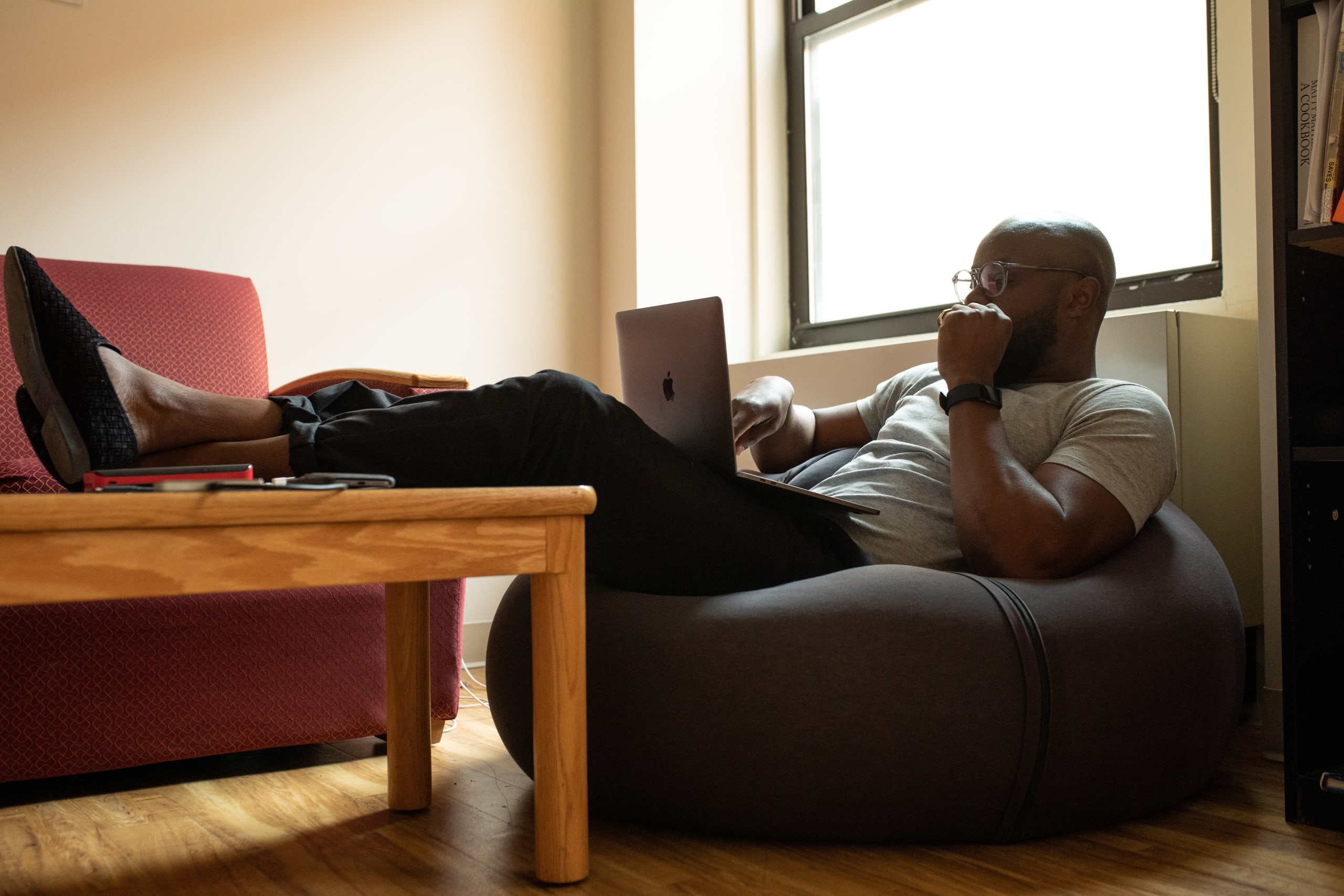 HoF didn't want a beautiful experience for its B2C site – and a clunky B2B site. "In talking to our customers, we found our B2B customers were shopping on the B2C site — and then going to the B2B site for pricing, etc. 
They quickly iterated on the B2B site, creating nearly a mirror of the retail site. With one exception. They put a counter mode on the site so the retailer can hide the wholesale prices and flip the monitor around to share with their customers. 
Search and Applied AI = Relevance
Both companies needed to address their search. And that meant different things to each. 
So in addition to providing the technology that allows auto-suggests and type-aheads, they wanted to go beyond the search bar, and look at the entire search experience. "In talking to our customers, we found our B2B customers were shopping on the B2C site — and then going to the B2B site for pricing, etc. 
"We happened to have a great partner in Coveo," he begins, to not only improve search, "but to help us design those models and help design the patterns that we have to deliver relevancy models." So while HoF made an investment in search, what they ended up with was personalized search experiences – powered by AI.
Turns out HoF is one of the winners. With a tech stack re-do already underway when Covid hit, it was able to launch its new B2B site in July.  "We have done more transactions between July and the end of October than all of last year," he states.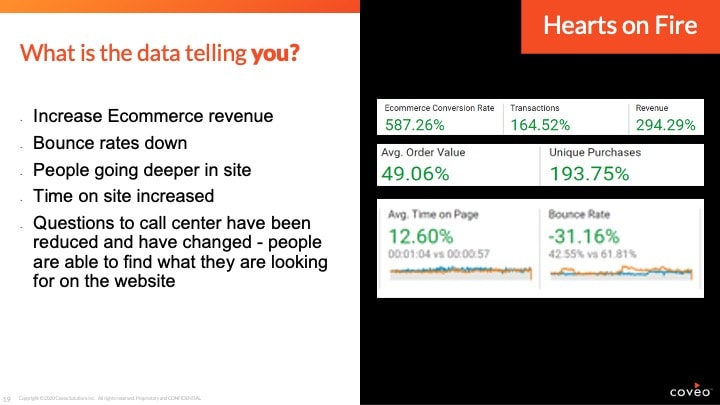 Riner admits that dealing with so much data and so many stakeholders has meant transforming at a slightly slower pace. "We have been incrementing so we can get customer feedback," she explains. 
But by having one unified index for all their data, one of the frustrations they were easily able to eliminate was getting rid of the dreaded null. "Having a consistent search engine across all of our sites has really helped us to deliver customers to the product that they wanted," she says.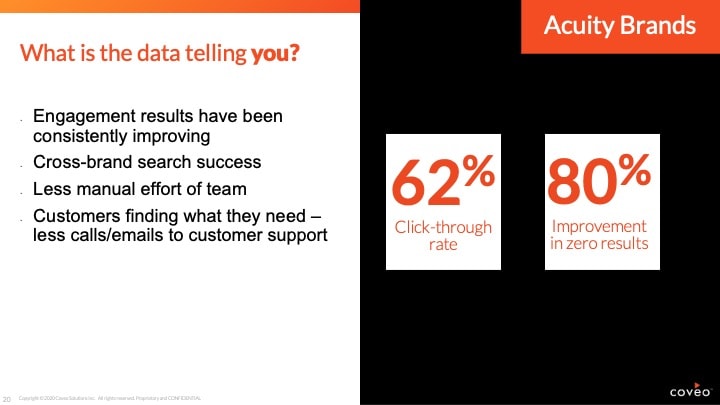 Further, analysis shows that half the searches that are clicked on were delivered with machine learning," she continues. Meaning without machine learning they may not have found what they were looking for. 
Further, content is recommended based on the context of the search. So an architect may see "sexier application photos where you can see how the light distributes across your space. If you're more of a commodity goods type product, we might show you close-ups of the product and how it's configured and how it might install in your space."
Bonus points: when Riner goes into sales meetings now she hears how the website is growing sales not inhibiting them!
Breaking Through the Third Wall
Has the specter of Amazon been in their minds as they plan out customer experiences – no matter who the customer is? Absolutely. Their conversations were peppered with Amazonisms. But not having to re-create the technology was a boost for both companies. In fact, both speakers noted that having a digital platform with AI has been a springboard for even more experimentation. "It's giving us the courage to try things and fail fast if you will," says Riner. Future plans include looking at virtual and augmented reality, IOT, and bettering the online-offline experience. 
While neither company had the means nor wherewithal to re-create all the technical goodness of an Amazon from scratch, fortunately, with Coveo, neither Acuity nor Hearts on Fire needed to. 
Dig Deeper
Acuity Brands and Hearts on Fire leveraged AI-powered technologies and delivered relevant experiences designed to maximize revenue. To discover how you can do the same, watch the full Relevance 360 session: Reinvent Your Commerce Strategy with AI to Engage and Convert. 
And to learn more about how you can evolve to compete with tech titans like Amazon, read our blog post: Coevolution of Retailers in the Age of Amazon
Is eCommerce close to mimicking an offline experience? How should larger, more established brands respond to the rise of digital? Catch Episode 4: Is Physical Retail Dead? of our podcast, The Ecom Edge!