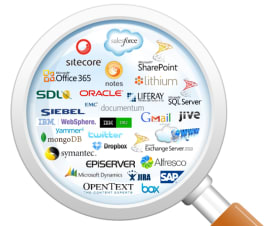 When you're a technology provider, the biggest measure of success is whether you've helped your customer succeed. That's all that matters. And as an advanced enterprise search provider specifically, all that matters is whether you can uncover insights from a wide variety of places to enable efficient knowledge access, helping your customers achieve better performance.
In order to evaluate each tool's ability to deliver on those promises of advanced enterprise search and information contextualization, there are choices customers need to make between two types of technology providers – independent providers and "stack" or "platform" providers. In these circumstances, there are several key factors to consider:
Quality: Independent providers typically do one thing – and do one thing very well. These partners' level of detail, research and focus leads to the potential for a higher-quality solution.
Innovation: The Gartner Magic Quadrant, in our opinion, rewards suppliers like Coveo with high rankings in the area of innovation (we also are recognized for the ability to execute). Gartner understands that point solutions put everything they have into developing innovative solutions for their customers, to meet their needs as they evolve, and as the technology evolves. Today Coveo is presenting Content into Context™ – a far cry from the early days of enterprise search. Contextualizing content for employees, particularly those on the front lines with customers, as well as customers themselves, means your company can be even more relevant and responsive to your customers and your marketplace.
Secure Connectivity: At the end of the day, enterprise search is about connectivity to a large number of systems, in order to index the information that resides in each one. And yet often, we see that large platform providers focus their search technology on connecting their own systems rather than building or even maintaining, robust connectivity regardless of system "ownership." We've seen Microsoft FAST, for example, focus on SharePoint exclusively. Being independent allows for the technology to index and correlate data from a wide variety of systems, regardless of the platform they run on. This makes independent providers such as Coveo, the "Switzerland" of enterprise search, if you will. Also consider the source of connectivity. With an independent supplier like Coveo, our job is to create that connectivity so it is robust, secure and updated as systems evolve.
Flexibility: Independence also allows for a high degree of configuration and service during the implementation process. We've heard from many customers that a personalized POC was a key reason for selecting Coveo. Independence allows for a higher likelihood of the provider working collaboratively with the prospect on a customized solution, rather than a plug-in solution that's the same for any company.
At the end of the day, advanced enterprise search is much more than an add-on to other systems, or a way to connect the "stack" of a parent company. It is the key to unlocking the value of your company's knowledge assets—connecting your very own "stack," as it were. And, it's the basis of everything we do at Coveo. If you're in the midst of evaluating an enterprise search solution, we encourage you to step back from the stack before making your search engine investment.
What are your thoughts on point solution providers versus large, integrated platform providers?