In 2014, Topshop emerged as the best omnichannel retailer in the UK. This was according to a Kurt Salmon survey of 25 UK fashion retailers.
The survey was conducted to determine how well businesses are performing across multiple channels via omnichannel retail. Brands like John Lewis, Marks & Spencer, Harvey Nichols, House of Fraser, and ASOS were highlighted as other top contenders for the award.
According to the Kurt Salmon Partner, Siobhan Gehin, most omnichannel retailers "do not have the 'glue' they need to link every channel together, so they are disappointing customers and losing sales." This, she explains, is partly because they have not fully embraced the omnichannel approach. Mobile, geolocation facilities, and engaging editorial content are some of the marketing channels that are absent in nearly every omnichannel marketing strategy.
Topshop, however, has been successful by comparison, overcoming these challenges by optimizing its existing channels and embracing new ones as part of its expanding omnichannel strategy.
5 Omnichannel Strategies Used by Topshop UK
In this blog, we take a look at the omnichannel efforts of Topshop, one of UK's best omnichannel retailers. We break down their omnichannel retail strategy by focusing on the marketing channels used, why each channel was used and why they all worked so well together.
1. Engaging Online Content
Creating a seamless user experience is key to customer loyalty. Websites are not merely a place of transaction, they're also the retailer's best opportunity to generate customer engagement.
Topshop has taken great pride in its magazine content, emphasizing it in its top menu. It keeps users up-to-date on the latest fashion trends while inspiring their next Topshop purchase. Great content helps with customer retention as customers keep coming back for more. One touchpoint becomes two, two becomes three, and soon they are addicted. Inspire your customers and move them along the customer journey with relevant and engaging content.
2. Highly Functional Mobile Website
Being where your customers want you to be is essential for any business, and mobile-optimized sites are crucial for any kind of omnichannel experience in today's world.
According to a study by Insider Intelligence, in 2017 almost 59% of ecommerce sales occurred via mobile. Topshop has taken this on board, building a responsive and dynamic mobile website.
The mobile menu slides out smoothly, you can easily scroll through the banner with a swipe of your finger. By designing its site with all the best practices for mobile users in mind, Topshop is well-placed to capitalize on the increasing number of mobile shoppers.
3. Blending Offline and Online
The shopping experience should never feel like an effort or an inconvenience. It has to be a completely seamless experience. But when customer behavior differs and every customer wants a slightly different experience, how can you bridge people's expectations?
Topshop is trying to give people as many convenient and simple options as possible by focusing on providing a personalized experience. With next-day shipping and delivery, in-store collection from physical stores, order tracking, and easy returns, Topshop have created an omnichannel experience for those customers that never want to see the shop, those that never shop online, and everyone in between.
4. Engaging Social Media
Great content should spread throughout your entire business, and where better to bring it to people's attention than on social media sites? Whether we like it or not, social media is critical digital channel for every retailer.
Showing off relevant items around Mothers' Day, and giving lots of fashion inspiration to their followers, means their customers can always feel like the first to hear about new things. It's easy to spam on Twitter, but Topshop keeps it relevant with great pictures. This also allows shoppers to participate by uploading pictures of themselves wearing Topshop's clothes.
With the rise and potential of Instagram shopping, Topshop is in a great position to leverage ITS engagement across social media channels – especially Instagram – converting likes, comments and shares to real revenue for the business!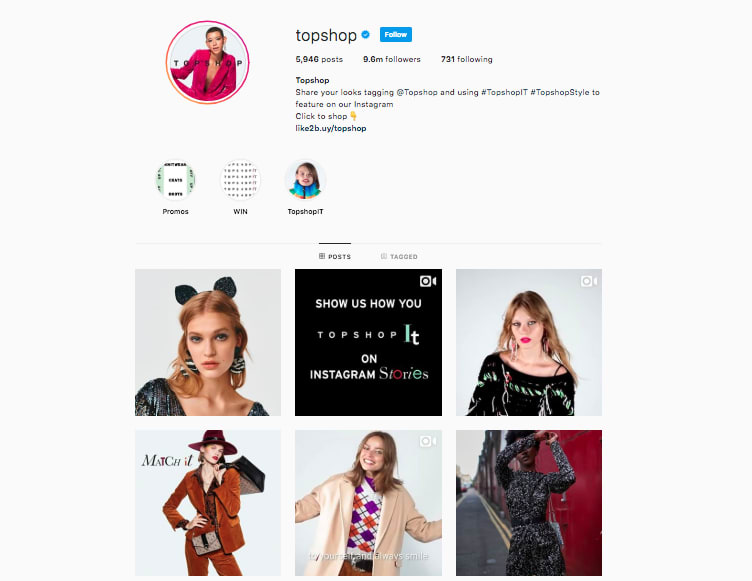 5. In-Store Experience
While online shopping has been taking a greater and greater piece of the retailing pie, so much shopping is still done in-store. That's why if you have a physical store, you need to know how to use it.
Every Topshop store has been tailored to create a personalized experience that seems unique, despite its size and ubiquity. And at their flagship physical stores, they go one step further, providing personal shopping and excellent customer service to really make you feel special. Won't you be inclined to be a repeat customer if you're treated as the individual you are?
It's the combination of all five of these things that sets Topshop's omnichannel retail strategy apart. The feeling that you are getting something unique permeates through every channel they use, and that's the reason why they were named UK's best omnichannel retailer in 2014.
Watch out marketers, omnichannel is here to stay!
A variant of this article appeared in 2014.
Dig Deeper
Make customer experience better no matter where your customer is with omnichannel marketing.
And explore the future of omnichannel by reading our blog post The Future of Omnichannel Retail
Make your omnichannel customer experience a great one with Coveo's Ecommerce Search & Discovery
What can we learn from Macy's and Walmart's success with omnichannel selling? Tune in to Episode 2: The Next Generation of Retail Commerce, of our podcast, The Ecom Edge.
Make your customer experience a great one with
Coveo's Ecommerce Search & Discovery