When discussing native search integrations within Sitecore, there have only ever been three real players in the game: Solr, Azure, and Coveo.
While each presents its own set of capabilities and limitations, the impending deprecation of support for Azure Search in the move to Sitecore XP 10.0.0 means that all those planning an upgrade to Sitecore 10, or a new Sitecore deployment, will need a viable alternative. And they need to find it fast.
With Azure Search being, for all intents and purposes, dead in the Sitecore water, this question will consist of only two options for end-user search: Solr or Coveo. 
---
This is  a prime opportunity for users to revamp their current search from '
what they were stuck with'
towards '
what they were dreaming of
.' 
---
This can quickly evolve into a build vs. buy situation. Whether a company feels like they have the technological prowess to build something custom, or whether they're looking for an easier and more applicable solution to simply purchase, Solr and Coveo can come into conflict.
Learn how to enhance your website with AI-Powered Search...and more
Read: Coveo for Sitecore
But when deciding whether to build or buy, it is paramount that decision makers take into account all the variables. Buy options (must) have a far larger team of research and development personnel behind them. They are tried, true, and tested across other implementations. Buy provides a set of forecastable metrics and certainty. 
Building, on the other hand, does none of this. And as a reminder, "free" open source technology is rarely free, especially not for large organizations. For it to scale, or offer the security, analytics and other critical capabilities for a larger company, it's likely that you'll need to upgrade to the paid enterprise versions. And often you'll only discover these limits or requirements when you are deep in the project.
On a whole, Coveo brings a more robust, functional, and – in most cases – cost-effective solution than any other in the space. Azure Search and Solr just can't compete. Not to mention, we can implement in a matter of weeks, not years.
These are a few reasons as to why.
Unifying Data in a Universal Index 
Coveo doesn't just index what's in your Sitecore instance. Supporting more than 10,000 unique content sources and more than 100 unique content types, it gives users access to the full catalogue of an organization's data.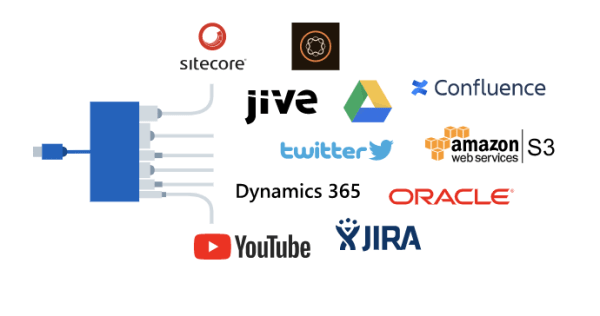 Whether content is in Confluence, Google Drive, or Dynamic 365, Coveo ingests all your data and creates a universal (not to mention agile) index, then applies machine learning to give it context and relevance in use. With no out of the box connectors or crawlers, Solr can only search through content within a company's Sitecore database, providing a much smaller catalogue of accessible information. 
In a world where machine learning is hungry for data, this proves a key differentiator in the quest for content relevance. Not only does a smaller index mean a less informed neural network, it also means less informed analytics thereafter.
Analytics
To effectively manage your Sitecore instance, you want to be able to measure it. But if an index is only ingesting part of your organization's dataset, you will only be able to witness a portion of the happenings. Because Coveo can index a broad array of data, those doing the analysis can see a much broader view of how users are actually getting value from it.
With a complex way of gathering and viewing analytics, Solr leaves companies scrambling to figure out their own interpretations of the data that they're bringing in. In stark contrast, Coveo provides an intuitive interface with out of the box visualizations of data and key KPIs to focus on. It makes it easy to see where users aren't just finding success, but finding roadblocks as well.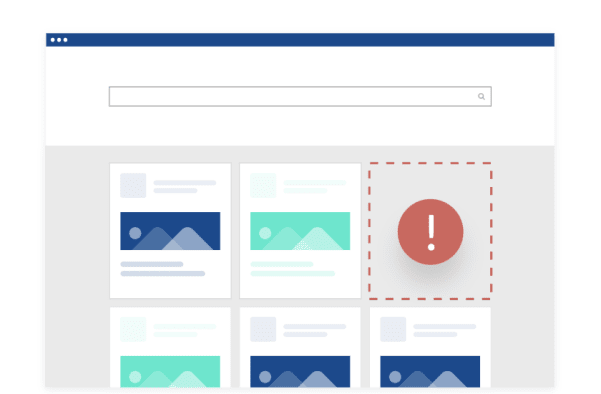 Identifying content gaps in material as well as how the content gaps are affecting the organization as a whole plays a big role in gauging the effectiveness of a company's search implementation. Coveo makes it easy to see how machine learning is helping users, but also how it's helping generate savings and revenue – something that greatly helps justify the cost.
Cost
Being able to see where Coveo is saving an organization money on its bottom line is a huge counterargument against the initial cost. To be blunt, Coveo is often the pricier solution in terms of upfront cost, but not without good reason. With a history of KPI boosters to back up the price tag, most customers end up seeing their investment come out in the green instead of the red.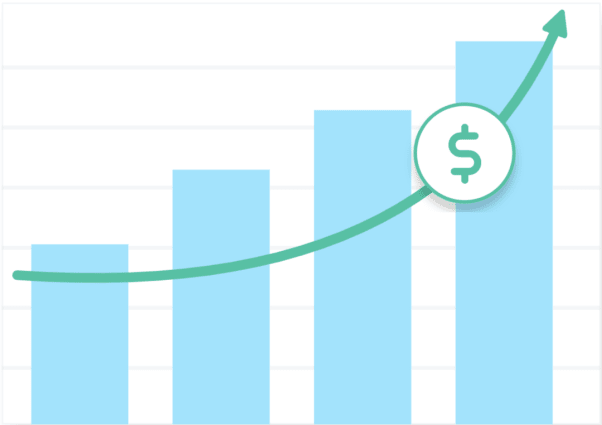 Whether the increase in knowledge accessibility to drive down training costs, or the increase in sales/engagement from more relevant content suggestions, Coveo has a scorecard that makes it easier for executive decision makers to move procurement's pen. Here are just some averages:
27% Increase in average order value

12% Increase in conversion rates

60% Decrease in training time 
Time and time again, with an array of customers in the Sitecore space, Coveo has been able to deliver cost savings that far outweigh its annual costs. Partnered with the increases in customer satisfaction (CSAT) scores, as well as a customer's time on site, it becomes even clearer that there are innumerable ways Coveo can be the more cost effective solution. When it comes to a build vs. buy situation like this, the latter consistently outperforms.
Ease
Not only are there cost savings in user outcomes, but Coveo's ease of use means that companies save in developer costs and the constant expense of upkeep that comes with Solr. Coveo integrates directly into the Sitecore UI, so anyone proficient with their Sitecore instance can go in and start controlling how they want their Coveo search to function and what the user will experience.
Through the administration console, developers and marketing teams alike can have the same input on where traffic is being directed and how the machine learning (ML) models are shaping their journeys. Whether weighting your results for products with higher profit margins, or assigning more value to recent content as opposed to that which may be outdated, Coveo's administration console allows everyone to customize how their AI is working.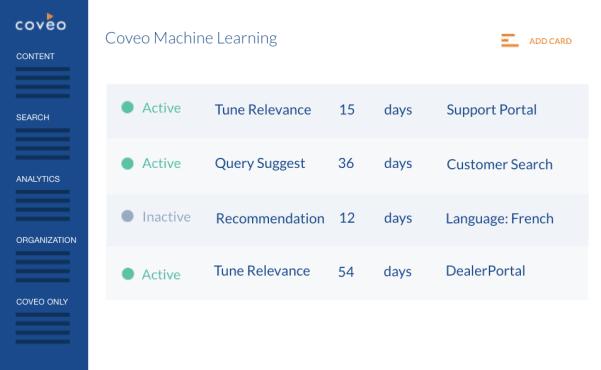 And making machine learning accessible to everyone through a basic UI, expands the opportunity for input and collaboration across departments. With a 99.9% uptime, dedicated solutions managers, and a set it and forget it mentality, Coveo can often take care of itself.
See Coveo for Sitecore in Action
Set Sail for Less Choppy Waters
The impending support removal of Azure Search leaves its users standing on a sinking ship. Whether they'll try to build a new boat by hand, or invest in the one that's sailing by, is a decision all their own, but teams will nonetheless be forced to take into account the variables of each over the coming months in preparation for the next storm.
The particulars above are just a few things that companies should take into consideration while planning their next search move. Only time will tell who merely kept their heads above water, versus those who sailed confidently onward. 
New horizons and open sea are ahead, but how do you plan to approach them?
Dig Deeper
Learn more about how to harness the power of AI-powered search, personalization, and recommendations to enhance your Sitecore website – read Coveo for Sitecore