Are you a developer or experience executive in ecommerce, service, web, IT, or HR and workplace? Then keep reading. Due to Covid, 2020 rapidly became the year of virtual conferences. They're here to stay—even beyond 2021. And have we got a show for you!
When it premiered a year ago, Relevance 360° was a very tight, three-hour premier event for DX leaders looking to deliver outstanding, personalized experiences throughout the customer journey. Wanting to go deeper on the Coveo Relevance Cloud, we have expanded it to a three-day event! 
But if that isn't enough to sway you, we have 10 more reasons on why you should attend the Coveo Relevance 360° Week, September 8-10. 
Thank me later.
Get Inside Scoop on Industry Hot Topics
We all experienced how the world shifted during the pandemic, but is that evolution over? Whether you're grappling with a hybrid office, stitching together an omnichannel customer experience, or trying to improve case deflection with self-service options, learn how every search, interaction, and recommendation can be made more relevant. 
And that relevant experience starts with you! All of our content has the option of live viewing or VOD, meaning you can choose the sessions you like, consume at your leisure, and personalize your schedule. 
See what I did there?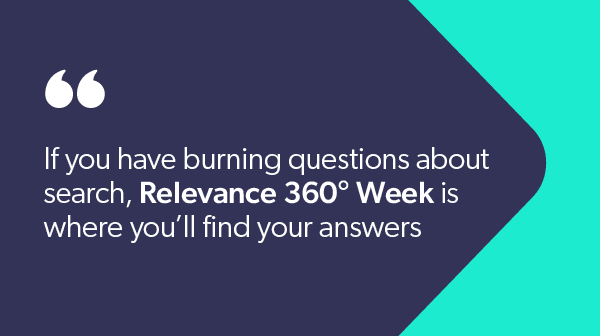 Discover How We Make Search Simple 
Search is a deceptively easy concept—ask a question, get a response. But is it the right response? If you have burning questions about search engines, are stuck on how to do multi-site search, or add machine learning-personalized recommendations for your commerce website, Relevance 360° Week is where you'll find your answers. 
We'll dive deep not only into search concepts, but also our platform. Get a sneak peek at new features, and talk directly with our product team! You'll learn more about the latest innovations in machine learning, updated capabilities to Salesforce and ServiceNow integrations, and you'll get a sneak peak of what we're doing with Adobe and Slack. 
On top of that, our team will share best practices for making content and knowledge easy to find, whatever the environment.
Hear Real-World Customer Stories
You already know that Coveo Relevance 360° Week is the premier event for DX leaders looking to deliver outstanding experiences. You'll hear real, unvarnished case studies from C-level leaders who implemented end-to-end AI-powered relevance in their digital experiences and transformed their organizations.
In addition to Coveo leadership, R360° Week includes an impressive list of experienced industry leaders from SAP, Forrester Research, Rightpoint, Netapp, and more. They'll share unique, candid stories about identifying which digital experiences are best suited for AI, how end-to-end relevance improves key business metrics, and outline best steps for achieving relevance in your line of business. 
Get Hands On And Show Off Your Own Search App
We're not just a relevance company, we're The Relevance Company. We know what makes search work, and we'll tell you—actually, we'll show you. 

Come participate in our first-ever 48-hour developer hackathon, which is taking place all throughout the conference from Sept. 8 – 10.
Your mission? Build a search page that showcases movies and TV shows using our fully customizable headless library. You might even win $500! Sign up here before September 7.
Learn AI Facts to Amaze Your Friends
Did we mention we're talking about artificial intelligence and natural language processing? With over 15 years of R&D, we've developed a powerful platform that helps you deliver experiences that get better and better—with search relevance from Day 1 and the ability to scale to full 360° Relevance.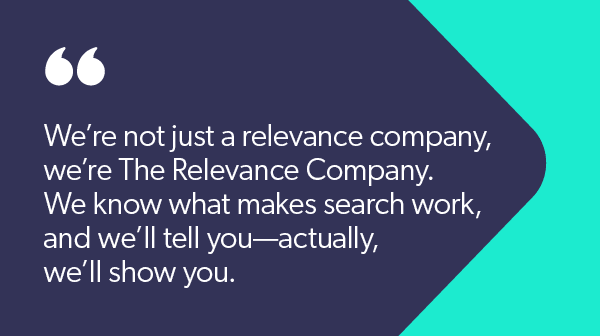 Not to brag, but we've got actual, factual in-house AI experts who will take you on a deep dive into their recent research. They'll demystify the concepts of NLP, semantic search, and Word2Vec vs Prod2Vec. 
Get Up Close and Personal With Experts
At in-person events, you might have a chance to get up close to keynote speakers or big brand leaders—that's if the queue isn't too long!
At the Coveo Relevance 360° Week, we're giving you the opportunity to speak with our large variety of influential leaders and keynote speakers. This will be a unique chance to get valuable insights from experts in your field.
Join round tables hosted by Coveo partners and customers, where they'll share in-depth knowledge on how to leverage data, content, and AI to drive business impact.
1:1 Time With Team Behind Platform
As I mentioned above, you'll have more access to speakers—and that includes experienced leaders from the team at Coveo, too. 
We're offering breakout rooms where you can talk privately with speakers, ask your questions, share challenges, and more! 
Have you always wanted to meet the faces behind the platform? This is your chance.
Test Your Personalization Knowledge
Ready for the pop quiz? Just kidding (mostly). We're experts when it comes to providing in-session personalization to anonymous users, crafting seamless customer support experiences with insight panels, and empowering employees to use intelligent swarming. 
If any of those terms caught your interest (and they should!) and now you want to know more, you should register!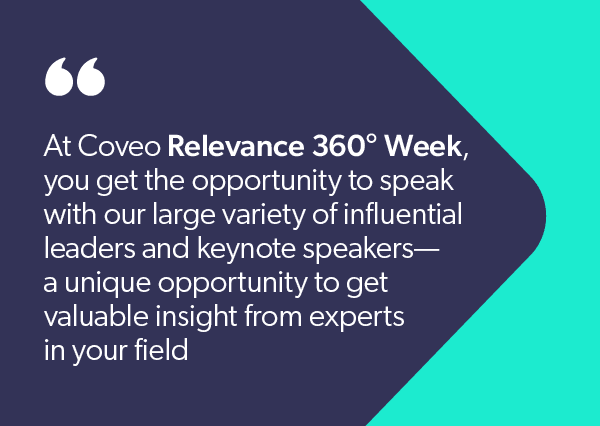 Learn From Your Peers, Meet New (Live!) People
Yes, we're all trapped behind screens because of the Delta variant, but that doesn't mean you're alone! 
Our conference gives you the opportunity to connect not just with our experts and speakers, but also with your peers. Get fresh conversational topics to discuss around the virtual (or non-virtual, if you're back in the office!) watercooler or coffee chat. 
Hang Out in Hopin
You've used just about every other video tool, so why not add this one to your work-from-home list? 
No, it won't feel like "yet, just another webinar." This isn't Zoom. Don't fret. We're going to make this as interactive as it can get. Come relax with us while you learn, have fun, network, and unlock new business possibilities.
What's Next?
All kidding aside, there are way more than 10 reasons to attend the Coveo Relevance 360° Week. 
Whatever you're looking for, if one of these rang true, you don't want to miss out on the Coveo Relevance 360° Week. This is where you sign up.
Developers, if you missed your chance to sign up a few lines ago, or you're hesitant for whatever reason. Just go for it, sign up!
In the meantime, check out a few highlights in this short video. 
Hope to see you there.
Julie-Anne