"Our website search is so frustrating!"
Sound familiar?
It's a common pain point that we hear from our clients' members and staff. Given the scale and scope of websites, search can be just as important as the information architecture or user experience. And now with the ability to personalize results based on visitor behavior, search is even better positioned to deliver the relevant results your visitors demand.  
Sub-par search is about more than inconvenience. It can have a significantly negative impact on your business. This can manifest in many ways, including:  
Less accuracy in serving up the right content. 

Fewer features and tuning options for the user. 

Cost of customization (implementing and tuning) can add up over time. 

Inability to index content across domains/sites.

Reporting is more limited, if available at all. 
The introduction of personalized search means that organizations are held to an ever-higher bar. Trends are showing growing interest in content that is unique and specific, along with users wanting to share their preferences explicitly. For users with accounts and who are logged in, we can truly generate a complete view of that customer. A Harris Poll study found out that "63% of visitors expect personalization as a standard, but only 3% of organizations can offer that full omni-channel personalization." With 97% on the line, the business opportunity that presents itself when search and personalization systems talk to each other can be extremely lucrative. 
The head of Consumer Product at Yelp, Akhil Ramesh, knows firsthand how search and personalization enhance the user's ability to find relevant content. They are studying self-identified consumer preferences as opposed to relying on an algorithm. He described this approach as "the human way": If you were having a conversation with a person, "You wouldn't try to assume what the person did over the weekend. You would just ask the person and have an open conversation." 
This all sounds great in theory, but where to begin? Together with Coveo, a leading search platform, our team at Interactive Strategies developed and utilized key insights in order to identify immediate steps you can take to start your journey toward building a personalized search experience. 
Step 1: Use Analytics to Identify the Problem 
It all starts with understanding if your current website search is serving up good results, and this can be done by turning on and leveraging search analytics reporting in Google Analytics.
Review metrics like Unique Search Terms, which gauge the total number of times your site search was used. Insights on search refinements show what  percent of time the user immediately refines their search (often representative that the search did not produce a helpful result). The higher the number, the worse the results. 
Review additional metrics, including Results Pageviews/Search, % Search Exits and % Search Refinements. 
Benchmark key stats, such as usage, for all users compared to logged-in members.
Step 2: Define Your Requirements 
Define your organization's wishlist, based on key business goals you hope to achieve with a new search solution. Some we've seen and recommend:  
Unify content: Make content discoverable across all your websites, regardless of source.  
Be relevant: Personalize every interaction by providing recommended related content based on AI logic (this is great for cross-promoting). 
Drive value: Bring forward top products or programs that are getting buried in results.  
Define specific technical requirements: Each industry often has specific ways users search for content, which need to be accounted for. Empowering your web admin to update synonyms and taxonomies should be a top priority for your website vitality. It's through these actions that your site search can, in a sense, learn to speak the language of your users. 
Prepare for personalization: Consider a phased approach for launch so updates and new logic can be added incrementally, cumulatively learning from user behavior and explicit data. Getting your systems to talk to each other builds the foundation for the personalized experience users expect.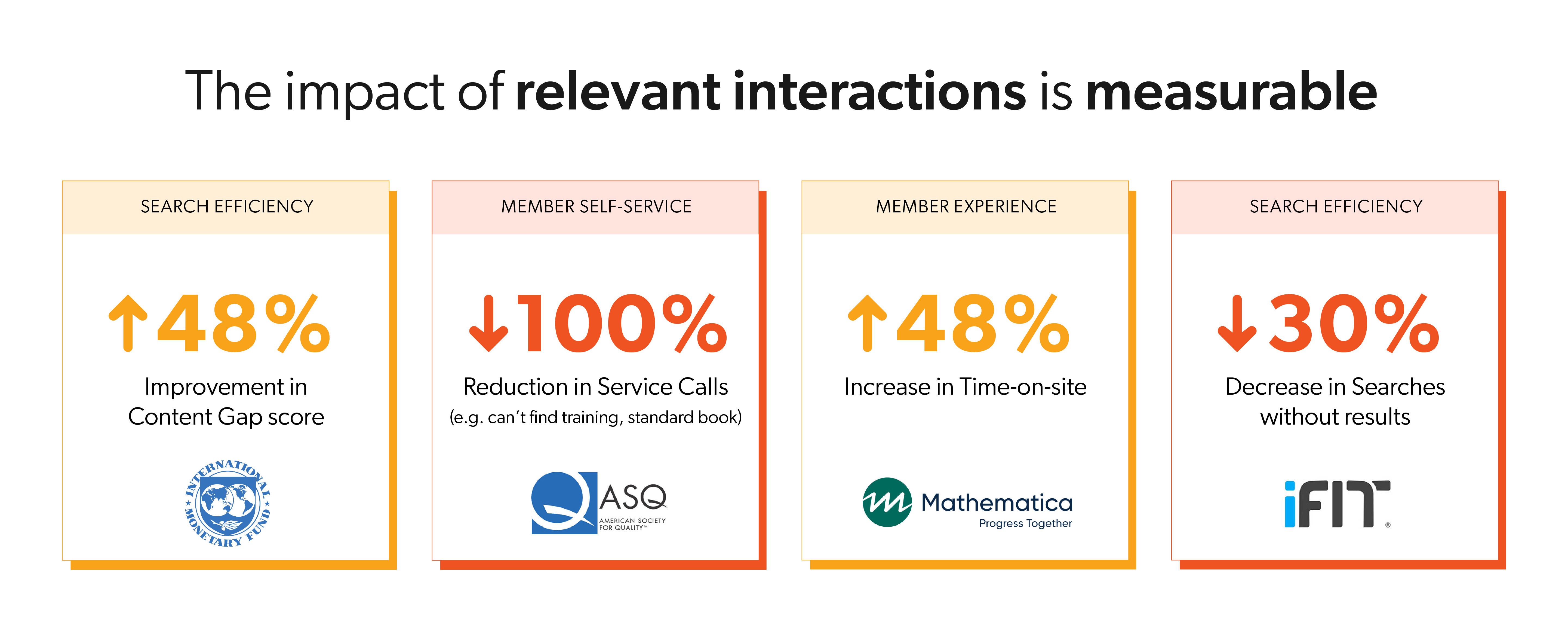 Step 3: Select a Platform and Roll Out Strategy 
One of the reasons "search" is now earning a seat at the proverbial table is because every CMS comes with an "out of the box" search, which has typically been the go-to search platform for many sites. This may have been satisfactory in the past, but as the needs of members have become more demanding, organizations need to consider third-party tools with evolved search features. 
Be sure to ask your team: "When is the right time to fix our search?" You don't necessarily have to wait for your next major redesign to implement a new search platform. If budget or time don't allow, third-party search platforms can be integrated into an existing site at any time. It's a great way to deliver significant value to your site visitors while you work on a larger site redesign.   
In closing, as users become more accustomed to personalization, it's important to remember that one size almost never fits all. We know 97% of businesses struggle with personalization and the ones who have multiple web properties have a lot to lose if they can't unify their content for the user. Therefore, it's critical to garner data from using the steps listed above and leverage it in order to shape your own approach to conquering and personalizing your search results, at scale.  
————
Interested in learning more? Check out the Conquer Your Organization's Site Search (& Fight Hunger) slide deck which is the product of a roundtable collaboration between Interactive Strategies and Coveo. $500 was donated to the Capital Area Food Bank on behalf of our partnership and event attendees.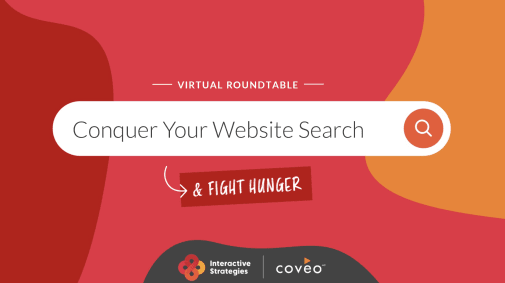 After seeing the impact that a thoughtful approach to website search can have on our clients' bottom lines, we get excited when the opportunity arises to discuss it with others. We look forward to taking a closer look at what your own website data is telling you and what you can do with it.