Newly released on Impact+, "Measuring and Optimizing for Service Success" explores how to measure service quality and use analytics to transform the experiences you're providing. This latest episode features Bonnie Chase (Senior Product Marketing Manager at Coveo) as well as Keri Rogers (Learning Programs Manager at Ultimate Software) and Tyrel Drey (Director of Support Operations at VIZIO). 
The full episode is available on-demand, along with all of our past features as well. If you want to quickly review what we covered last time, be sure to check out our recap on how to deliver omnichannel customer service.
However, if you're feeling rather inclined for a written recap, then you're in luck! In the article below, we'll summarize everything that Bonnie, Keri, and Tyrel had to say, so that you can make the most of both your time, and your self-service experiences.
Let Machine Learning "Do its thing"!
As a customer of Coveo for over five years, Keri and her team at Ultimate Software are seasoned vets when it comes to working with the Coveo system and leveraging it to its full potential.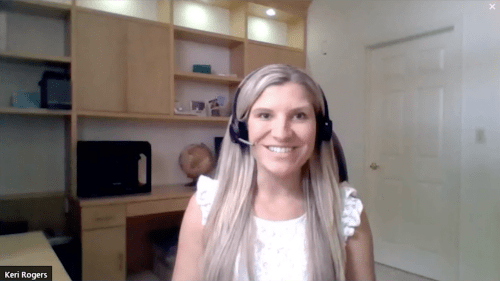 When their journey with Coveo first began, their ultimate goal was to bring their community to the forefront of their service portal. 
"Before the change, our home page of the support portal showed customers their open cases, past cases, and gave them an option to open a new case, so you can imagine what they were doing," Keri recounted with a laugh. "We wanted to encourage our customers to get involved in collaboration with one another through the community, and we knew that search would be a large component of that."
After deciding to adopt and implement Coveo, they found that it was far easier to access their learning content and KCS articles. Working closely with their Customer Manager and having a team attend Coveo Impact in 2018 gave them greater insight into how they could best utilize the platform to further their goals. As a result, they decided to put their trust in the platform's machine learning capabilities to boost their performance even more.  
"We had a lot of manually boosted content," Keri said. "When our team came back from Impact, the thing we heard again and again was 'let machine learning do its thing,' so we decided to wipe out those pipelines and try."
The results were stellar. After A/B testing the two different pipelines, the value of machine learning became clear. 
"We were shocked at how well the pipelines of just machine learning worked. They were so much better!" Keri smiled. "We saw an amazing change in our metrics, just by allowing ML to take control." 

What's even more amazing is that Tyrel and his team over at VIZIO had a nearly identical story.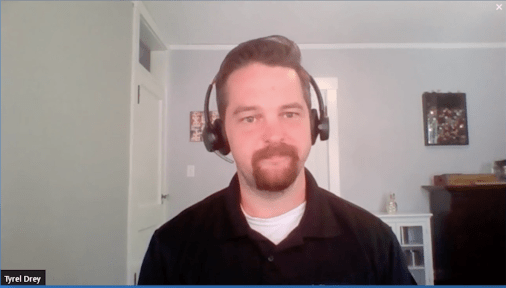 As customers for nearly a year, Tyrel and his VIZIO team utilized and capitalized on the recommendations of their Customer Manager throughout their implementation process. They wanted to empower their users through whichever service journey they chose. 
"With a lot of websites, people talk about interaction time," Tyrel explained. "But as a support organization, we're almost the opposite. We want you to spend as little time on the website as possible." 
They knew that people were accessing their site and running into a variety of problems, and they discovered that search was the best way to provide a personalized response to their customers' needs.
When they expressed a desire to manually boost articles and highlight specific content, their Customer Manager pushed back. "Just give it a couple days," she said, referring to the machine learning models that were just getting up and running. Tyrel and his team agreed, and upon coming back to look at their pipelines a few days later, they were mostly in line with what he and his team had expected. However, he admits, there were a few surprises. 
"Some of the articles were tagged and found in ways that we never would've expected, and it made it clear to us that in some instances, we were talking a different language than that of our customers," he said. He continued on to point out the impact that machine learning had on his, and his team's, workflow, "We don't do any tagging now. We just let it look at the title and page content, and it does its thing."
This hands-off approach worked so well, in fact, that when the company integrated airplay into their TVs a few years ago, they found a content gap in the articles they had been producing for their support. They had failed to mention the term "Apple" in the documents, and that also just so happened to be one of the main terms that customers were using in their queries. 
"By the time we went to go and take care of it." Tyrel chuckles. "Coveo's machine learning had already fixed it!"

Their stories reflect the importance of letting machine learning take the lead, and doing so is something both Keri and Tyrel highly recommend. When you let AI run its own show, the results can be wonderfully surprising!
Don't Get Lost in a Sea of Data
When asked what each person would recommend "not doing", if they could repeat the whole process over again, both Keri and Tyrel were on the same page once again. 
"Don't over engineer," Keri said with frankness. "Coveo makes it easy to see what's going on with amazing analytics." 
Directly out of the box, Coveo provides a key set of benchmarks for comparison as well as a set of KPIs in order to determine the successes or failures associated with the changes that you're implementing. Keri referred to "the Big Four" – query click-through %, visit click-through %, average click rank, and content gap % –  in order to point out that users of the Coveo dashboard have direct access to their data in real time. 
"For us, we were focused on bringing down click-rank," Keri stated. This meant launching an initiative to clean up their content and make sure that it wasn't bogging down search. "I'll often go in and check which queries have no results, or queries without clicks," Keri continued, noting that such insight has sparked conversations across multiple departments about where content gaps are arising and how other teams can help combat this. "We've been able to uncover some major themes, and they'll make a big difference for our customers."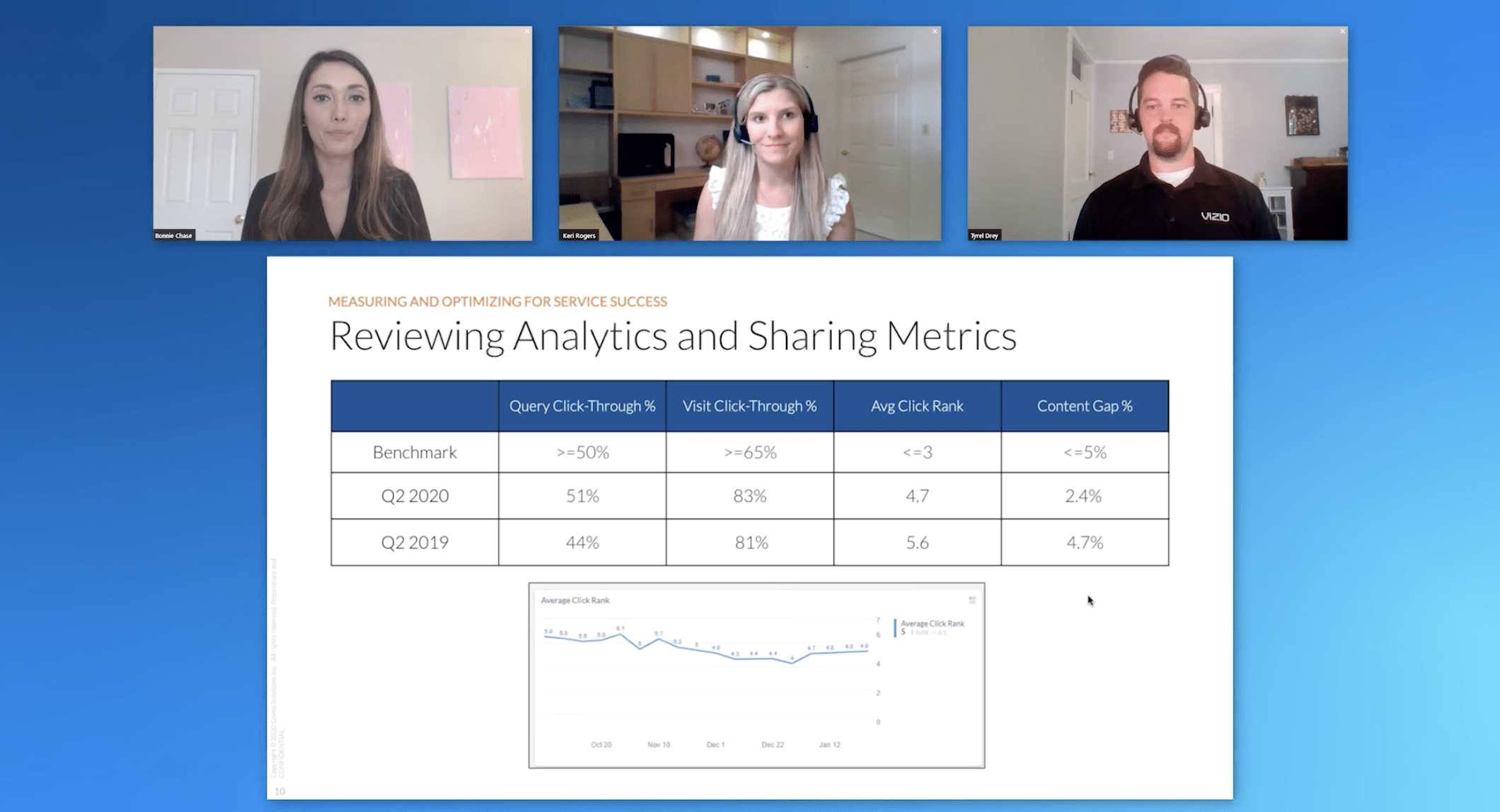 Tyrel found a similar clarity in the metrics he was pulling from Coveo's analytics.
"I found we were overwhelmed with metrics [across our other internet platforms]. There was more data than there was direction." Like Keri, he too found that access to the Big Four helped his team better understand their data, "it was so nice to have an industry standard of metrics with Coveo." He could finally hone in on the KPIs in which he was interested, and watch them month over month.
Both admit that having these metrics available has made it easier to have conversations with other departments and sell the solution to higher-ups. "It's easy to sell something that's showing good results," the two laugh with Bonnie over Zoom. 
When a software can allow you to take a back seat on manual configuration, repeatedly improve upon a key set of metrics year over year, and give your customers more meaningful interactions with your company, it's no wonder that Tyrel and Keri had so much fun in their conversation with Bonnie. Both are pleased with Coveo and excited to see where the journey leads them. One thing that will be certain, however, is that machine learning will be leading the way.
To learn more about all that Coveo can do for your Service & Support organization, check out some of our other resources, or contact one of our experts today. 
Stay tuned for our next live-session-turned-release – it'll be here before you know it!