How are leading companies transforming their support organizations in order to adapt to the changing marketplace?
This was the question that Coveo Senior Marketing Manager, Bonnie Chase, aimed to answer when she sat down with General Manager of Customer Systems at Xero, Airdre Knox, and Senior Manager of Tools and Tech at BlackBerry, Justin Ramage.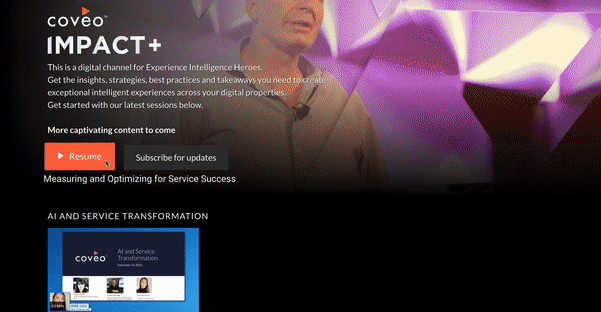 In the thick of a global pandemic, an economic crisis, and a completely new remote-working landscape, these two leaders are on the front lines of transformation, adapting their support organizations in real-time in order to ensure that they're properly prepared for the future and whatever it may hold. By focusing on AI, scalability, and the customer at hand, they're not just surviving this uncertainty, but thriving in it.
This and so much more are covered in our newly released Impact+ webinar. The full episode is available on-demand, along with all of our past features too.
Sit Down with BlackBerry and Xero
Watch: AI and Service Transformation
However, if you're in a rush or craving just the big ideas, we've recapped all the highlights of their conversation in the article below. 
Are you ready to find out how you can take your support experiences to the next level? Let's go.
Delivering Scalable (and Immediate) Solutions
Xero has more than quadrupled the size of their business in the past five years. While experiencing massive growth, they realized they needed to find scalable support solutions to power their customer community – Xero Central. They wanted to provide every customer with fast and reliable answers to their issues, and they knew that they would have to do so in a way that addressed the increasing expectations consumers were developing in other digital experiences.
"If you think about our society, we've really come leaps and bounds in the last few years around what our service expectations are," Airdre told Bonnie. "We have to manage this expectation of people wanting immediate answers within the moment."
For Xero, AI was the answer to achieving support excellence at scale. They wanted "the technology to do all the heavy lifting" – meaning that it would work on its own without any extensive manual intervention. 
Search queries made by their users were already telling them everything they needed to know. They trusted machine learning to ingest all of that behavioral data, formulate insights and act upon them in order to provide each individual user with the exact information that they needed.  It allowed them to scale their service operations without having to increase headcount.  Additionally, it enabled them to maintain the striking speed and accuracy that their customers had come to expect.
For Justin and the team at BlackBerry, this focus around immediate solutions and the need for scalability manifested in a way completely different from that of Xero's.
"BlackBerry has had a lot of acquisitions," Justin explained. "So with that, comes a lot of silos of information. [AI] gave us a leg up on merging those sources of information to make a coherent experience for our customers."
Want to learn how to leverage AI for yourself?
Justin and his team didn't want the addition of new data sources from new companies to impair the efficient service experience that their customers had come to rely upon. By choosing to leverage the Coveo index, they didn't have to make any trade-offs. They were able to provide an exceptional experience to new users without compromising that of existing customers.  
Providing Real Personalization
"You certainly can't paint every customer with a single brush," Justin said. "Machine learning allows us to really adapt to the customer context, and it was a profound change in the way that we did business, as well as the way we look at our support customers."
BlackBerry products offer a large amount of flexibility through their configuration opportunities. The ability to contextualize these variances through automation was a key focus in making their experience as successful as possible. 
Machine learning helped them to develop holistic customer profiles based on past interactions, and, as a result, allowed them to provide customers with what they needed in the moment and predict what they needed next. They found that they were able to provide relevant results to each unique user rather than generalized results that didn't actually answer their question or solve their problem. 
"It's the modern experience that we all have with digital platforms," Airdre clarified. "We all want that moment or experience where we get offered something that's truly relevant to us. We're completely overwhelmed with volumes of information, so [as a company] we need to use technology to create a simpler pathway to finding a fast answer."
Xero knew they couldn't have a "run of the mill" search experience. They were adamant about using their customers' data to provide a deeper experience. They were looking to build an engagement tool directly into their Salesforce Community Cloud. For this, Airdre admits, Coveo's solution was the obvious answer. 
"We really wanted to have distinct components within our site and experiences that dealt with custom use cases, not just the search engine. The ability to leverage what we knew about our customers and others like them was one of the biggest selling points for leadership."
Airdre and her team were able to implement Coveo and its AI capabilities seamlessly into their Salesforce Community Cloud without a mass amount of heavy lifting on the back end. This brought the power of artificial intelligence and robust usage analytics directly into their existing UI, granting them to do more with the infrastructure they already had in place.
Dig Deeper
To learn more about how BlackBerry and Xero leveraged AI to provide a better digital customer service experience, be sure to watch the full session: AI and Service Transformation.
As revealed above, for true AI and service transformation, companies need to not look at what they can manually change, but how they can position themselves to automatically adapt. Xero and BlackBerry have achieved great success from doing so, and you can too. To discover how, watch How Digital Leaders Are Transforming Their Customer Service with AI.