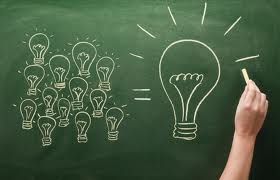 It's an exciting time to be in the business of knowledge management and access. In a new age where access to collective knowledge can power real transformation, we're inspired by our customers who use search and insight technology to better serve customers, personalize website experiences or collectively innovate and produce at new levels. The technology is easier, faster and more deployable than ever before.
We've come a long way to get here. I vividly remember the first time I was exposed to what happens behind the scenes when someone clicks on that now common "Search" button. It was as if I had just discovered a secret passage to a parallel world where everything was similar to the things I knew, but also so different. The more I became exposed, the more I realized my understanding of enterprise search was very superficial, and, like many, I had made many wrong assumptions about how it works. I am still learning something new every day.
Deploying enterprise search software is never trivial. No two deployments are the same – not because the product deployment itself is complex – that part, at least with Coveo, is easy – but because of the organizational and knowledge-driven changes these connections enable after deployment. This is the first of three Best Practices for Enterprise Search posts that will examine what to do—and more importantly, what not to do—to ensure the return on your search investment is immediate.
Getting Started: Think Post-Deployment from Day One
With enterprise-wide projects, it's easy to build widespread momentum that facilitates fast progress and involves the right people at the right time – at the beginning. However, an insight solution is a living system that you need to keep feeding and nurturing, even after the initial deployment is complete and the users have access to a great and powerful unified index and search button or insight console. Even the most experienced project teams realize post-deployment that some aspects of the solution should/could have been configured a different way to better meet user requirements.
It's a best practice to use the initial insight solution initiative to establish an enterprise-wide center of expertise for Advanced Enterprise Search. People assigned to this center of expertise should be involved in the initial project and should oversee continuous improvements going forward.
The number of people assigned to this team will obviously vary for each organization – from part-time employees to several full-time employees. But in all cases, the team should be able to address business and technical considerations and be responsible for:
1. Smooth operation of the solution
2. Serve as the central point for users comments and follow up
3. Capture and analyze usage
4. Act on the analysis to improve system performance (tweak ranking, adjust top results & thesaurus)
5. Capture, document and prioritize continuous improvements or new projects
For more deployment best practices, look for my next post in the series later this month. What other topics would you like us to cover?