Accept the reality – both the limitations and possibilities – of modern knowledge management systems.
Today's CIOs are eliminating numerous on-premise systems and their associated infrastructure in favor of cloud-based solutions. What used to require multiple costly environments —  each containing a database, web portal platform, and some middleware before the actual application was even installed — is now simply purchased "as a service" at a monthly fee.
Better yet, SaaS vendors like Salesforce now offer complete cloud platforms that replace multiple legacy applications, from CRM to marketing automation to custom application development for complete platform consolidation. The single-platform advantages, from system-wide management to a consistent user experience, are attractive.
Unfortunately, a single platform  strategy remains difficult to achieve in knowledge management because of the diversity of systems and engagement platforms most companies use.  
So how can your KM program align to these SaaS and platform consolidation strategies driven by the CIO?
Let's start with content management. Most organizations can't possibly manage their entire enterprise's knowledge creation needs with a single content management system. According to TSIA, most companies have 8 different repositories on average – which often includes a structured knowledgebase, product documentation, communities, wikis, bug tracking software, multiple legacy repositories, and sometimes even third-party assets like an IT help desk indexing Microsoft's support content.
The use cases for these systems are simply too diverse to consolidate onto a single platform, and sometimes they can't be migrated to the cloud. Unifying this disparity requires an extremely strong integration to each of the different content repositories to index and normalize their metadata, including automatically applying structure to unstructured content, and to understand the security entitlements of each repository and individual document.
Putting all of that content into context requires a tight integration with each engagement platform to understand who the user is and what they're trying to do, such as the products they own, their security entitlements, and perhaps prior actions they have performed in the session.
A successful KM platform must be aware of your entire enterprise's ecosystem of information and match that with real-time contextual information from each user across multiple channels and engagement platforms. This is incredibly difficult to achieve off-the-shelf from a single vendor.
Embrace the diversity while masking the complexity from your users.
Find a solution that can navigate the diversity of your different repositories. To help companies embrace the  diversity of your content management systems and processes Coveo offers productized connectors to best of breed systems like Confluence, Sharepoint, Box.com, and Jive. From the cloud to on-prem and even legacy systems – nobody does content connectivity better than Coveo – including security entitlements, metadata, and real-time indexing.
Natively integrate into every channel and engagement platform. We also recognize the power of big ecosystems that companies invest in, like Salesforce for CRM and Sitecore for web CMS. That's why we offer native integrations with these systems to understand context like no other knowledge management platform can. And for the lesser known or homegrown systems, we still offer a powerful framework that integrates directly into the user interface to offer widgets and pagelets that constantly read context from the user session and proactively push insight directly within the application instead of popup windows and IFRAMEs.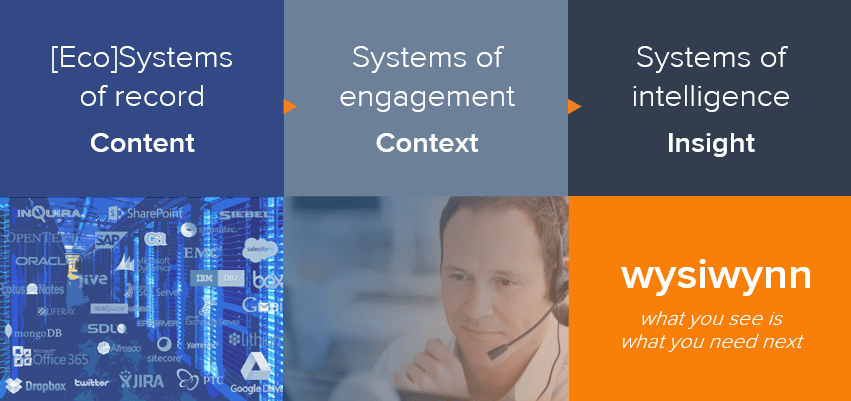 Stop moving data. No single platform can handle all of your content management needs. Users engage in a variety of channels. Coveo embraces these two realities by unifying your ecosystems of record, natively integrating to your systems of engagement, and then putting content into context to push  "what you see is what you need next" insight. We mask the complexity of your diversity and virtually consolidate into a "single pane of glass" experience for your users. It's almost like you can have your cake and eat it too.
Find out more about how to deliver knowledge right when your employees need it by watching on of our previous webinars that introduces Knowledge-Centered Service. Watch the webinar here.
on-demand webinar
KCS Fundamentals & Self-Service Success