CMX SPACE model meets Coveo AI-powered search
Communities have become so multifaceted. They are capable of so much that it can be difficult to know where they live in a business, making it difficult to gauge their effectiveness. They are most commonly used to drive customer satisfaction and retention, provide self-service support, and they are critical in developing brand ambassadors. However, a strong Community can impact nearly every area of your business.
Knowing how to leverage communities to scale a business and the value they truly have on the bottom line has remained somewhat of a mystery throughout their evolution… until now. Our trusted partner, CMX has been working around the clock to demystify the community's business value and ROI. On a mission to organize and equip a global movement of community professionals, in order to shape a more connected, collaborative and compassionate world, CMX created the SPACE model. As you can imagine, a lot of work has gone into building a model that reflects companies both building their communities in real-time and those that are trying to enhance an existing structure. But they've broken it down into a simple framework helps companies identify 5 key areas which value can be derived, proving that communities have expanded far beyond customer forums.
Where do you derive your Community value?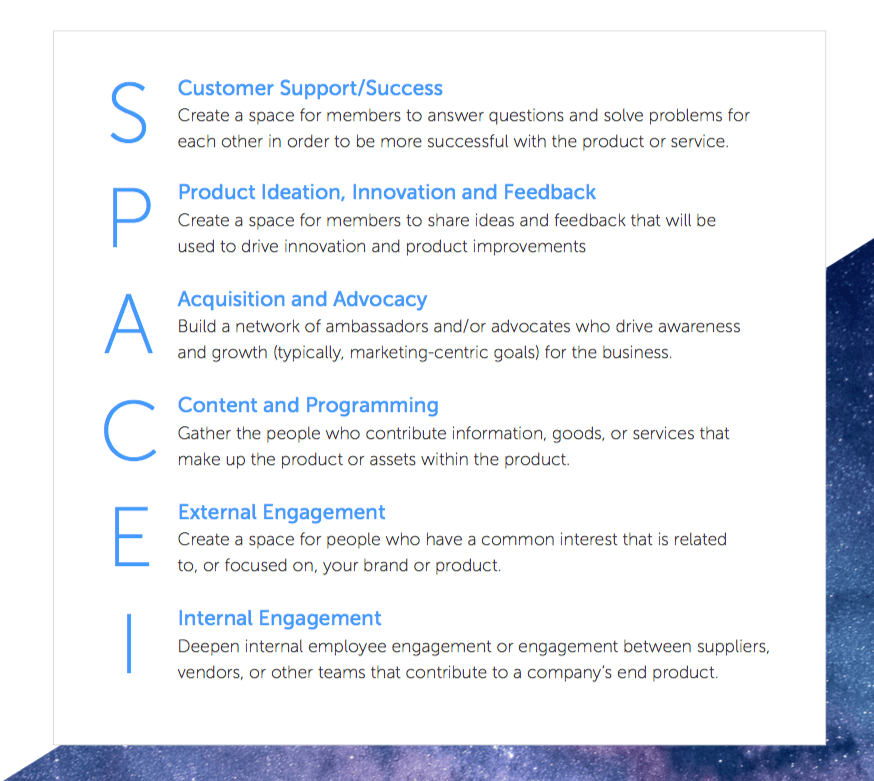 Register for our webinar with the CMX and learn how to get the most value from your Salesforce Community for  customer support and self-service.
No matter which area of the SPACE model your Community falls in, its business value can be exponentially enhanced through AI-powered search. From customer success to internal engagement, intelligent search is the only way to truly get the most from your Salesforce Community by leveraging your crowd's interactions to drive relevance. It does so in the following ways:
1. Customer Support/Success
Your customers want the ability to self-serve on your Community but they also want a quick, frictionless experience. Navigating through disparate sites to find the information they need is not going to cut it. Intelligent search unifies content from all of your customer service systems, beyond your Salesforce content, so your customers can easily access all the information they're looking. Whether it's YouTube videos, content from external sites or documentation, make sure you deliver the results in one unified list that sorts them by relevance.
AI-Powered search in the context of customer support has proven to drive dramatic cost savings from case deflection and self-service success. Some of our customers experience up to 3X in their case deflection rates after implementing Coveo on their Salesforce Community.
2. Ideation, Innovation and Feedback
Intelligent search offers rich analytics by monitoring search patterns and trends, identifying what content or suggestions are most helpful, and where they struggle to find information that allows them to self-serve. With this information, you can easily identify content gaps, areas for improvement and product capabilities your customers expect. It helps companies identify new product issues by looking into trending queries, and create a feedback loop with the product organization to resolve emerging problems.
3. Acquisition and Advocacy
An intelligent Community allows your customers to easily self-serve, help others within the community and establish brand loyalty. With 92% of consumers trusting recommendations from friends and family more than any other form of marketing, intelligent search is no longer a nice-to-have, it is a critical component of driving awareness.
4. Content and Programming
Through machine learning, intelligent search is capable of automatically tuning itself, enabling it to proactively suggest the most relevant answers and suggestions, based on the successful outcomes of similar customers. Furthermore, your community contributes valuable content themselves, that can contribute to other customers' self-service success with no added overhead.
5. Engagement
By understanding what your customers and support agents want and need to self-serve, you can begin to deliver it. Intelligent search gives your organization the ability to deliver immediate and contextual results according to their needs. The more your content meets their needs, the more they will engage. By proactively suggesting related content, trainings or products, AI-powered search has the ability to increase engagement and cross-sell opportunities.
In collaboration with CMX, Coveo is working everyday on ways to help you track your community's business value, measure the success of your online community, and enable you to enhance your Salesforce Community efforts through AI-powered search. Don't wait to see what you can do, and see real examples of companies that managed to leverage the insights from their member interactions and drive engagement and self-service success by delivering relevant and proactive answers.
on-demand webinar
Best Practices for Building a Community for Support & Self-Service