Coveo recently announced our latest release for Coveo for Salesforce, the Summer '19 Release – and it may be our biggest release yet. From integration with Einstein bots to certification in more Salesforce industry clouds , this release is jam-packed with exciting new features. 
With our latest release, Coveo for Salesforce users can now:
Empower their agents with the full knowledge of the customer's journey, including pages visited and previous queries with our User Actions component. You can also see the pages specifically viewed with the Viewed by a Customer icon.

Drag and drop a community recommendations box, i.e. "Users Have Also Viewed," in two clicks. Yes, just two.

Create an article for the knowledge base directly from the Lightning Insight Panel. It's now easier than ever to operationalize your Knowledge-Centered Service strategy.

Be confident that Coveo is validated and successful in the Financial Services Cloud and Health Cloud, with our new cloud certifications Including a new package for B2B Commerce customers.
To find out more about the release, we sat down with Neil Kostecki, Senior Product Analyst for Coveo for Salesforce. 
Q: What are you personally most excited about?
Neil: I came to Coveo after a previous life as a Coveo customer, with some experience as an agent. So for me, the "User Actions" feature is by far the most exciting. I hated being on the phone with a customer and trying to recommend articles and other places to look, only to hear them become more and more frustrated when they had to explain that they already tried that.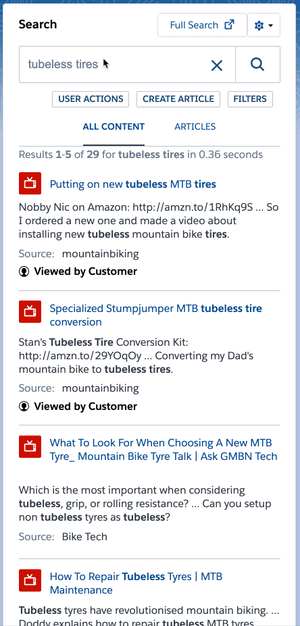 The User Actions component is a game-changer for agents, and frankly, customers think agents are doing this already. Customers visit your community and provide all sorts of important signals through the keywords they search and the content they view, before logging a case to support  – why isn't that information being shared with the agent? 
Q: Why these features? Why now?
The goal of everything we do in product development is to make Coveo for Salesforce simpler and easier, without compromising effectiveness. You hear us talk a lot about frictionless customer experiences – those same principles extend to the admin experience. 
This is why our new "Community Recommendations" takes just two clicks. We know how important these recommendations are to users, and now it's easier than ever to bring it into your community. 
We also heard consistently from our customers and the market: insights are now mission-critical. Customers have high expectations that insights from their behavior are being carried throughout their journey. We knew we had to bring the User Actions panel to life. In addition, insights are critical to weave throughout the agent experience, so we've made it easier than ever before to create content inside of the Lightning Experience with our "Create an Article" feature.
For the new use cases, we've always had Financial Services and Healthcare customers, but with our new certification, it enables our customers to index those new industry cloud specific objects and opens up more opportunity to extend Coveo to where you need it. 
For B2B Commerce, well, this is an exciting new area for us that frankly, many customers have been requesting for a long time. We're bringing our proven success and leadership in AI-powered experiences to B2B Commerce. We'll share more info on this soon, but in the meantime, get in touch with us at coveo.com/contact. 
Q: What do you want our customers to know about this latest release?
Neil: First of all, we're listening. We're shaping our product to be what our customers need. One of our customers, a major financial services company actually came up with the idea for the Viewed by Customer component. They sent us a mock-up of where they wanted it and explained the value it would bring. We always want to hear more from our customers.
Second, we're tightly integrated with the Salesforce platform to make sure we're on the bleeding edge. We were one of the first to be on Lightning and we're one of the first to be on Lightning Web Components with our new Community Recommendation component. We're always looking at what's next and keep our ear to the ground.
Q: So what is next?
Neil: Well, first up is Dreamforce. We're really excited to be a Groundbreaker sponsor this year and will have multiple speaking sessions on creating effortless experiences that drive growth, satisfaction, and proficiency.
Product-wise, our focus is to continue to add more value to what we have today. We want to bring new features and functionality to our existing components to make it easier for our customers to deploy those changes. We're also working really closely with our Machine Learning team to provide new models and tools to drive more insights. 
Q: Where can customers go to find more information?
Neil: Customers can go to a few places to find out more: