How well is your knowledgebase working for you? If your people can't access the information they need quickly it hurts your bottom line. By securely delivering "just-in-time" content from across your growing enterprise information ecosystem, intelligent search enables successful and scalable customer service, and supports the improvement of key KCS metrics.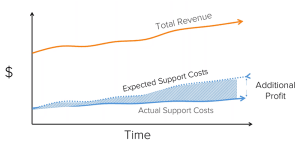 In fact, companies that use KCS aligned practices like intelligent search as part of their knowledge-centered support programs are seeing changes in their ratio of support-cost to revenue by:
Solving cases faster – 50-60% improved time to resolution and 50% increase in first call resolution.
Upskilling employees – 70% faster time to proficiency, 20-45% higher employee retention and 20-40% improvement in employee satisfaction.
Self-service success – 25-66% improvements in customer self-help success.
(Source: Consortium for Service Innovation)
In a recent webinar, KCS expert Jennifer MacIntosh discussed the four ways intelligent search sustains success by enabling core KCS principles:
Create content as a by-product of solving problems.Challenge: As a support engineer, you need to capture information related to an incident and create knowledge at that moment the information is "fresh."Solution: With Coveo for Salesforce, it is easy for support engineers to do that by:

Creating knowledge articles on-the-fly based on content surfaced by Coveo
Attaching case-resolving content surfaced by Coveo to cases for faster resolution
Migrating content discovered by Coveo into Salesforce Knowledge with the click of a button

Evolve content based on demand and usageChallenge: To constantly improve support metrics, you need to surface up accurate and current knowledge just-in-time – to solve your customers' needs.Solution: Support engineers need to vet which information is the most effective and trustworthy as they solve each case. Coveo gives them a leg up by automatically surfacing relevant information – including knowledgebase articles, similar cases, and experts, within the support engineer's flow of work. This allows the engineer to focus on reviewing, correcting & serving up evergreen knowledge in real-time to resolve customer problems, instead of searching for information.
Develop a KB of our collective experience to-dateChallenge: Support engineers need the ability to understand your company's collective knowledge so they can build upon it.Solution: With Coveo intelligent search, support engineers are automatically presented with knowledge and experts relevant to each support case from both your knowledgebase and your 'virtual knowledgebase.' Your virtual knowledgebase may include content from systems like Jira, SharePoint, customer communities, web sites and more. For support engineers and self-service customers alike this dynamic delivery of relevant knowledge and information from everywhere expedites case resolution.
Reward learning, collaboration, sharing and improvingChallenge: Understand (and reward) who within the organization is creating high-impact, case-resolving knowledge and foster an environment of learning, sharing and collaboration.Solution: Coveo intelligent search not only allows you to quickly identify experts on a given topic, it also provides search analytics to help you understand how the knowledge each person creates is used to achieve support outcomes. The analytics includes the ability to identify relevance and content gaps, an A/B testing dashboard to compare relevancy of updates to content, and a KCS dashboard that identifies key performance indicators such as Most Popular Clicked Sources, Popular Sources Used for Case Resolution, and more.