We received great news this morning. Coveo won the TSIA Star Award for "Innovation in Support Employee Experience and Loyalty," in the SMB category. This award recognizes Support Services organizations with employee experience programs that demonstrate a strong focus on employees and foster their engagement both within the company and with its customers.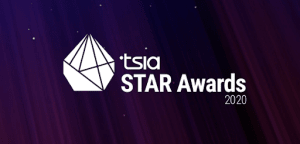 Coveo was recognized for the team's focus on the numerous employee experience initiatives deployed by the technical support team in the areas of recognition, onboarding, career pathing, knowledge management and overall engagement.  
"The TSIA recognition allows Coveo to shine in our industry and among our many customers," explains Alain Bouchard, VP, Professional Services & Tech Support at Coveo. "But I believe the daily impacts of this program on the team and Coveo are even more important." 
But what of the story behind the award?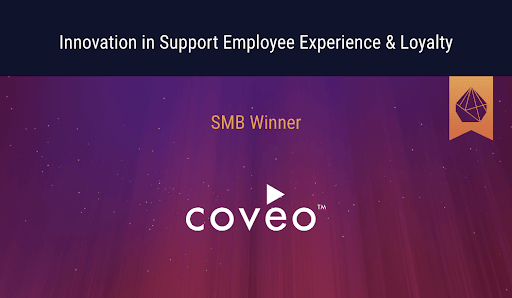 Operationally, things were running great. But behind the curtains, the team was struggling. They were understaffed and often overwhelmed trying to keep up with the fast-paced growth of Coveo, which was leading to drops in employee engagement and morale. (We measure this by using an internal survey platform called OfficeVibe.)
Management did an assessment of the situation and built a strategic plan to address the situation.  Numerous initiatives were put in place to improve the following aspects:
Hiring
Redesigned the hiring process based on High Impact Hiring methodology.

Aligned interview questions to performance attributes specific to the Support role, which led to a better assessment of a candidate's potential success and culture fit. 
New Employee Onboarding
Streamlined and structured the onboarding program to gradually train new hires on product components, processes, and tools.

Built test cases to measure product comprehension, customer management, and process compliance. 
Team Structure
Restructured the team to leverage team member skills, routing cases to the available resources most qualified to resolve the issue. 
Career Progression/Professional Development
Designed a Career Pathing Framework to structure career progression in Support with the definition of new responsibilities.

Built Individual Development Plans for each team member. 
Team Engagement and Recognition 
Held quarterly "Survey Feedback Workshops" with team members. 

Designed a Rewards and Recognition Program, with monthly, quarterly and yearly awards for actions taken that align to company values. 
Employee Experience
Implemented many process improvements in Knowledge Management, Internal Collaboration, and Continuous Improvement using Coveo among other tools.
Business Impact
No voluntary attrition in the last 12 months, placing us in TSIA Pacesetter category 

Employee Engagement Score: 18% improvement

295% increase in Employee Net Promoter Score (NPS), putting us in the 80+ range 

100% of open positions filled on time 

Quality of Hire: 68% improvements in involuntary attrition, placing us in TSIA Pacesetter category 
Customer Impact
Although most of our initiatives were focused on the employee experience and team engagement, the impact they had internally proved to carry over and benefit our customers as well. Customer experience was impacted as follows: 
Low Attrition Rate
Greater experience and expertise within the Support organization, resulting in a 21% improvement in our case quality measures

59% decrease in Resolution times

3.3% increase in CSAT (Customer Satisfaction) – this might seem low but, given that it was already in the 90%+ range, this is a significant improvement 
Knowledge Management
93% improvement in Just in Time publishing of external and internal knowledge articles

Content easier to find via Coveo's Insight Panel in the case console, resulting in lower resolution times and increased First Day Resolution 

Less than 1% of customers in Q1/2020 submitted cases after consulting a Knowledge Article (43% improvement compared to same period last year) 
Employee Impact: 
Most of our initiatives were aimed at improving the employee experience and satisfaction working in the Technical Support organization. We wanted to focus on the main pillars for success: people, processes and tools. Our efforts have resulted in increases across all of the main employee satisfaction measures we have using the OfficeVibe surveys: 
26% increase in Job Satisfaction

21% increase in Wellness (stress and personal health)

36% increase in Happiness at work and Work/Life balance

35% increase in Recognition In the past 12 months
All of our results in OfficeVibe categories are above the overall Coveo's company average – as well as industry benchmarking. 
And what next?
We will continue down our path of improving the employee experience for Support resources, under the firm belief – and proven data – that the Employee Experience has a direct impact on the Customer Experience.  
"This award is an amazing accomplishment," says Louis Tetu, chairman and CEO of Coveo.  "It's clear recognition of the effort that has gone into our constant striving for service excellence. The team has worked incredibly hard to ensure we run a world-class service operation, and I want to  thank them for the superb work and leadership – congratulations!"
The full version of the Coveo awards submission is available from the TSIA website.