Product returns have been the nemesis of brands and retailers for a long time, and the rise of ecommerce has only exacerbated this challenge. Consider that in 2020 shoppers returned up to 30% of all ecommerce purchases—worth $428 billion. 
Impressive numbers, right? Heralded by Mariah Carey and Salvation Army Santas on every corner, that time of the year is fast approaching. We're obviously talking about January, the biggest month for returns, when consumers emerge from their post-holiday slumber eager to send back their unwanted products. 
In this post, we'll explain why your plan to minimize product returns should start well before National Returns Day. It should actually begin with promoting the most relevant products in the first place and continue with leveraging a number of smart nudges to prevent returns. 
Before discussing some powerful yet under-appreciated tactics and strategies available to ecommerce brands and retailers, let's briefly recap how product returns became such a big problem. 
How Did We Get Here?
So, how did we arrive at the Island of Misfit Product Returns? An important part of why product returns have become so frequent is frankly because they're so easy to do. Established retailers as well as digitally native startups have consistently raised the bar by offering free, fast delivery and flexible returns. Consider how retailers like Warby Parker and Amazon have popularized try-before-you-buy programs by letting consumers try on products at no upfront cost, initiating a trend that is gaining increasing attention. The consumer is only charged for what they keep, while the remainder is returned.
Costly options such as free shipping on returns, unlimited return windows, and no restocking fees have been adopted at least to some degree by retailers who can't afford not to match the competition. The result is that these standards have become a painful must-have for online stores due to 87% of shoppers now wanting free returns for online purchases.
But of course, flexible policies are only a part of this. While some fraudulent behavior such as wardrobing contributes to returns, most are due to customers' negative post-purchase product evaluation. This ultimately boils down to the lack of "touch-and-feel;" it's harder for people to find the products that are most relevant to them when they can't see and touch things before buying.  
Why the Usual Fixes Aren't Enough 
Retailers aren't always happy to talk about high return rates, but that doesn't mean ecommerce players aren't aware of their negative impact. In fact, you'll read in Asos' annual report how increases in product returns were primarily responsible for the firm's decrease in gross margin a few years ago. 
So, what should be done? While improving and optimizing the locations where returns can happen is important, improving return rates is the real challenge—but where do retailers start?
Rethinking Return Policies is Untenable
An oft-discussed answer is that retailers should rethink their return policies to deal with the unsustainability of product returns. For example, they can experiment limiting the length of return windows to offset the generous return policies that shoppers expect. 
There are reasons to take this suggestion seriously—especially considering the environmental impact that product returns have. Truth is, however, that this move is not the most appealing because highly flexible returns are now table stakes. Implementing less flexible return policies could reduce demand. 
Further, in some cases retailers are required by law to accept returns within a certain window of time. 
Addressing the Lack of Tangibility
Another way to try and tackle the problem of high return rates is to actually help customers address the lack of "touch-and-feel." But how? 
The most straightforward answer is to have high-resolution photos on the product page. These photos allow customers to zoom in and examine the various details of a garment, such as the weave patterns, stitching, buttons, and logos, helping them to fine-tune their expectations and reduce the chance of making a misinformed purchase decision. 
Adding multiple high resolution product images, 360° spins, 3-D models, or even videos may incur significant ongoing costs because, for example, the addition of a new product would require taking professional pictures in different settings. Yet, it is nevertheless great to facilitate the understanding of the product and hence reduce return rates.
However, especially since only a limited number of ecommerce players have succeeded so far in tackling this problem, companies should not overlook a number of valuable tactics that can greatly help reduce return rates.
7 Tips for Reducing Holiday Returns That You Probably Didn't Know
Tip #1 – Include and promote a virtual try on feature
Virtual Try On is an important feature for online visitors. A testament to the importance of this feature, American retail giant Walmart recently acquired start-up Zeekit, a specialist in virtual try-on technologies. 
When shopping for clothes online, the main trigger of hesitation is the inability to try the garments on. Virtual Try On modules aim to reduce this hesitation by bringing the online customer experience closer to in-store shopping. 
The visualization is done either on a picture the customer uploads themselves, on a virtual "twin," or on a model picture.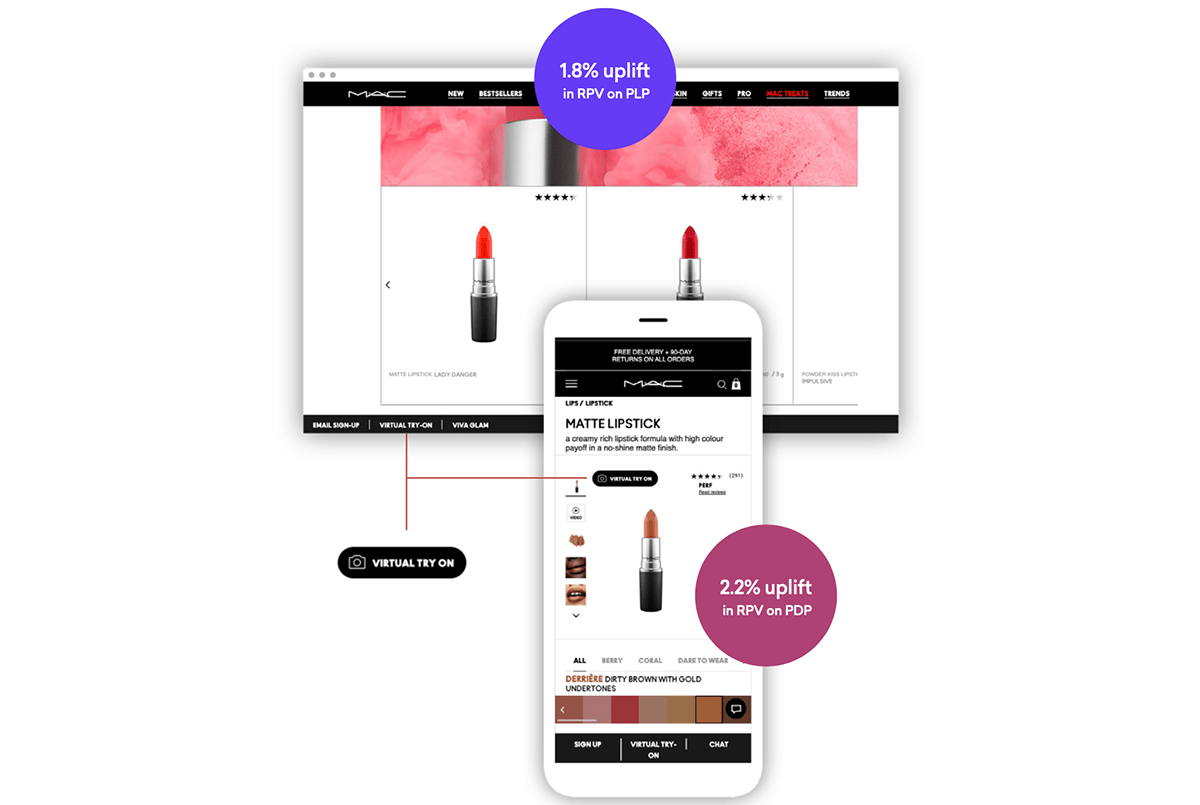 However this feature is only as valuable as the number of people who use it. Our customer, MAC cosmetics, solved this issue by prominently displaying this feature on the product detail page with a 'virtual try on' badge.  The result was impressive as it maximized the number of customers who could confidently make a product choice —and are thus less likely to return. 
Tip #2 – Boost search results based on product return rates 
Ecommerce product search has two main stakeholders: the customers and the organization. While their interests often cooperate, they can also occasionally compete. Organizations have interests that may supersede showing customers a list of products using simple relevance result ranking when they search. 
Customers tend to pay the most attention to the first few results on the screen so these will tend to get the most views.  Leveraging boost-and-bury rules to promote products based on relevant attributes can therefore ensure that your search experiences are also informed by your business priorities—for example with results being geared toward minimizing return rates. 
With the right search solution, a merchandiser can easily tailor the experience so that  products with a low rate of return attribute are automatically placed higher in the search results (all else being equal).
Tip #3 – Give rich media more visibility to guide shoppers 
While ecommerce players add rich media and extensive product information to their product detail pages, they've often neglected the role that media can also play on listing pages. For example, Videos, blogs, and guides can be extremely valuable for buyer enablement when it comes to purchasing more complex products. For example, our customer Bunnings Warehouse, a large household hardware chain, understands the importance of positioning their DIY advice with their product results to ensure shoppers can easily access educational materials prior to purchasing.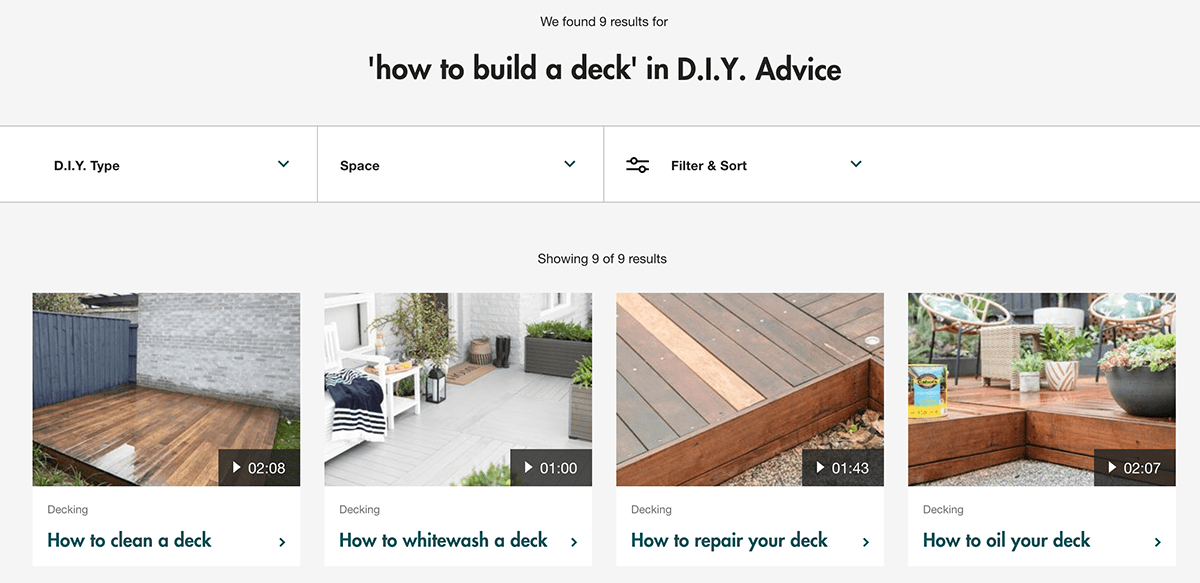 Tip #4 – Leverage social proofing to proactively prevent returns
In a reviews-driven market, consumers look to the "wisdom of the crowd" to affirm their purchase decision. By providing a detailed account of a product's quality and usage, reviews can also minimize negative post-purchase product evaluation. This leads to a lower risk of product return.
Practitioners, such as BazaarVoice, note that the presence of consumer-generated product reviews can reduce return rates by 20.4% and that product return rates decline with more reviews. Academic research shows that including reviews can lead to fewer product returns. 
With that in mind, consider using a badge to highlight reviews on the product description page. This can convey that the viewed item is "top-rated" and decrease return rates.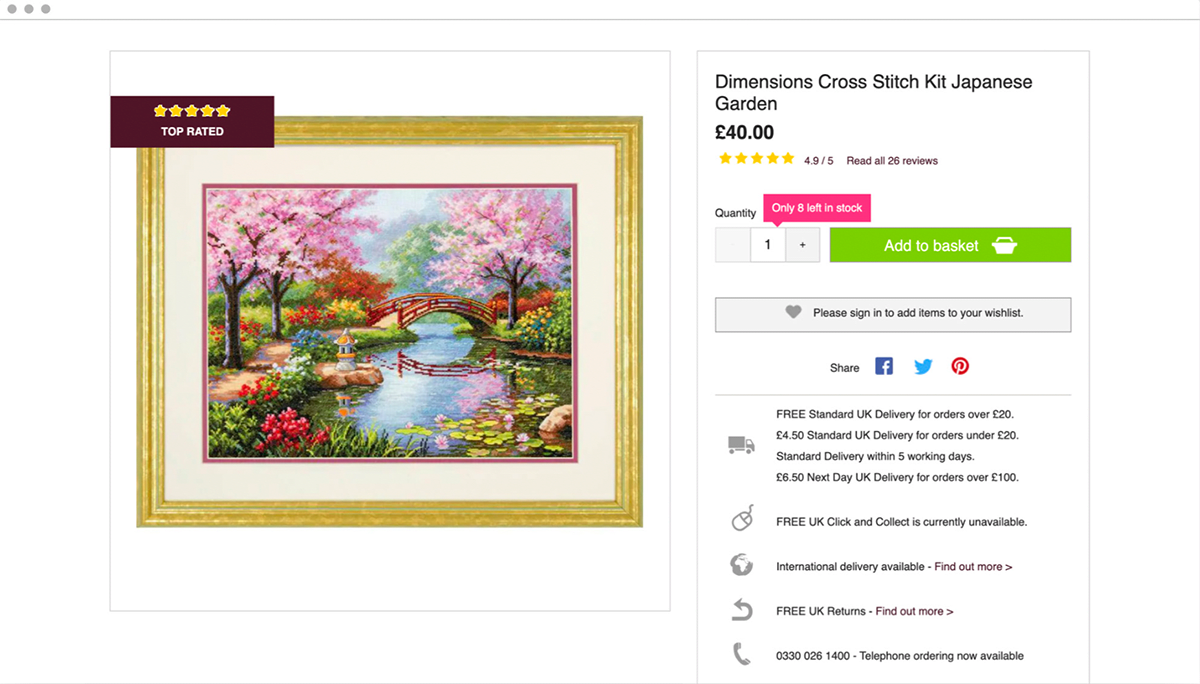 Alternatively, leverage "Our Customers Love" messaging to help shoppers choose the most relevant products similar users enjoyed and minimize the risk of post-purchase dissatisfaction.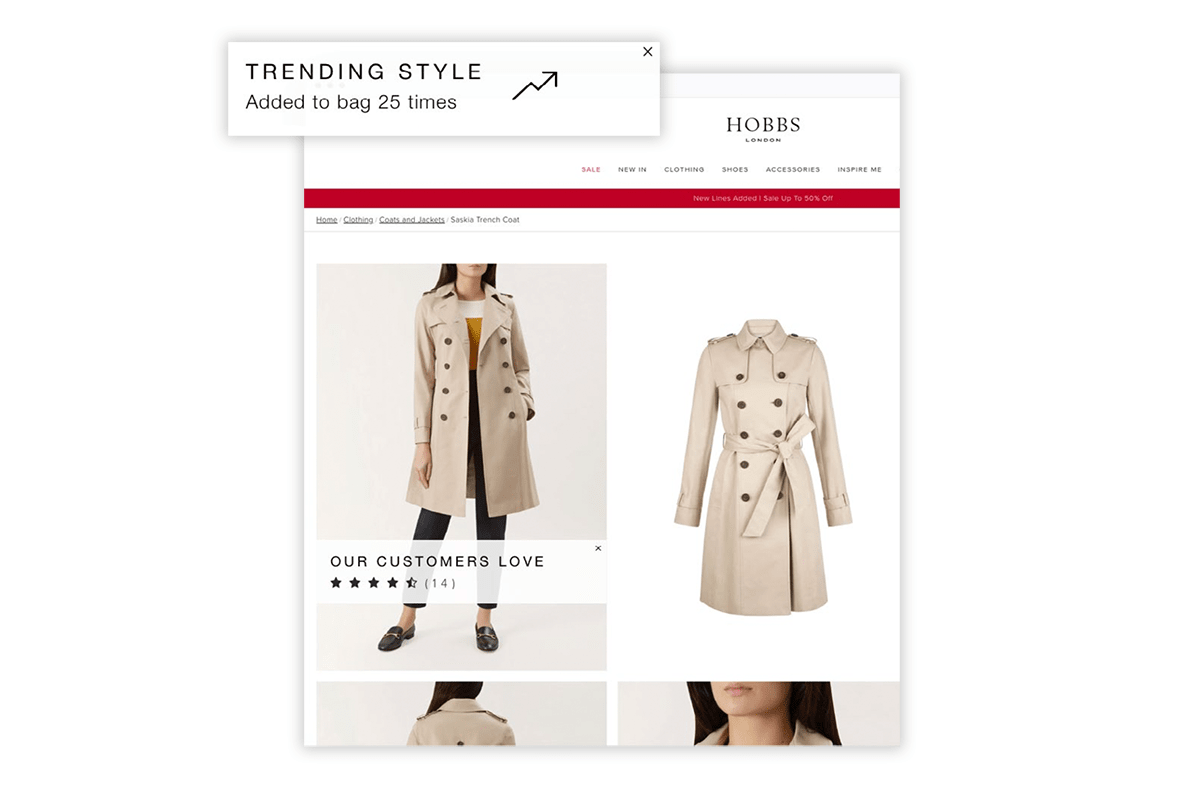 Tip # 5 – Harness the power of explicit feedback to boost personalization
The in-store experience often starts with questions that are designed to gauge the wants and needs of the customer. Wouldn't it be nice if online stores could do the same? After all, nothing is more powerful than an explicit answer. This helps ensure experiences are highly targeted and that the right product lands in the hands of the right customer—who is therefore less likely to return it. 
You can use the responses to direct customers to appropriate products, boosting conversions and minimizing return rates. But it is important to ensure that asking questions doesn't become too intrusive and doesn't increase interaction costs for your shoppers.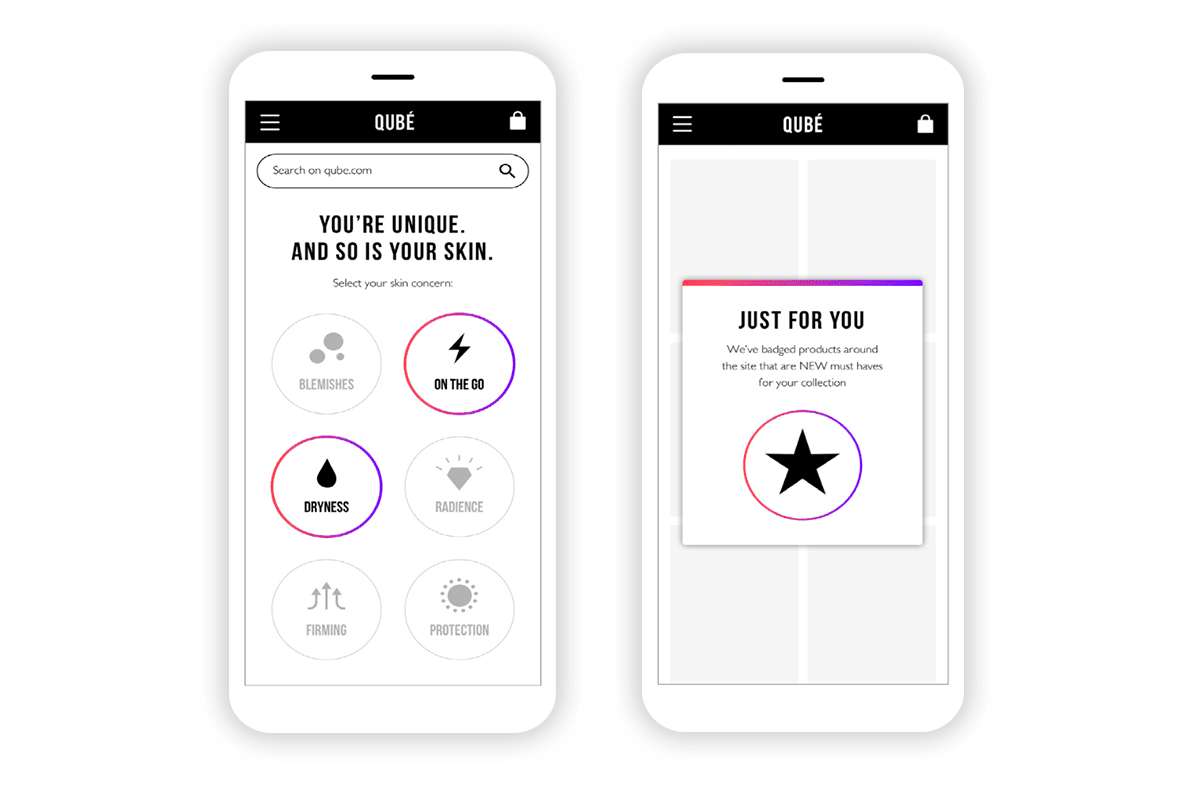 Tip #6 – Make product comparisons as easy as possible 
The amount of information shoppers may need to make a purchase varies, but retailers should provide all the tools to make a well-informed decision. Customers who make an informed decision will be less likely to return items. 
In particular, making comparisons between products as easy as possible helps shoppers find the products that best fit their needs. 
Amazon offers recommendations on product detail pages to provide alternative choices in a table format with product specifications. This helps compare a product with other similar products and highlights how the products differ.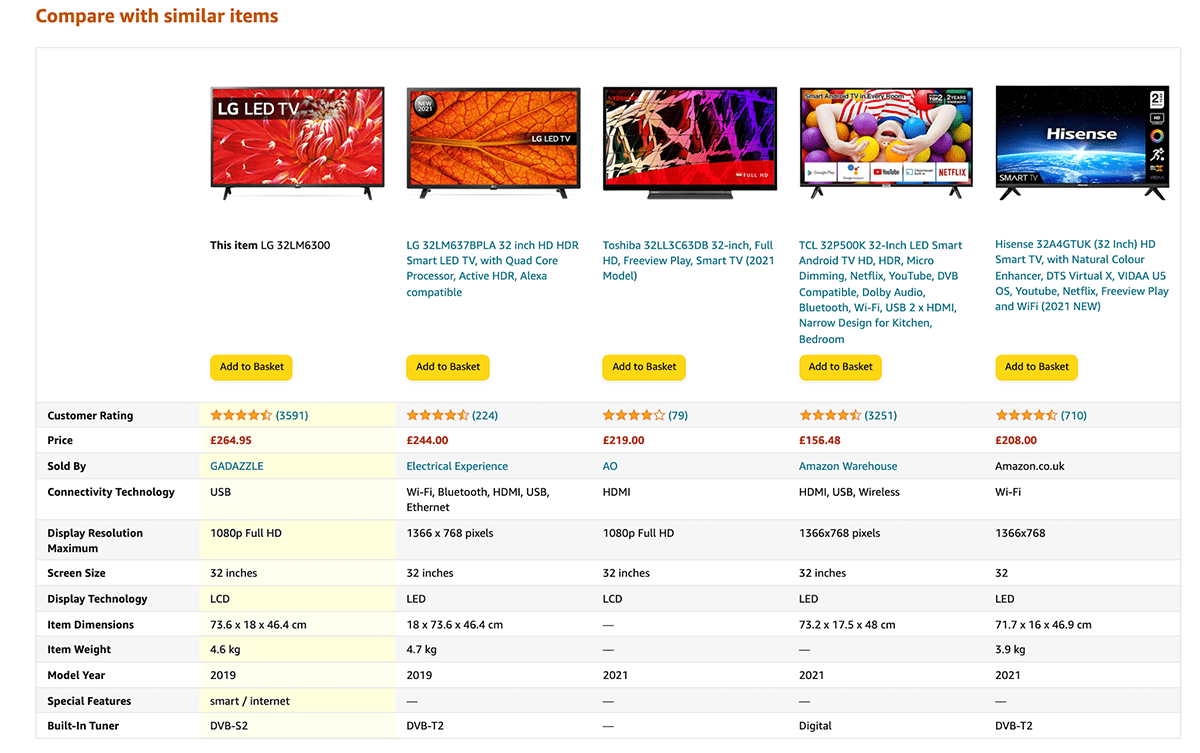 Home Depot also does a great job here, displaying technical details in a grid format.
To find out more about product comparison features, watch this talk delivered by the Coveo AI Team at the 2021 Berlin Buzzwords Conference and if you really want to dive into the technical details, then here is the associated research paper for your reading pleasure.  
Tip #7 – Use and optimize messages to nudge shoppers 
Finally, ecommerce brands and retailers can use targeted messages and notifications to reward good behavior and try to prevent costly returns. Words are powerful, and seemingly subtle messages can lead to massive differences in outcomes. 
Need an example? ​​By making simple changes to tax letters, and explaining that most people in the local area had already paid their taxes, the UK's Behavioural Insights Team boosted repayment rates by around 15%.
It's worth trying to use messaging to nudge shoppers to take your preferred actions. There are many ideas that can be tested for this, such as bracketing. On average, 40% of shoppers "bracket" their purchases at least occasionally, whereby bracketing occurs when the customer orders multiple items online to try on at home in the same way they would bring multiple items into the fitting room if they were in a store. They plan to return any items they don't like or that don't fit. For example, consider the common practice of ordering a size up and a size down from the size you think you need. 
Messages can help promote good practices by giving customers compliments that project the shopping behavior you prefer to see, like: "Thank you for being environmentally aware and only buying what you need." 
Messages can also help prevent bad practice, such as by having customers sign an honesty declaration at the start of the checkout process. It could look like: "I honestly declare that I buy products with the intent of keeping them." And could  be signed by simply letting them tick a checkbox. Another option is asking whether they're sure they wish to proceed with the purchase instead of consulting the sizing guide or performing any other relevant actions. 
Dig Deeper
Looking for deeper insights on how to optimize your conversion rate? 
In our Ultimate Guide to Conversion Rate Optimization in Ecommerce, you'll learn how to leverage synergies between touchpoints, harness the full power of analytics, and a three-step testing process for encouraging outcomes. 
Download your copy today!
Ebook
Ultimate Guide to Conversion Rate Optimization