How can AI transform the customer service experience?
This critical question was the focus of our recent webinar, "AI at Your Service." Neil Kostecki hosted the session to explain how AI has the power to keep your customers coming back – where many service automation efforts have failed. AI can become a cost optimization initiative for organizations in the customer service space, but like any technology, technology for technology's sake won't achieve business outcomes. CX leaders need to focus their investments in the areas that will reap the most ROI.
The session focused around three myths that often plague customer experience organizations as they start to look at AI to solve critical issues.
Myth #1 AI and ML are the same.
"The reality is that ML is an application of artificial intelligence," Neil explained. Machine learning is about recognizing patterns from data in order to predict outcomes. AI, on the other hand, is an umbrella term for a broad set of techniques that encompasses machine learning, natural language processing and automated reasoning.
For Coveo, machine learning has been a critical enabler of our customers' success, beginning with using machine learning to create a more effective search experience back in 2016. Now, Coveo is enabling a million experiences for a million people by using ML to provide a completely tailored experience, or "extreme personalization," as Neil described.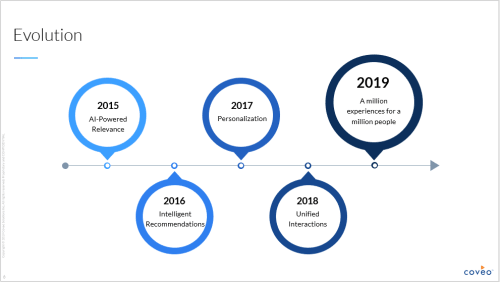 Myth #2 AI is the future.
It's a reality today – especially in the customer service sector. Neil shared that service is going to see a massive investment this year at $4.5 billion dollars, according to the Worldwide Semi-Annual Artificial Intelligence Spending Guide.
How will this money be spent? AI will help organizations understand their customers and anticipate their needs, across every channel. Organizations have data on their customers' preferences, but instead of using it to provide a truly personalized experience, they are forced to segment into personas. AI removes the resource constraints to transform the service experience and provide the "sticky" user experiences that customers expect.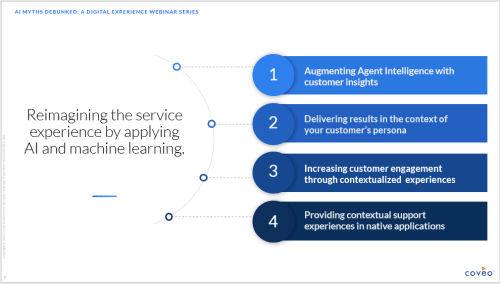 One example Neil shared was the agent-assisted support console within Salesforce. "We're able to extract the high-value keywords or phrases, rank results in order of relevance, and provide targeted recommendations automatically," Neil explained. "Service Agent are customers  outside the workplace and their expectation in terms of relevancy still applies." Therefore providing a good digital experience is key in agent adoption and work performance.
Three key results are achieved by applying AI to your agent-assisted support experience:
Drive agent adoption. As more agents see the value of the portal, they will be more likely to adopt it.

Improve agent collaboration. With more agents using the portal, your portal becomes a true knowledge repository for your agents.

Improve case close rates. Your agents become more proficient and are better able to serve your customers and resolve cases quickly and efficiently.
Myth #3 All machine learning models are created equal.
Don't let this myth fool you. Machine learning models vary, and their quality does as well. Coveo uses a specific formula.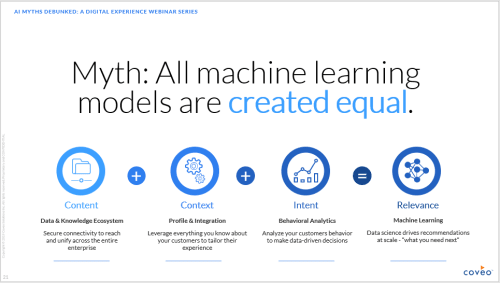 Content is your data and knowledge ecosystem.
Context refers to the user profile, everything from what products they own to their location and device. Some contextual factors are explicitly known; some are implicit. It's important to have a strategy about what data is more relevant for your customers to determine their context. For example, location may not matter for all of your products.
Intent is inferred from your customers' activity. Their behavior, search queries and more provide critical signals into their true intent for calling into the contact center or beginning to type in the search box of your customer community.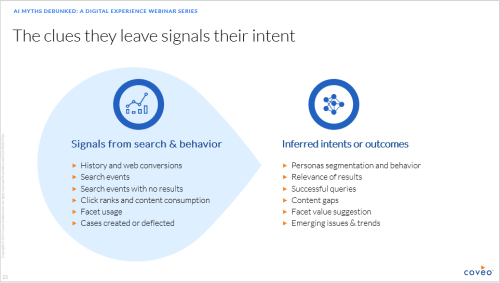 Neil ended the session with an explanation of the common pitfalls organizations face when they start piloting an ML or AI project, such as not understanding what your desired KPIs are from the start of the project. Watch the full webinar for this information, along with an in-depth explanation of real-world use cases from support organizations. 
Debunking AI Webinar Series
AI at Your Service