How disrupting your self-service strategy leads to a more personalized digital customer service and support experience
The digital era has proven to be very exciting for consumers. New technologies are emerging, new capabilities are increasing the speed and breadth of information that is consumed and they are more empowered than ever. However through this digital evolution,  many businesses are dealing with unprecedented change and are struggling to keep up. Business models are being disrupted, customer expectations have changed and as a result, companies are discovering they are lacking a clear path to intelligent self-service success and as such, are ill-equipped to lead in ways that meet their customer's needs.
The idea of disruption doesn't usually sit well within an organization as it is typically accompanied by disorder and turmoil. However, the truth is, disruption is actually necessary for digital strategies to be effective, particularly self-service strategies, because legacy models are just not cutting it anymore. With your information trapped in inaccessible silos, and your shortage of analytics that leave your customers' needs a mystery, it's no wonder you're having a hard time improving and that you're falling short of their expectations. They're frustrated and want more than your current strategy can support.
McKinsey reports that by 2020, digital care channels will grow to 48% of all interactions. And, in high tech, TSIA states that 65%+ of customers prefer online self-service. With the proper technology, the disruption of implementing an automated intelligent self-service solution does not have to be painful. Intelligent self-service leverages usage analytics and machine learning to better meet the growing demand for relevant and contextual information.
Beyond pleasing your customers, your organization can benefit from significant cost advantage too.  For example, if an average high-tech customer support center could shift 5% of its 10,000 monthly cases to self-service, it could save the company as much as $3M per year.
To help you understand the ROI of an intelligent self-service strategy, access our new guide, Building Your Business Case for Better Self-Service.
Deliberately disrupting self-service  
Leading organizations plan for disruption and as a result, they control the outcome. Innovative companies like Adobe, Salesforce and Logitech are using an intelligent self-service strategy to help customers do more on their own with less effort. These companies have followed simple, and repeatable best practices to create a digital self-service experience that gives customers the information they need, when they need it, where they need it. This guide, The Path to Intelligent Self-Service, highlights 11 best practices from self-service trendsetters and provides actionable steps that you can apply in your organization. Here are 3 of them.
Deliver In-Product Help to Predict and Prevent Issues
Adobe displays appealing search results with rich-media thumbnails of content, and quick views that allow customers to access the content without leaving the site. See Coveo in action on Adobe's support site.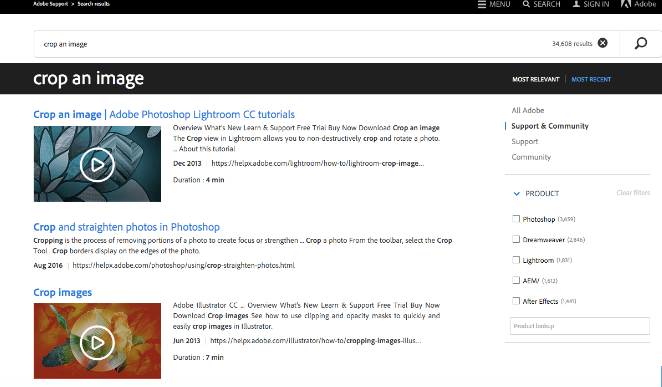 Recommend the Next Best Offer, Training or Content
Salesforce uses intelligent search on their support site to proactively recommend related training classes and resources based on what customers are searching for. By leveraging self-learning search capabilities, they are able to automatically deliver relevant suggestions based on what customer with similar profiles have previously clicked on. Visit their support site to try out the experience powered by Coveo.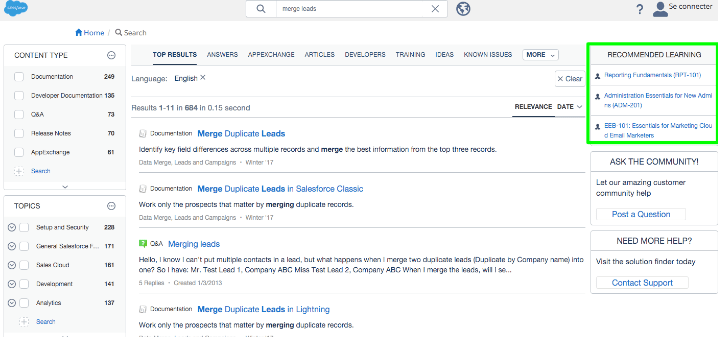 Create a Single Self-Service Hub, Accessible from Anywhere
Logitech's support community is the hub where its customers can go for answers, knowledge and discussion. All of their self-service resources are accessible through that single site, which is responsive and optimized for mobile devices so their users can access it from anywhere.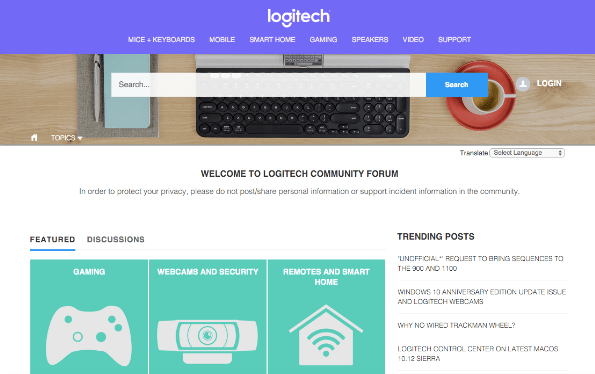 How to Get Started: The path to intelligent self-service success
Intelligent self-service enables your organization to offer a better customer experience and become top of mind to your customers.  The companies that are making the most progress with their self-service experiences are doing three things, and your organization can do the same:
Understand that intelligent self-service is a journey. Self-service success is not something that can be achieved overnight. As our resident resident expert, Jennifer MacIntosh, VP of Customer Success says, "Change relies on people, process, technology and metrics all working together." Not only does it take time but it requires continuous effort. It is imperative to constantly leverage your usage analytics to create a virtuous cycle of improvement that reflects the most recent developments. Getting your shareholders aligned, and understanding how success will be measured, will help to embark on a smooth self-service journey.
Rely on data to guide decisions.  Every time your customers interact with your website, they leave a trace of data behind. This information is crucial to understanding who your customers are, what they are interested in, and what they need. In-depth search analytics allow you to identify and address content gaps, understand user behavior and patterns, and track progress. Machine learning turns your data into insights and allows you to leverage that knowledge and proactively suggest relevant content, related items, pertinent training or other resources they might be interested in.
Recommending the right offer at the right time not only increases customer engagement but it also helps drive revenue through upsells and cross-sells. Data-driven insights enable your company to continuously improve the experiences you deliver by understanding what your customers pain points are and how to help them succeed.
Get started. Making the switch to an intelligent self-service solution can be intimidating. Companies that have taken the leap have deployed and began to see results in less than six months. While self-service success is a journey, there is real ROI from which you can be benefiting from in the near term – but you've got to take the first step. Evaluate your options, get started, bite off projects in smaller chunks, experiment and move quickly. You're leaving money on the table with every day that passes operating on a legacy system.
Innovative support leaders are making an investment in intelligent self-service this year due to its direct impact on scalability, cost savings, customer satisfaction and loyalty. If you'd like to learn more about how intelligent self-service can benefit your organization, read our new guide, Building Your Business Case for Better Self-Service. It showcases how industry trendsetters are making self-service responsive, proactive and predictive to drive engaging and intuitive experiences.