In 2017, Gartner bid adieu to Enterprise Search Engines – and welcomed Insight Engines. The distinction was to show how enterprise search now fortified with artificial intelligence (AI), resulted in smart relevancy methods in order to discover, organize, and analyze data – in the enterprise. 
Bastardizing the Secret deodorant ad – Insight Engines might have been designed for enterprise, but were proving to be strong for eCommerce. For the enterprise, the vast amounts of knowledge, housed in dozens of formats (using different organizational lexicons), created all sorts of headaches during search and retrieval. 
With machine learning embedded in search, these Insight Engines performed an analysis on the behaviors surrounding users' searches – what they typed, what they re-typed, what they clicked on, what they did not – to create a better balance of precision and recall. 
Not only is the search bar a must-have tool for more than 43% of shoppers, but according to Forrester, shoppers who use the search bar are two to three times more than likely to convert. 
The promise of Insight Engines was to help search users find items by offering up smart autocomplete, faceted suggestions, query corrections, and robust "Did You Mean" suggestions. The benefits are obvious. If buyers can't find it – either because site descriptions are lacking, synonyms are used, or users create typos – then they just can't buy it.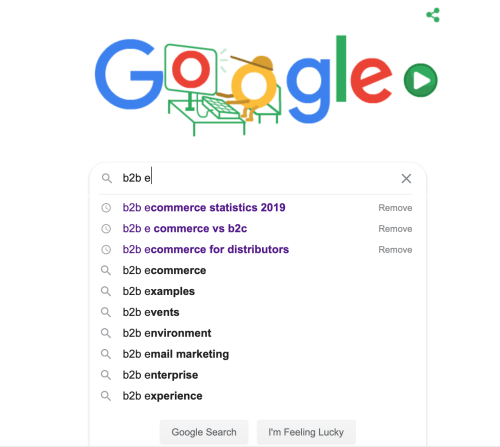 AI was able to analyze log files at scale and save merchandisers and staff from the tedium of searching the myriad ways that people look for something – not to mention all the misspellings. Found this oldie but goodie from 37signals (now Basecamp) that reminds us of what can lead to null search results:
Brand names – e.g.

Kurig

or

Kurog or Keurog

(vs.

Keurig

)

Mischaracterized attributes – is

Black

a brand or a color?

Fat fingering – product skus can be typo-twisters!

Synonyms –

pocketbook

,

handbag

,

purse

,

satchel

,

clutch

Deficient memories – ipods vs. earpods
In any event – Insight Engines were the elixir to these faux pas. Machine learning analyzed data at scale and used a variety of algorithms to sort out what buyers were actually looking for. 
Importance of B2B Navigation
But what about the shoppers who like to navigate through your site? Admittedly, this has been more the provenance of the B2C shopper – but B2B folks shop this way too. In fact, the bulk of buyers use faceted navigation to find what they want. But they want this experience personalized. In fact, according to Richard Isaac, CEO of RealDecoy, personalization in B2B may be even more important than B2C.
Unlike B2C, B2B buyers have to authenticate – so they are known. Buyers are usually interested in restocking or buying from a specific segment. If you have a product catalog of millions of SKUs, what are your return buyers seeing? Can they easily pick up where they left off? Are the navigation filters "savable?"
"Unlike B2C, B2B buyers don't want to browse," reminds Isaac. "They want to buy. And they want that experience to be as frictionless as possible."
That doesn't mean you can't promote recommendations, they just need to be relevant ones, says Jeff Pratt, Commerce Practice Lead at Verndale. "More users, often based on B2C expectations, want to be delivered relevant recommendations that would be much closer to the experience a salesperson would provide."
Outside-In vs. Inside-Out Approaches
Pratt describes an Insight Engine as one that solves the Inside-Out approach – one that is product and seller-centric. "In the digital realm, this translates to clear and complete Product Data including product taxonomy and supporting information, documents, specs and materials," he explains. "It really facilitates one-to-many marketing."
It also means providing merchandisers and sellers analytic insights on what is selling and who is buying. He says that process needs to be expanded to an Outside-In approach, where the site serves on a one-to-one interaction. 
With this approach, the site is "asking", how can I help, what are your needs today? "This approach, says Pratt, "requires more sophistication and nuance to leverage enhanced custom profiles, solution components, current and past site behaviors and actions."
Intelligent Buying UX Equals Tailored Workflows & Dynamic Filtering
This more intelligent buying experience can manifest in numerous ways, but it necessitates a fundamental paradigm shift to looking at buyers as humans versus just a "cog in the transaction wheel," describes Brian McGlynn, VP Commerce for Coveo. 
And Millennials, now reaching age 40, won't stand for anything less. Earning their loyalty means offering experiences that are found in B2C. 
Filters are a terrific way to assist buyers in finding what they really want. Filters also mean reducing what buyers see. So, it's important that the filters that are made available to a buyer are the right ones. Dynamic filters that are personalized to a prior history help create a more frictionless experience.
If a product is out of stock, be at the ready to offer suitable substitutions. If your customer largely restocks the same items – allow them to easily find it and use that as a jumping-off point. 
And post-Covid – transparency into the supply chain will be essential. If a product is out of stock, what is the backlog – is it at the manufacturer? Is it in transit? Is there an estimated date when it will be available? How many pieces of inventory will be available? 
"Intelligent Experiences mean giving the B2B Buyers the knowledge necessary to strategize around prevailing market conditions," says McGlynn. 
B2B Customers Are Not Happy
And with few exceptions, a true Intelligent Buying Experience is not happening today. Along with their challenging relationships with salespeople, B2B buyers have plenty of complaints about their vendors' eCommerce capabilities. For example,
Participants in

Digital Commerce 360's 2019 B2B Buyer's Expectations Survey

were asked which problems they encountered most frequently when they tried to make a purchase on a B2B eCommerce site.  The number-one response, selected by 34% of B2B buyers, was searches that returned poor results.

When B2B buyers were asked to name their biggest frustration during the online purchasing process in that same survey, the top response, at 63%, was products being "unavailable or hard to find on a B2B eCommerce site." 

Nearly half (46%) of B2B buyers responding to a McKinsey survey of more than 1,000 buyers in four countries said, "it was difficult to compare products online accurately. They are frustrated that they cannot complete a repeat order easily. And they grumble about the time it takes to get a response when seeking help."
Sprawling Tech Stack
One of the trends that has evolved is the proliferation and sprawl of the commerce tech stack. Creating a better experience has required retailers to plug in a new component. It increases the longevity of the platform and mitigates the complexity of a complete re-platforming project. Other categories are numerous and varied, ranging from order management and shopping cart integration to CRM and data management. A Product Information Management system (PIM). A search engine for customer support. A recommendation engine. A personalization engine. A merchandising platform. A CMS for ancillary content. A CRM – (likely many!).
It's not unusual for a mature eCommerce site to have dozens of pieces of tech. According to Forrester, companies have, on average,
"17 different technology applications leveraging customer data, with an average of 28 different data sources used for generating customer insights and customer engagement." 
All of this has to be synchronized. And maintained. And secured. Assessing, procuring and integrating all these components is not only a burden – but can also lead to breakage. An upgrade to one can mean a broken experience for your buyers. 
Read more on how an outdated tech stack can be stiffling your B2B business.
In a survey of more than 1000 retail shoppers across North America, Coveo found that over 90 percent of retail shoppers reported that they would return to a site with a personalized digital experience that tailors product recommendations based on their previous shopping habits. Further, six out of 10 shoppers reported that they are frustrated when site search results aren't tailored to their past online behavior or search query. 
While these were retail shoppers who were surveyed, B2C buying has groomed the expectation of B2B shoppers. 
Reassess, Plan, Execute
As companies sit on the sidelines during this pandemic and "pause", as New York's Governor Cuomo likes to say, now is the time to reassess the buying experience. What will your buyer want, post-pause? Will the buyer have retired? Will furloughed buyers be back or will new ones be in their place? Will those who are back even remember where they left off? 
Opportunities are there for the companies who embrace the idea of providing not only an inside-out experience – but an outside-in one as well.