I recently read a great thread by Steven Sinofsky on Twitter and it got me thinking about our work here at Coveo.
As Steven explains, product development is a constant act of balancing features/innovation, quality, and schedule. An ambitious company like Coveo is all about balancing immediate returns, safe bets, and long term investments.
Today, Coveo announced the GA (General Availability) of Coveo on Elasticsearch. This announcement exemplifies Coveo's strategy towards long term investments.
When you look at something like Coveo on Elasticsearch and trace it backwards, all the way to our decision to boldly move from a classic on-premises solution to a cloud based SaaS solution, you realize how much work has been put in under the hood, unnoticed until now.
Coveo's R&D has accomplished an amazing feat over the past 5 years, constantly balancing this 3 legged chair. New customers facing features have been added steadily (usage analytics, connectivity, advanced query tuning, etc.) while new groundbreaking advances were also happening behind the scenes, serving a larger plan: relevance at scale.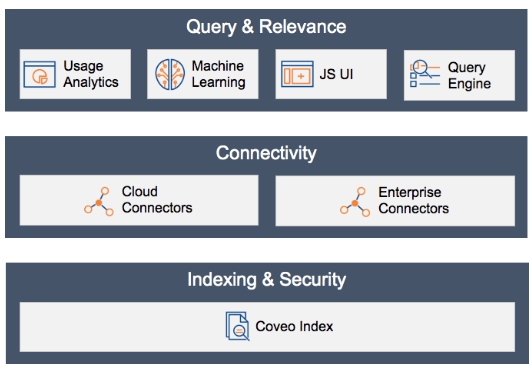 Looking at the simplified version of the Coveo stack above, it is quickly apparent that a tremendous amount of effort and ingenuity went into its creation.
While constantly introducing new "immediate returns" features and solutions like the usage analytics module, or "safe bets" like more connectors; the Coveo Platform moved -unnoticed- from a monolith to an array of micro services and introduced game-changing features like query pipelines, and AI-powered relevance that fuel our long term vision and investments.
The index is also an interesting component that Coveo has been busy working on over the past few years. You might have noticed it sits nicely in its own box on the diagram above. That is by design. While most of the new features we introduced seemed to come, from a user perspective, directly from the index; they were really being powered by new higher level services.
This is important because, while crucial, the index is no longer the central point of intelligence of a Coveo deployment. The added value and the benefits can be reaped from all the top-layer micro services.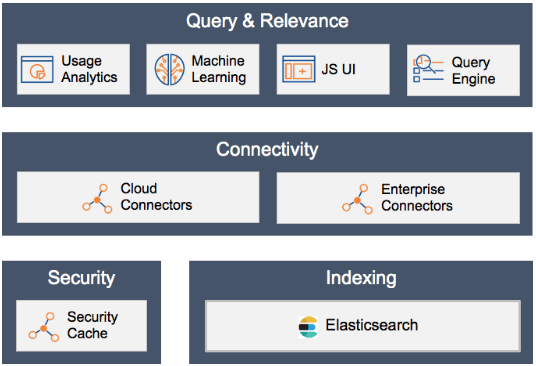 This leads us to our long term vision of scale (remember "relevance at scale"?).
With the release of Coveo on Elasticsearch, the Coveo Platform truly becomes index-agnostic (okay, to be fair we did a first experiment with the Coveo for Salesforce Free Edition in early 2017) and customers can leverage the massive scalability of Elasticsearch and enjoy the upper-layer services of Coveo.
The impact of this is massive: customers can reap the benefits of the open source index, including the scalability and vast developer community, while also being able to leverage the leading relevance capabilities from Coveo. All of this with the possibility to keep the elasticsearch index within their control (on-premises or cloud).
I am very proud of what the team achieved. Anybody who has worked with search technologies knows it takes talent, ingenuity, vision, and humility to do what our R&D team did.
So, what's next in our master plan? Unified Interactions.
After breaking the content silos, after opening our platform to be more agnostic, after enabling relevance and machine learning at scale; we want to create a unified layer of relevance to revolutionize digital experiences. Every user interaction informs the next one, no matter the platform or channel.
To learn more about the unified layer of relevance, check out a recent post written by Coveo's Founder and CTO, Laurent Simoneau:
related blog post
How the Unified Layer of Relevance Will Transform Digital Experiences in 2018