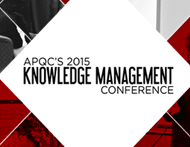 Attendees at this year's APQC Knowledge Management Conference in Houston are looking to understand how becoming a knowledge-driven organization can transform their business and drive the bottom line. I'm looking forward to providing attendees with some of those answers via a breakout session that's going to showcase two enterprises that are doing exactly that.
I'll be hosting a panel discussion with two Coveo customers, Deltek, Inc. and Tokyo Electron America, Inc. (TEA), to share how they've been able to upskill people with search, and how that has impacted their respective businesses. In this blog I'll highlight the TEA success story and following the session I'll focus on Deltek and how they've helped their customers to upskill and solve their own, complex cases.
TEA is a subsidiary of Tokyo Electron Limited (TEL) and primarily sells and services semiconductor manufacturing equipment to the leading integrated circuit makers. Japan-based TEL, founded in 1963, is a high-quality manufacturer of semiconductor production equipment (SPE) and flat panel display (SPE) production equipment.
TEA deployed Coveo as part of a multi-year Knowledge Management Excellence journey which has evolved into a program to focus on customer outcomes as opposed to products to allow customers to gain greater business benefits from their products and services.
TEA began its journey with some major challenges and to date have generated significant return for the business.  Some of their challenges included:
Lack of standardization and product classification
Complex content and security access
Multiple repositories in the US and Japan
Need to overcome KM solutions and internal skepticism and move from previous product-centered initiatives to a standardized one
Tremendous amounts of documentation created among multiple different products produced at six different plants
A key component of the initiative was to help TEA's 500-strong team of Field Service Agents to upskill at the moment of need when interacting with customers in the field, through mobile access to contextually relevant knowledge. This would enable them to better understand customer businesses, desired outcomes and TEL products & services when and where they needed.
During our panel session this Thursday at 11:20 am, TEA Director of BU Operations Randy Norton will detail how TEA was able to generate significant increases in proficiency and therefore effectiveness, resulting in the following:
Time to diagnose improved by 50%.
Mean time to repair reduced by 25%.
Cost per incident was reduced by 20%.
Joining us on the panel will be Sheila Boudreau, Senior Director, Customer Care, Deltek, Inc. If you're attending the APQC event, I hope you'll join the conversation and if you're not, I'll report back here following the event!