Last week, Stephen Tynes, Perficient's Sitecore Practice Director, talked about the importance of including site search in the initial project scope and emphasized the value site search brings to websites. This week, we invite Rick Bauer, Senior Technical Consultant at Perficient, to share how marketers can make use of site search to deliver more contextual digital experiences.
Marie: What trends are you seeing among your customers with respect to digital transformation and the drive toward more personalized, contextual experiences?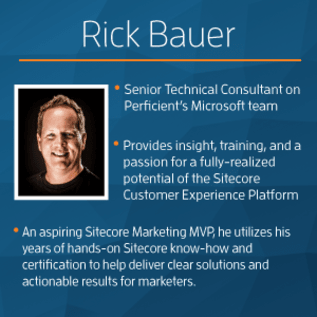 Rick: Customers are smart about the need for contextual relevancy, connectivity and the importance of strategy around their user journeys across all channels. They know the why. They struggle with the what and how.
Most enterprise customers have many different digital systems in place, and many of them are custom. Getting these systems to communicate and filling in the gaps (or determining if they need to hit the reset button) are tricky discussions. Bringing contextual relevance for their customers into that conversation becomes an often apologetic process. These large companies are frustrated and nearly embarrassed by their current situation. What they may not realize, is they are not only not alone, but they are in the majority.
Customers know the why. They struggle with the what and how. Our job is to take the right steps in the right order and break those steps into bite-sized pieces.
The game-changing companies (Uber, AirBnB, etc.) have had the luxury of forming their digital space from the ground up inside the contextual revolution. They are the benchmarks and those large ship-with-technology-and-governance puzzles want to be in their shoes.
Our job is to take the right steps in the right order and break those steps into bite-sized pieces. These crawl, walk, run steps will get them to their goal as long as they have buy-in across all departments and the time and resources to make the digital trip.
Marie: How should marketers and IT leaders be thinking about site search?
Rick: On a unified front. They both need to be looking at its importance and level of functionality and intelligence from the perspective of their customers/users. Nav is giving way to search. Great results drive a better user journey. Also, let's not ignore the ability to drive personalization and content based on search results. Specifically to Coveo, they have partnered with Sitecore and at the Platinum level, demonstrating they are fully engaged in the importance of contextual relevancy.
Nav is giving way to search. Great search results drive a better user journey.
Marie: Why did Perficient decide to use Coveo on its new website?
Rick: Like most companies we are our own worst customers. I can tell you it is for the right reasons. Like most, we focus our energy and talent on our clients. So when it came time to bring our website to the contextual age, a fully integrated CMS/Experience Marketing system like Sitecore was the right choice.
Within that, we needed a strong search solution/partner and one that would not tax our dev team. While we recognize, every integration takes time, the fact that Coveo was already a Sitecore Development Partner and was a powerful out of the box solution, Coveo was any easy choice.
Looking to the future we also knew that Coveo has powerful connectivity and the technological future-proof thinking that keeps them in a leadership position in the Gartner Magic Quadrant for Enterprise Search, year-over-year.
Marie: When would you recommend a customer to upgrade to the Pro/Enterprise edition of Coveo for Sitecore?
Rick: With great power comes great responsibility, right? Coveo is a very powerful tool and having the proper support and ability to connect to other business systems makes the pro or enterprise version a must from the beginning if possible. Should a client want to try the tool, the free version is well beyond a proof of concept, especially in a world where Search is the new Nav.
Recently Coveo also launched their Pro Cloud Edition which will not only expedite the dev process, but opens up the door for Coveo Machine-Learning – a patent-pending, analytics-based machine learning service that would make NASA scientists blush and truly set Coveo apart from other Sitecore site search options.