Interview with Gabriel Fournier, IT Specialist.
You know that moment when your screen goes black, something weird is going on, it's not looking good – who are you going to call? The IT team! (You thought I was going to say "ghostbusters", eh?).
When I'm under the gun at work but trying to put things into perspective, I'll often say to myself, "It's going to be just fine, it's not like we're saving lives!" But in the IT team's case, they save lives on a daily basis! Or at least it feels like it. I sometimes try to imagine what our workplace would look like if IT disappeared … The image that comes to mind is fairly post-apocalyptic.
I sat down with Gabriel Fournier to discuss his role as an IT specialist in more detail.
Tick tick ticket
Gabriel joined Coveo in August 2017. He had left a job in helpdesk support in which the work environment was much more rigid. "No, I wasn't working for the government!" he jokes. "I left torn between feeling excited about the opportunity to help users in a more open and trusting work environment like Coveo's, and afraid that I wouldn't be up to the challenge."
"So far in my career, I had to ask for every little thing and report on every minute spent. At Coveo, I felt like they trusted me right away," he adds.
So what's a typical day like? "I always start my day with a good cup of coffee! Then, I take a look at all our new tickets to make sure no emergency has cropped up overnight. We have employees in the UK, so they're experiencing and reporting their IT problems while we sleep."
Ok but … what the heck is a "ticket"?
Employees who need something from the IT team must open a "ticket" for assistance – essentially, they send a description of their problem to IT and IT reviews it, assigns it and resolves it. As simple as that!
"Then I plan my day accordingly, making sure to schedule appointments with employees to talk through their problem, follow up on existing tickets, and make sure everybody's IT needs are fulfilled. We also have a daily scrum — a short team meeting — around 9:30 am. This is when we make announcements and talk through our blockers. As a team, we always find new solutions!"
"Our longer term goal is to automate and systematize our internal processes as much as possible. Coveo is growing faster and faster, and our processes need to adapt to sustain that growth. The majority of this automation is handled by our internal IT team, but the Helpdesk team has to work closely with Procurement for everything related to the purchase of hardware and IT licenses for the many tools we use," Gabriel explains. 
So what's your typical IT Helpdesk Specialist like?
Basically, they're geeks who like to help others. IT specialists provide IT services to internal customers: employees.
Ultimately, it's a bit like when my grandmother asks me to "fix her email" – we're all the "IT specialists" for our grandparents. But here at Coveo, our IT team is a lot more knowledgeable – they studied in IT!
For Gabriel, the difference between working with external clients and working with internal teams is proximity. "When you're helping internal clients, you have time to build relationships with them – you see them everyday, you socialize with them at company events and activities, etc. When you're helping external clients, you'll likely never see them again once you've resolved their issue; you're unlikely to connect with them. Lastly, internal clients work in the same environment as we do, so they often have a lot more empathy for our reality."
Being part of the Coveo IT team requires a lot of passion and curiosity, excellent prioritization skills, empathy, and a great deal of patience.

"Passion for new technology is something we all have in common, and it's essential to our work – the solution to the challenges we encounter or predict is oftentimes the right mix of cutting-edge technology!", he concludes.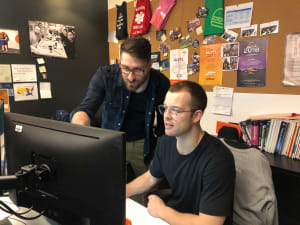 WANT TO JOIN THE COVEOLIFE? CHECK OUR CAREER OPPORTUNITIES HERE
Rapid-Fire Questions
What makes you get up in the morning?
"The alarm or the children! But in all seriousness, new challenges and projects. It's our job to make our employees' lives better, so we're constantly trying to find new ways to facilitate the work they have to do and come up with innovative solutions to complex problems."
Are you discouraged sometimes?
"I've never been discouraged at Coveo. Because the technical fluency here is very high, employees are often able to solve small problems on their own before coming to us. That being said, I once came to help an employee who claimed their screens were broken only to conclude that they hadn't turned them on."  
What is the thing you repeat most often in a day?
"1- Have you restarted your device recently?
2- Have you installed your updates?
It may sound silly but a helpful analogy I'll often make is with your own body – would you be functioning optimally after 2-3 days without sleep? Your computer is the same: if you always leave it open, it will start exhibiting strange and inexplicable behaviours that a simple restart will resolve!"