Wow. After three days connecting and networking, all I can say is wow. Sitecore Symposium set out to bring the theme of "elevate the experience" to over 3000 attendees through engaging keynotes, customer use cases, and enthralling speaking sessions, And they certainly accomplished it. Last year, I wrote about how Sitecore was embracing the fourth economy model – the experience economy. When looking for elevation, leading organizations are turning to personalization to meet the growing demands of their constituents. According to Mark Frost, Sitecore CEO,  88% of customers will pay more for personalized experiences. In this post, I'll explore how personalization was omnipresent at Sitecore Symposium 2018.
Day 1
As the masses arrived at the Walt Disney World Swan and Dolphin resort on October 8th, the expo hall was abuzz with excitement. It's always fantastic to meet partners and customers in person. That personal facetime is integral. Some of our cohorts had a later speaking session in the day, where they came prepared to deliver real-world examples of personalization  and how out-of-the-box AI is making it possible. Pet Supplies Plus is delivering brick and mortar personalization on its online store.  With AI it has recently benefited from a 47% increase in click-through rates, a 33% decrease in click-rank on search results page, and a 60% decrease on no results queries. Also showcased were examples from a global law firm, Fasken, as well as a legacy high-pressure laminate manufacturer, Formica. We'll talk about these two a bit later in this post.  
Day 2
The second day, October 9th, was the official kick off the event. Mark Frost delivered a fiery opening keynote, proclaiming "the experience IS the product." Mark was joined virtually by Joanna Milliken, SVP of Marketing Cloud for Salesforce, where she echoed the message that customers expect consistent and relevant experiences. Sitecore is continuing to show its commitment to personalization with growing partnerships with leading organizations like Salesforce (Coveo is quite fond of Salesforce too).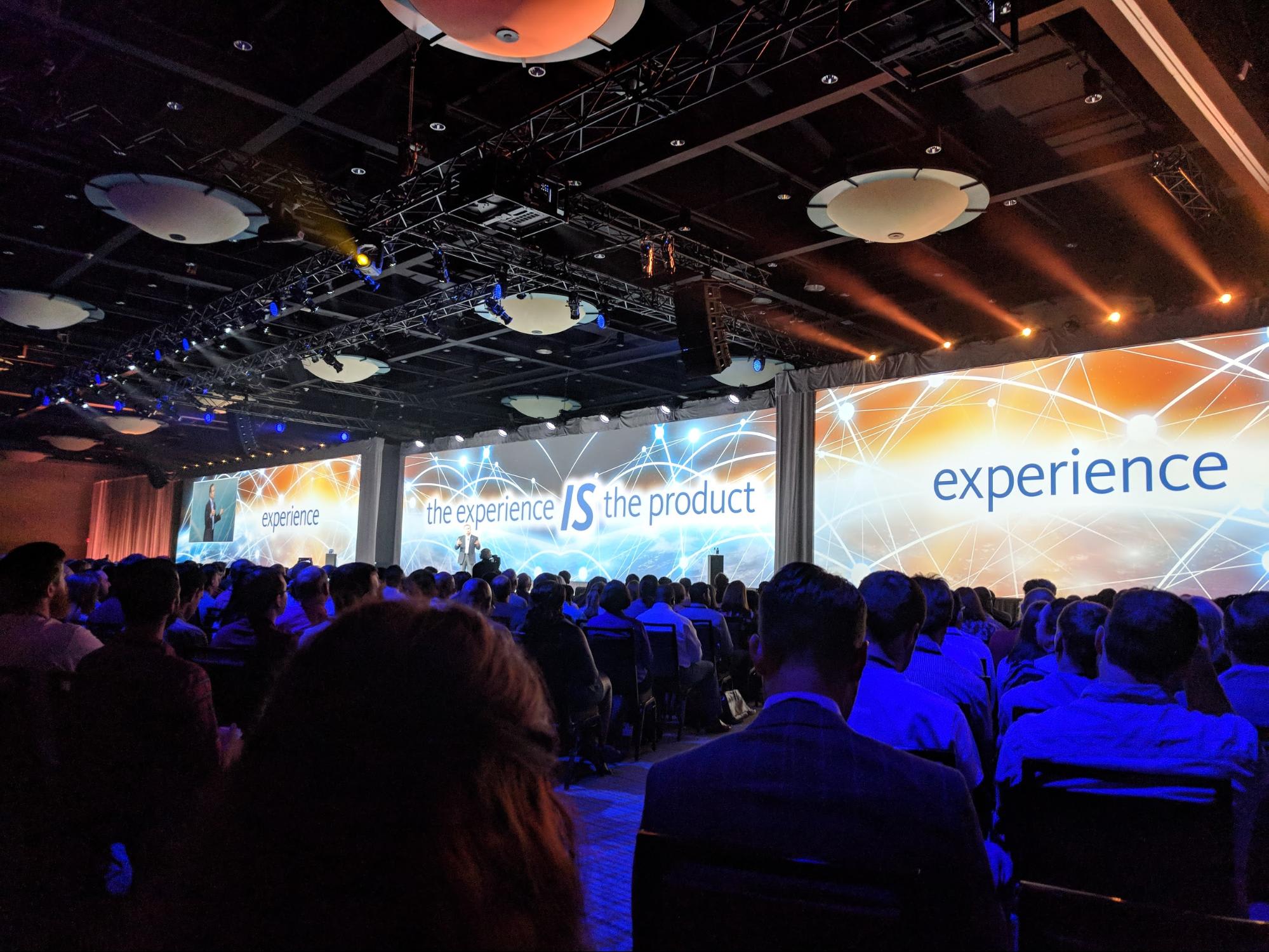 As the day went on, I had the pleasure of hearing how organizations of all kinds are benefiting from personalization. Sick Kids Foundation was especially interesting. Its goal is to enable donors to have a seamless experience when donating and enable them with an omnichannel campaign. Cannondale, a leader in the cycling community, is leveraging personalized data from IoT devices and wearables to give their customers personalized product recommendations and driving them to the closest retailer to get that product. Coveo also took to the stage to talk about how we were struggling to provide a personalized digital experience to our website visitors, how we accomplished it, and some of the lessons learned. Yes, we're aware of the irony.
Day 3
On the third day, our team was up bright and early for a small breakfast to share more tales of personalization with our Sitecore wielding customers. Our attendees heard from Formica, a century-old leading manufacturing organization that needed to deliver a personalized experience to their customers and partners. By leveraging AI-powered personalization they're now empowered to deliver relevant and personalized content to their customers and partners. They've seen their click-through rate increase by 68%.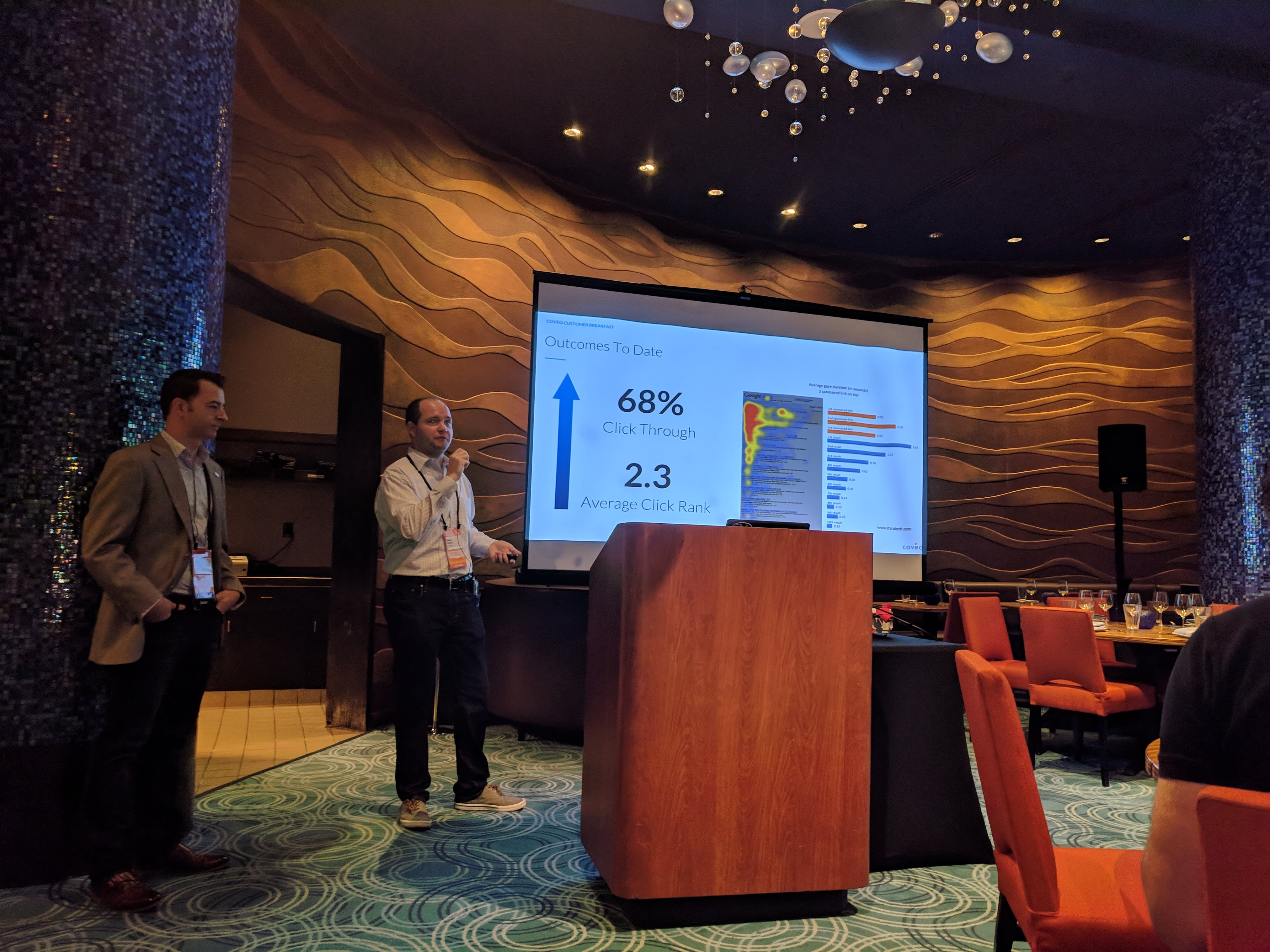 I also had the pleasure of sitting in on our partner Sid Lee's presentation with Fasken, a global law firm that sought to transform their "brochure" style website into an easy to navigate site that delivers a personalized customer experience. Brenda Plowman, Fasken CMO made a powerful statement "You can't market something you can't understand." Since it's overhaul, Fasken has seen a 22% increase of time on site and a 32% increase in search utilization. The proof is in the personalization pudding.
I diligently took down notes every day of the event and it's clear: organizations will live or die on how well they meet their customers, partners, and colleagues demands for personalization. It's no longer optional, or a nice-to-have. The good thing is that personalization within Sitecore is made even more accessible when you have AI-powered search and recommendations seamlessly integrated into your Sitecore stack. Organizations from all verticals are seeing the benefits, and your organization can too. Be sure to watch our video to discover how Coveo can elevate your personalization efforts with Coveo for Sitecore.
https://www.youtube.com/watch?v=s_OfGbU4A6Y