The U.S. has a "customer trust deficit," according Gallup's most recent annual report on public trust in U.S. institutions. 
The share of consumers saying they have "a great deal" or "quite a lot" of confidence in these entities was flat or down in every category between 2021 and 2022 — across all 16 institutions measured — including small and large businesses, the military, organized religion, TV news, and Congress.
Relatively speaking, consumer confidence in small business held up well, with 68% of Americans saying they have high confidence in local, family, and newly formed business, a dip of only 2% year-over-year. Confidence in big business was low in 2021 — at 18% — but it shrank to 14% in just one year.
Based on the data, Gallup made a chilling observation that can be applied across retail:
"The unfortunate result of this dissipating trust across industries is that it affects all businesses. The truth is, when trust is lost, customers are less likely to give you the benefit of the doubt and more likely to view the relationship with a critical eye."

Gallup, Reversing the Customer Trust Deficit, 2023
Business leaders are aware of the value of maintaining a relationship of trust with their customers and employees. According to research by the accounting and consulting giant PwC, 91% of business executives agree that their "ability to earn and maintain trust improves the bottom line." PwC also found that 58% of consumers have recommended a company they trust to friends and family.
Shoppers Weigh Caution vs Incentives
Coveo's Ecommerce Relevance Report 2023, based on a survey of 4,000 shoppers in the U.S. and UK, looks at how the attitudes of a distrustful public manifest themselves in digital retail behaviors.

Highly publicized hacking incidents have kept data privacy top-of-mind with a hefty 62% of shoppers saying they are concerned about how online retailers use their personal data. Consequently, a lot of those shoppers visit ecommerce sites anonymously. In addition:
Nearly half (48%) have abandoned an online purchase when asked to create an account.
Almost as many (43%) won't login until they are checking out.
Close to one-third (32%) say they always check out as a guest.
But here's the rub: Online and omnichannel shoppers simultaneously expect the benefits of personalization that come from customer data. Twenty-four percent of respondents consider it a problem if e-retailers do not provide them with product recommendations that are relevant or personalized to their preferences/buying habits.
It is possible to deliver personalized recommendations for anonymous shoppers in real-time — as we will discuss later — but retailers should know that people are willing to give up their anonymity if the conditions and incentives are right.
Fully half of respondents to Coveo's Relevance Report survey say they are "happy to share data when shopping online with brands I trust."
What do they want in return for their personal information? Better discounts and more tailored experiences.
More than half (52%) are willing to share data when shopping online if it means they get better deals and offers.
For the most price-conscious generation, i.e., millennials (born between 1981 and 1994), 55% will trade personal information for discounts.
Across all ages, 44% are "happy to share personal information if it improves my personalized experience."
For millennials, the lure of a personalized online experience rises to 48%, and it's even higher — at 52% — for the up-and-coming Generation Z adults (born between 1995 and 2005).
Findability and Personalization Key to Shopping Experience
The 2,500 U.S. consumers surveyed by PwC in February cited the three most important things companies need to do to build and maintain their trust:
79% say protecting customer data.
74% say delivering a consistent and reliable customer experience.
74% say quickly responding to and resolving customer concerns.
Let's say your retail organization is handling the basics, i.e., mastering customer data protection and responding to/resolving customer concerns. How, then, does a retailer deliver a consistent and reliable digital or omnichannel experience to customers?
The vast majority, 93%, of shoppers responding to Coveo's most recent survey say they expect their customer experience (CX) in online shopping to be equal to or better than traditional in-store shopping, yet 91% say they have encountered problems online. When asked what the most common problems were, shoppers revealed that three of the top six complaints are related to ecommerce search and recommendations.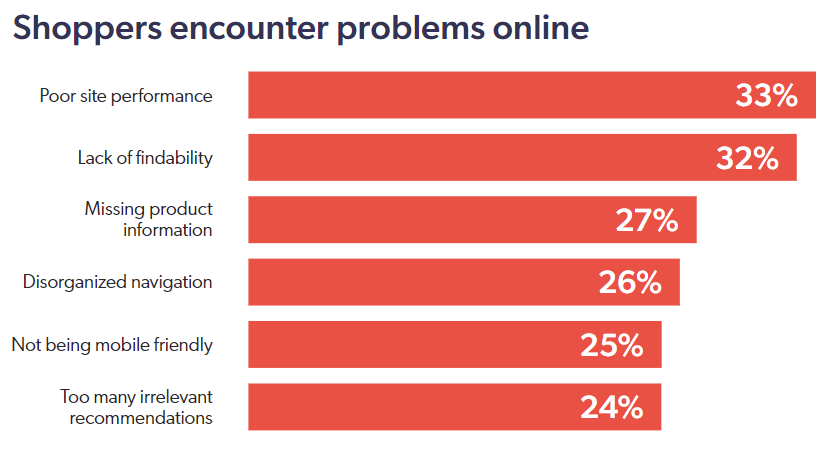 Shoppers say the issues they encounter most frequently are sites that are too slow to load (33%), closely followed by difficulty finding what they want (32%). Missing product information, cited by 27%, and disorganized navigation, cited by 26%, rank third and fourth among commonly encountered problems.
Almost one-quarter (24%) complain about poor personalization, saying they get product recommendations that are irrelevant or not personalized to their preferences and buying habits. A slightly smaller percentage (22%) are annoyed that ecommerce sites don't allow them to filter as precisely as they would like.
Coveo's Ecommerce Relevance Report 2023 asked what they wanted to find and experience on shopping sites and apps, and it wasn't all about product search.
Almost half (49%) want to find supporting content — manuals, instructions, etc. — to help them get the most out of their purchases, with 56% of Gen Z looking for that type of content.
It's not surprising, considering shoppers' desire for personalization, that 44% want recommendations tailored to their individual buying habits and preferences. Both millennials (46%) and Gen Z (55%) were above that average.
And 43% of respondents across all age groups want to discover something new they didn't know they needed. For Gen Z, it's more than half at 47%.
Solving 'Cold Start' Problems With AI
There are two situations where ecommerce findability is typically hampered by an initial lack of data, otherwise known as a "cold start."
When a new product is posted on a site, it obviously has no history of being viewed, so it won't rise to the top of search results unless the merchandiser physically boosts them.
Remember how people who are concerned about how websites use their data are reluctant to log in, even at checkout? A typical ecommerce site will not have access to data on these shoppers, as well as those who have never visited before. Those numbers add up.
After years of research by data scientists, Coveo introduced a solution in the Coveo Relevance Cloud™ to overcome both of these cold-start problems. The technology is based on state-of-the-art AI, machine learning, deep learning, and data.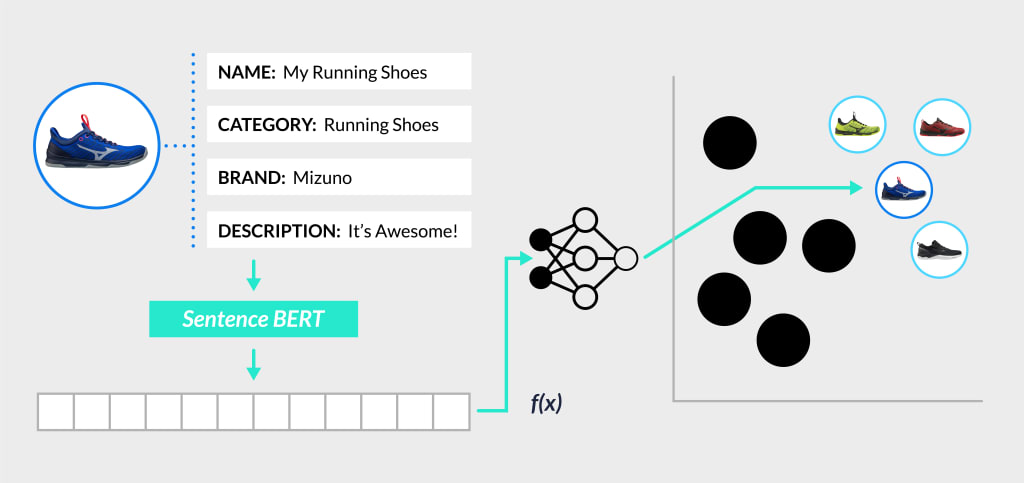 Merchandisers no longer have to take an extra manual step to make sure new products gain visibility as soon as they are available. With Coveo's capabilities, new products are automatically boosted, so the retailer can be perceived as on-trend, up-to-date, and on top of high-demand items. Search results and recommendations on any site can now provide customers with "something new they didn't know they needed."
For anonymous shoppers, the Coveo Relevance Cloud's personalization-as-you-go capability leverages machine learning to help deliver personalized recommendations in real-time without the need for high volumes of data or segmentation rules. Think of it like human sales assistants who combine their experience in what shoppers typically look for and buy in their brick-and-mortar stores with the visual cues they get from the in-store shopper in front of them at any given time.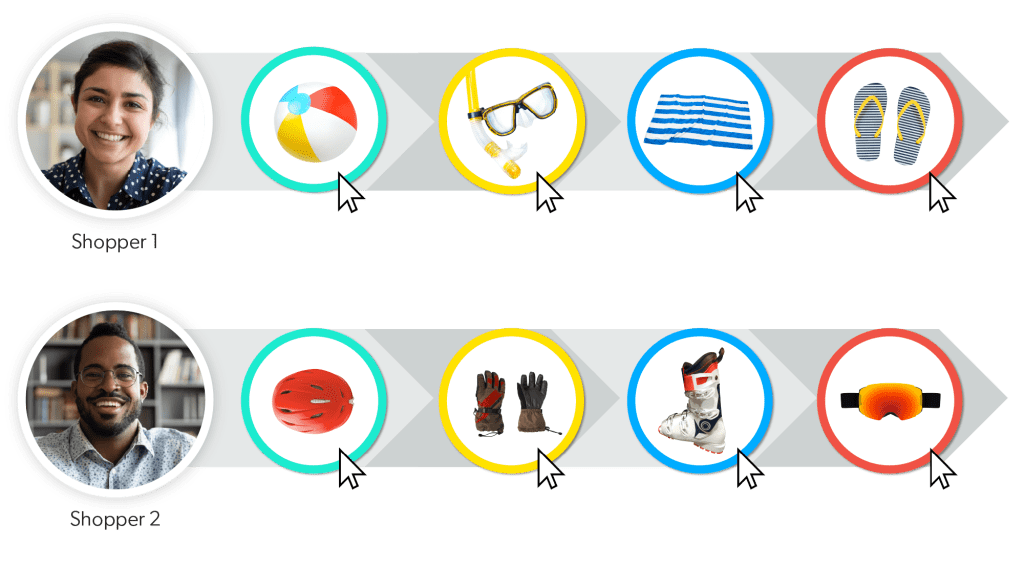 On an ecommerce site, the Coveo platform collects signals from all digital interactions around each customer, finds insights using AI, and then adds relevance to search results, recommendations, and personalization. Parsing historic actions of all visitors to the online store, Coveo's solution learns to react to shopper intent in just a few clicks.
In addition to providing relevant search results and recommendations, which shoppers tell us they crave, the platform helps improve critical retail metrics such as cart conversion rate (CVR), average order value (AOV), and ultimately gross merchandising value (GMV).
Omnichannel Retailers Beat Online Stores on Trust
In the early months of the pandemic in 2020, non-essential retailers were forced to close their doors, temporarily obliterating sales and tipping a few well-known retail brands into bankruptcy. One good thing that came out of the turmoil, though, was the increase of buy online pick up in store (BOPIS) and curbside pickup capabilities, which have given omnichannel retailers a valuable point of differentiation over online-only competitors.
In its annual industry forecast released in late March, the National Retail Federation (NRF) predicted that total retail sales will increase between 4% and 6% in 2023, reaching between $5.13 trillion and $5.23 trillion in the U.S. alone.
Although these figures are lower than 2022's 7% annual growth in retail, they still outpace the pre-pandemic average rate of 3.6% annually.
Online and non-store (e.g., TV and catalogs) retail sales are expected to rise by between 10% and 12% this year, but NRF wrote, "much of that growth is driven by multichannel sales, where the physical store still plays an important component in the fulfillment process." The trade association also pointed out that brick-and-mortar stores "remain the primary point of purchase for consumers, accounting for approximately 70% of total retail sales."
Omnichannel retailers also have an edge when it comes to trust, according to a survey of 2,200 U.S. adults conducted in December 2022 by Morning Consult. While 93% of those shoppers find retailers with physical store to be very or somewhat trustworthy, only 77% have the same opinion of online-only retailers. 
Gen Zs have a very good opinion of brick-and-mortar retailers, with 91% finding them very or somewhat trustworthy, but they have the lowest opinion among all age groups of online-only sellers. Only 68% find them very or somewhat trustworthy.
"Brands without a physical presence suffer from a trust gap because it's easier to misrepresent products in a solely digital space," writes Morning Consult's Claire Tassin, retail and ecommerce analyst. "Savvy shoppers know online reviews are often fake, social media followers can be bought, and photos might not accurately represent the real product — if the product arrives at all."
Those might seem like harsh words but remember that the majority of people across all age groups do find digital-only retailers to be trustworthy. "Those retailers keep their information secure, consistently have products in stock, and offer discounts," Tassin notes.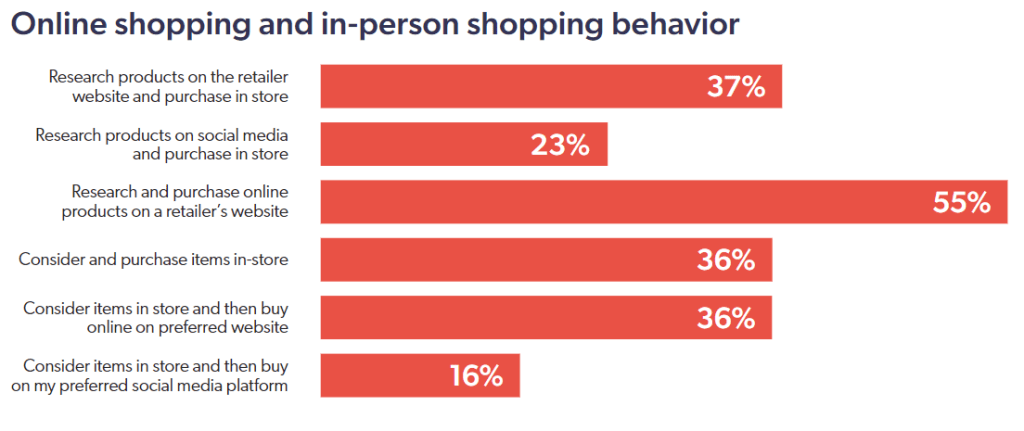 Trust is hard to win and hard work to maintain, and it can be easily damaged or crushed. Retailers can choose to view that truism as a challenge, making it a priority to consistently nurture trust, or a threat that hangs like a cloud over their operations.
At Coveo, we choose to look at trust as an invigorating challenge, and we happily push ourselves to help our clients meet it with secure, personalized, and delightful ecommerce customer experiences.
Dig Deeper
Download the full report for insights on creating a brand experience that builds loyalty and trust.
Related reading
​​Free Report: Privacy vs Personalization: Dichotomy or Opportunity?