While you're focused on making effortless digital experiences for your customers and employees, we want to make that process effortless for you. 
Coveo's Spring launch for Service includes capabilities that help make it easier to:
Build search pages with Salesforce Lightning Web Components (LWC) with Coveo's new Quantic library
Create a Case Assist workflow using a new guided template
Get a clearer picture of the customer's journey with enhancements to User Actions
See how machine learning (ML) is performing with new detailed statistics within the Admin console
To find out more about the release, we sat down with Ezmie Bouchard, Product Manager for Coveo for Service.
Q: One of the big enhancements in this release is to User Actions. Can you tell us more about User Actions and what's changed?
Ezmie: The idea for User Actions is simple. Coveo already tracks user interactions for reporting purposes as well as for training our machine models. So we gave support agents a view into this data within their workflow, to help them solve those cases faster and offer a more personalized experience to customers. 
With the enhancements to User Actions, support agents can now easily see the "case creation" event and the five actions that happened immediately before that. They can also see where each action took place (for example, community search page, chatbot, deflection panel, in-product, etc.) and view it in a chronological timeline.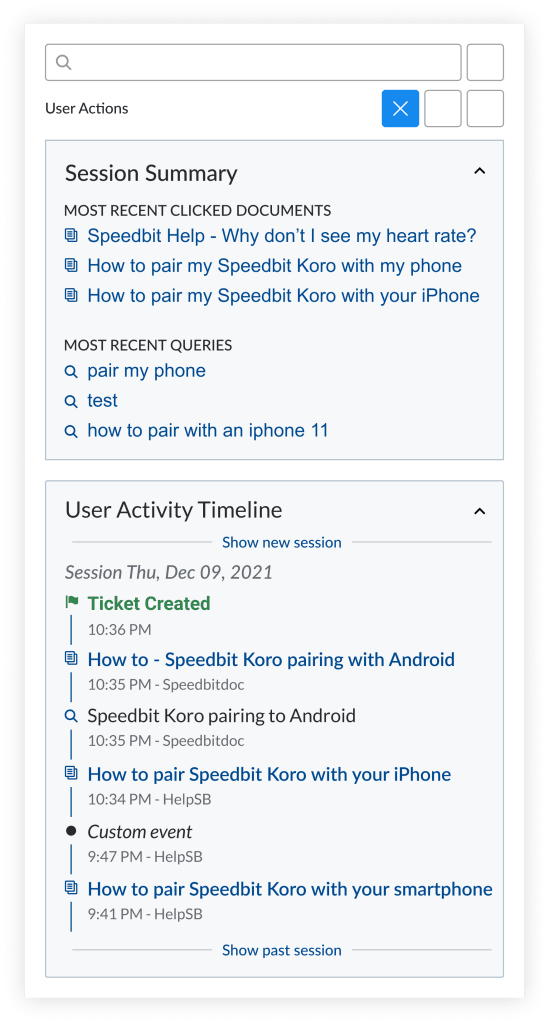 Q: Another announcement is the release of Coveo's Quantic Library. What is it, and why was it built?
Ezmie: This came about based on two major technology changes — Salesforce moving from Aura to Lightning Web Components (LWCs) in 2019, and Coveo moving to a headless UI framework. So we brought them together and built a new library of components using Coveo Headless and LWC! 
Customers have told us over and over about their desire to move to the latest Salesforce technology, so we wanted to make it easier for them. The Quantic library provides our customers with developer-friendly, easy-to-deploy, and flexible components to build Coveo search experiences in Salesforce. We've already gotten great feedback!
"The Quantic library was incredible because it gave us a solid place to start developing Lightning Web Components.

"Rather than reinventing the wheel ourselves, we were able to copy the Quantic components and modify the UX/UI to better suit our needs. It was great to already have the JS work completed for us."

– Dillon Gearing, Product Owner at Xero
Q: What else are you excited about with this release? 
Ezmie: We're on a mission to "unbox" machine learning. We've always given Coveo Admins visibility into our ML models and how they are working. We're adding more transparency as we roll out new models. This visibility makes it easier to trust and evaluate whether a model will perform well for you based on your dataset. Instead of wondering if ML is working, you can actually see it in action! 
Q: There's even more that's part of this launch. What should people do if they want to learn more?
Ezmie: Customers can go to a few places to find out more:
Join the discussion
Webinar: New in Coveo – Service Features and Enhancements