In 2018, our customers overwhelmingly told us – they're moving to Salesforce Lightning. They realize that "Lightning is a catalyst for unleashing productivity, innovation and transformation across every industry"  and that Coveo must be part of that transformation.
With that in mind, the Coveo for Salesforce team spent the last few cold Canadian winter months (R&D is based primarily in Quebec and Montreal) working hard to make this a reality. Our latest release is our biggest Lightning release yet; we're debuting a ton of exciting new Lightning-Ready features. We made Coveo available for even more Salesforce experiences, and made it easier than ever to try Coveo for Salesforce Pro Edition capabilities! Visit our Coveo Cloud New Features page to get the complete details of the release, and join us for an upcoming webinar.
Expanding and Improving our Coveo Lightning Components
The latest release introduces three new Lightning Community components for customers using Salesforce Service Cloud Lightning, Lightning Knowledge and Community Cloud Lightning, and comprises a new component architecture to enable Lightning Locker.  We now have five components in Community and a whopping 14 total Lightning components! Here are the highlights from our latest Lightning innovation:
Coveo-enabled Lightning Service Console
You can now use our simple drag and drop Coveo Interface Editor in the Lightning Console, allowing you to easily inject relevant content, from across your knowledge ecosystem, into the Service Console. With this new feature you can now customize the Insight Panel and Full Search page with clicks, not code!
Coveo Components for Salesforce Lightning Communities
We've released a brand new Case Deflection component that works seamlessly with the native Salesforce Contact Support Form. Provide your users with Machine Learning  recommended results before they log a case.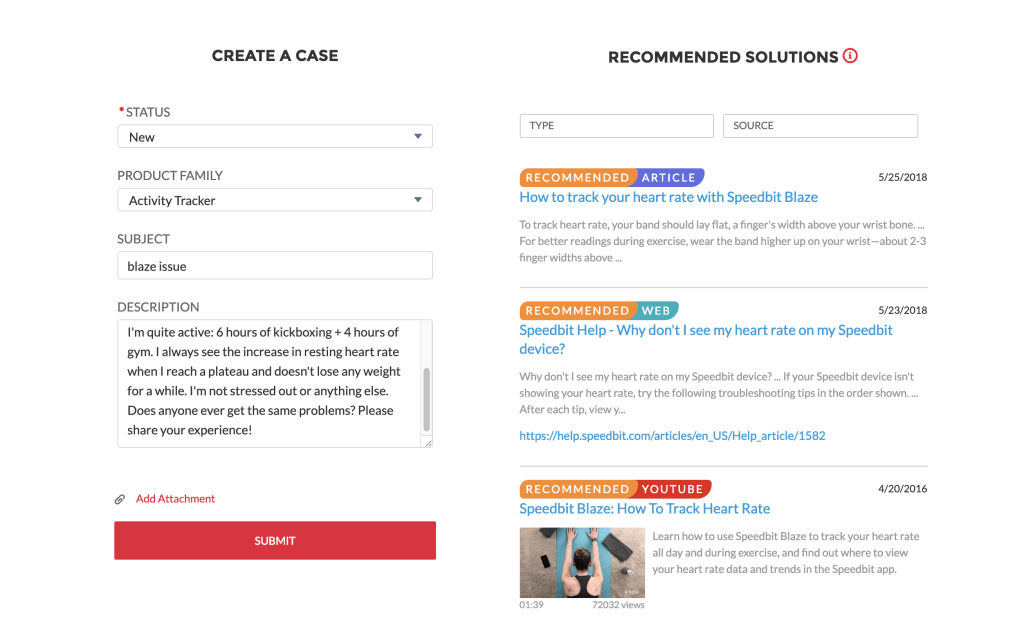 We've also released three new Lightning Locker compliant Lightning components:
Coveo Community Searchbox
Coveo Community Search
Coveo Case Deflection
Use these components in the latest Salesforce Community templates for the latest compatibility and security.
New Use Cases for Coveo for Salesforce
Financial Services Cloud Certified
Coveo for Salesforce is now certified for use in Financial Services! You can now give your advisors, personal bankers, and tellers access to relevant information at their fingertips. With this new release, you have the ability to index Financial-Services-specific objects. Reach out to us to talk about your needs for AI-powered search & recommendation inside your Financial Services Cloud.
Coveo for Einstein Bots (Beta)
As part of our Spring Release, we're very excited to announce a new beta program for Coveo-powered Salesforce Einstein Bots. Coveo's integration in Salesforce Einstein Bot extends the capability and reach of your bot beyond the Salesforce ecosystem.  Be among the first to try it! Contact us for more info.
It's now easier than ever to try Coveo for Salesforce Pro Edition
'One Click Upgrade' Free to Pro Trial
We've made it easier than ever for those of you using Coveo for Salesforce Free Edition to test out Pro Edition capabilities with  one-click, and at no cost for a month. Our new 'One Click Upgrade' helps your Coveo Free Edition administrator start a Pro Edition Trial for 30 days and preview the new experience with a single click – no hassle, no commitment! Simply enjoy the cloud connectors from the Pro Edition for a month.
New Self-Service Documentation
We're continuously updating our content to serve you better. We've added to our self-service documentation.  Looking to build something custom, like a great In-Product search? Check out our Building Custom Integrations using Coveo PaaS (Platform as a Service) guide.  If you need help implementing Coveo for Salesforce, we've revamped our  Coveo for Salesforce Deployment Guide.
Ebook
The Guide to Delivering Intelligent Self-Service
Want to learn more? Check out the video below.