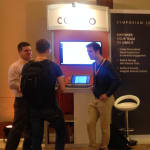 We're wrapping up our time here at Sitecore Symposium Las Vegas, where we just shared some exciting news: we announced the launch of a free edition of Coveo for Sitecore, our advanced search solution for Sitecore websites! Take a look at the official announcement for full details. With Coveo for Sitecore, companies can easily configure and manage dynamic search experiences to maximize the full potential of their Sitecore-powered websites.
Coveo for Sitecore – Free Edition allows developers, partners, and customers to deploy search experiences that not only deliver best-in-class website relevance and usability, but also provide the advanced features needed to unlock the full potential of the Sitecore platform. In our free version, marketers can use the power of search to drive visitor engagement by building and managing compelling search experiences across all browsers and mobile devices, and using Sitecore tools that they're already familiar with to do it.
Empowering and supporting our partner community is a top priority for us, and Coveo for Sitecore has been built with them in mind. The solution also includes a rich JavaScript user interface for Sitecore developers to build custom search experiences using Coveo's framework and components.
And with the release of Coveo for Sitecore – Free Edition, we've expanded our support resources for the Sitecore community. This includes the recent launch of answers.coveo.com, a community portal to share and discover best practices for deploying search solutions on websites, along with a Q&A forum mediated by a Coveo team of experts.

Companies that want to leverage the power of Sitecore's Experience Database (xDB) to personalize the search experience for each site visitor can do so with Coveo for Sitecore – Enterprise Edition. It's the only full-featured search solution fully integrated with the Sitecore Customer Experience Platform, and enables marketers to personalize search-driven content based on each visitor's individual profile, history, and site activity. It can also securely connect a Sitecore-powered website with any external content source such as the content residing in CRM systems, external product catalogs, and legacy knowledge bases.
If you are attending the Symposium this week in Las Vegas (or next week in Barcelona!), be sure to stop by the Coveo booth to meet the team and learn more about how to harness the power of search to drive site performance.
And partners, developers, and customers who are ready to try Coveo for Sitecore – Free Edition are invited to register for a free download.
It's an exciting time as Coveo expands and fortifies its strategic partnership with Sitecore, and we look forward to this new chapter.
Keep up on the latest Coveo for Sitecore news by subscribing to our blog to get the latest news and stories delivered straight to your inbox.