This is a guest post from our partner, XCentium. XCentium and Coveo partner to deliver transformative and innovative digital experiences. Justin Pettinger, Lead Commerce Architect, focuses on ecommerce experiences in the software development field. He shares his expertise and knowledge from his 11 years of experience on common site search mistakes companies overlook.
One of the biggest reasons your company creates a carefully thought out website is because you want potential clients to discover your latest and greatest products or services. One of the most powerful tools to create happy and loyal customers is the search function of your website. Gartner and Forrester predict that by the year 2020, approximately 80 percent of the buying process is expected to occur without any direct human-to-human interaction. Do you know that site search is a major blind spot for most marketers?
According to Kissmetrics, site search users are 216 percent more likely to convert. What this statistic tells us is that great site search leads to happier and more loyal customers, larger sales and better conversion. You can stack these odds in your favor by avoiding these 10 most common site search mistakes:
    

Misspelling, Synonyms, Plurals and Apostrophes
Let's face it, many of us rely on autocorrect when we type. Some schools are becoming very lax in teaching our next generation spelling and grammar, instead letting our kids rely on their iPads for correcting their errors. Therefore, it is important to recognize and plan for common misspellings and synonyms of your products or services. For example, do you sell donuts or doughnuts? How about PJ's or pajamas? It's important to remember people search for synonyms as well. For example, do you sell kindles or do you sell tablets? How about tennis shoes or sneakers? Or better yet, do you sell pop, soda, or a coke? More commonly overlooked items that can keep you from making the cut in your customer's eyes is forgetting plurals of your product – or stripping out apostrophes in the code that runs the search for a product like employee's steel-toed boots.
    

No Results Found
The dreaded 404 page – results not found. An astounding 95% will abandon the website immediately if their search yields no results. One way to handle this is to allow customers to easily refine their Site Search by adding in "Did you mean tennis shoes?" when they typed in sneakers. Unfortunately, it is virtually impossible to plan for every single search phrase your customer may use. Therefore, it is important to create a 404 page that is useful and relevant to your audience. This 404 page can be used to redirect your customers with helpful and useful information. One way to soften your customer's frustration with reaching a 404 page is to use humor – such as I found this weekend when doing a search on Disney's website for an upcoming trip.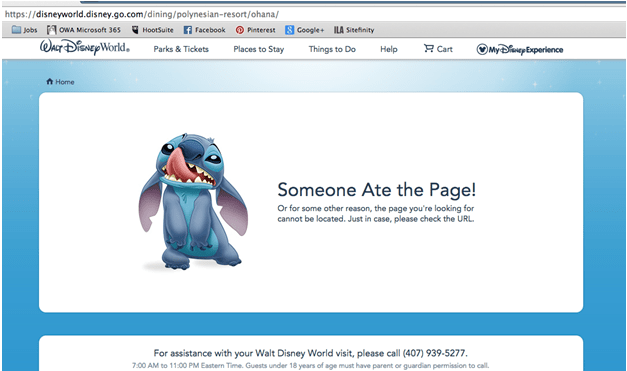 Forgetting that keywords help your clients find your products
Marketers know how important keywords are to advertising and search engine optimization. Many times, keywords are simply forgotten when it comes to individual products and services your customer is searching for on your website. Perhaps more daunting is the fact that many companies have thousands or tens of thousands of products listed on their site – which makes entering and updating keywords for each product a time-consuming task without the right software.
    

Auto-suggestions aren't provided
All of us at one time or another have had the feeling that we are searching for a needle in a haystack. Such is site search without auto-suggestion. You may only have 15-50 products, or you may have over 100,000 products. Regardless, your potential customer wants to get to the most accurate result as quickly as they possibly can – and auto-suggestion is the way to get them there quickly. For example, imagine if you wanted to purchase a boy's size 10 Under Armour sweatshirt – yet when you searched a site for it, the search would only recognize "Under Armour sweatshirt" and it returned hundreds of options for you to look through. Would you abandon your search and your cart out of frustration? Because of sites like Google and Amazon, your potential customer expects to simply and quickly arrive at the product or service they want to purchase from you. The longer it takes to get there, the more you risk losing them.
    

Does not offer search variation
Your customers want to find exactly what they're looking for, quickly on your site. But can you imagine a retail site like eBay or Zappos not returning a prioritized list of items that closely resemble what you're looking for? For example, if you search size 9 black sandals from Zappos, you are clearly searching for a specific product which they will deliver to you. However, they also stand to increase your purchase if they show you other sandals in your size. They are able to do this through search variation. Search variation runs an algorithm that prioritizes your entire search, but then also returns listings that fit only part of your search. While the extra results may not matter to you as a buyer, statistics show that these extra results do increase purchases which means as a seller you do want to make use of search variation.
    

Irrelevant terms
Yes, this really should go without saying. However, from time to time, each of us stumble across a search where we get results that make absolutely no sense!  With the advent of machine learning, customers understandably get easily frustrated when searches do not return what they are looking for. With software like Coveo, you can be assured your clients will be getting the intelligent search results they need.
    

Logging all of your site searches into a database
Many marketers don't think of logging site searches into a database, yet this is an essential tool to understand your customer. By reviewing this on a monthly basis, you can better understand the searches your customers are making – including frequently searched products or common misspellings. The more you understand about what your customer is searching for, the better you are able to present your products and services to your prospects.
    

Not using analytics with your site search
Using search on your site without analytics is like going on a road trip without a map. Using usage analytics is the true roadmap for effective site search. These analytics help you identify what your customers are searching for, searches that return ineffective or no information, and when your client is dropping off your site. Coveo usage analytics data feeds its machine learning algorithm (Coveo ML), features that can significantly improve your user experience.
Get started with Coveo's convenient "how to get started guide."
    

Non-standard navigation styles
When taking about site search, many marketers automatically start thinking about the ways a client is going to interact with the search box on their site. However, one key component to not overlook is the navigation of your entire website. We all know people who think it "looks cool" to have a very unique site with stylized navigation. What these designers overlook is that customers are conditioned to search for a navigation pane either along the very top of the page and down the left side. On mobile, customers expect navigation menus to either be in the left corner or on the top center with a hamburger styled icon. To navigate away from the expected norm is to take substantial risk that your customer may not be able quickly and easily identify what they need on your site leading them to search for a competitor. Also, some companies like to have a long running list of topics for their customer to navigate. Unfortunately, these have proven to have customers abandon the site in favor of a website that is easy to navigate. It is also advised that a search box be on either the upper right or the top center of your page. Some companies are trying to push the trend to use a search icon button, but those have not largely caught on with customers yet. Lastly, many marketers or designers want to design their site with what "looks cool" and doesn't considerdesigning the navigation of their site with accessibility in mind.  It's important to make sure that the search results landing page is easy to read on first pass, providing legible, plain fonts, and clean composition so that results can be assessed individually and correctly.
 

Not optimizing site search for mobile
Some designers and marketers spend the majority of their efforts on designing the look and navigation of the desktop website, but spend comparatively little effort on the mobile and tablet views.  Google says 61% of users are unlikely to return to a mobile site they had trouble accessing and 40% visit a competitor's site instead. For retailers, the stakes are even larger as 90% of shoppers utilize a smart phone to compare prices when they are in a brick and mortar store. Mobile shoppers are here to stay and demand as much or more efficiency.
These ten common mistakes are many of the reasons why our team at XCentium recommends using Coveo with Sitecore or Salesforce.According to the Huffington Post, by 2020, 51 percent of consumers and 75 percent of business buyers expect companies to anticipate their needs and make relevant suggestions. Basic search will no longer meet expectations.The Coveo Relevance Maturity Model shows the typical journey of a company as it moves beyond basic, keyword-matching search to relevant and personalized experiences. As companies become more in-tune with customers' technology demands, they are better able to meet website visitors' needs – and deliver on their own business outcomes.
Written by Justin Pettinger, Lead Commerce Architect atXCentium. Heading to Sitecore Symposium 2017? Come meet Justin and listen to his talk on Getting Started in Search!
About XCentium
XCentium is your innovative digital partner. As a full service firm, XCentium leverages technology to align business goals and digital strategies, delivering exceptional results for CMS, Commerce and Cloud solutions.