A couple of weeks ago, members of the Coveo team attended the Salesforce Boston & Toronto World Tours, taking place one week apart from each other. As a Salesforce AppExchange Partner, we were thrilled to have the opportunity to gather intel on the strategies that companies are developing to drive innovation and success, and to identify where Coveo could add value to new and existing Salesforce implementations.
After the event, we asked a few folks on our team to discuss their key takeaways, their favorite topics discussed during the World Tour and their overall feedback on the event. Here is what they had to say.
Andrew Byers, Channel Sales Rep
WOW! What an event! I was super excited to attend and hear all of the buzz going on about extending Einstein and AI. The message came through loud and clear: the future will be AI-powered and Salesforce customers are leading the charge.
One of my favorite moments of the day came when while discussing the topic of AI predicting intent with two folks at our booth, I used the example of a man and a woman both making a search for "shoes". While the same search is performed, the intent of those shoppers is likely different – the man could be searching for a dress shoe and the woman a running shoe, for example.  Turns out they were from the digital commerce team of a well-known shoe brand! That – and kicking off my shoes at the end of the day.
I also heard a lot about customer experience during World Tour, with customer being defined very broadly. Internal employees, external customers, B2B, B2C – everyone has a higher expectation for their experience with your organization. A lot of the sharing sessions are focused on how to deliver a better experience to constituents across all channels. But this is not easy. During Coveo's breakfast panel, I had a chance to hear some really valuable insight into the amount of work, effort, and smart people it takes to make big migrations and deliver better experiences. This was also a great opportunity to connect with a few folks from Salesforce and trade stories about what we're doing to help our customers advance their digital customer experience transformations.
Emilie McIntosh, Business Analyst
Simply put, Toronto World Tour fosters camaraderie within the Canadian Tech ecosystem. On the floor, the energy was palpable, and the solutions sparked curiosity of what the future holds for SaaS. This experience was heightened by the energy emanating from our booth. If I am honest the best part was unassumingly coordinating pastel outfits with Audrey, our marketing specialist!  #CoveoLife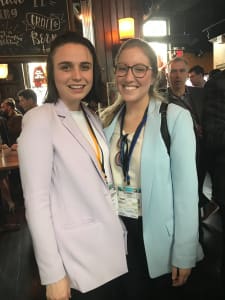 As a business analyst, I have a unique opportunity to speak with the entire organization and hear their goals and potential paths to success. Many of our own internal passions are echoed in the tour. The floor was buzzing with people passionate about their customers' success. Topics of conversation and breakout sessions surrounded Customer Experience, data hygiene/reporting, and incorporating Social Selling to enterprise marketing strategies. The one-on-one conversations with people from other companies was enriching. Listening to people who have differing roles, perspectives, and life experiences made the event even more impactful.
Sean Pollock, Sales Engineer
Walking into the Salesforce World tour 1st thing in the morning as an exhibitor is always an exciting part of the day, since as an exhibitor you always know at that moment, you have a view of this huge room at its emptiest.  Moving across the floor, I scan the room to see how much larger the room is, who are the new exhibitors, where is our competition and… where's the coffee. This year in Toronto was no exception.
Toronto World Tour had to move to a larger venue because the Salesforce ecosystem is growing by leaps. It's clear that Einstein and AI are the dominant front runners for the most talked about feature of Salesforce since, at the Coveo booth as I spent much of my day speaking how Coveo compliments Einstein with our various Machine Learning models to drive more relevant content. The traffic to the booth was overwhelming as we had two demos going on several times during the day along with people lingering in the background listening in, (dominant ear turned inward) so they could hear what was being said amongst the crowds.
Probably the most exciting part of the day is when a person or group comes up to the booth and says to the effect: "I'm from company X and my colleague was just here and said we should see what you have."  To me, that means that people are talking about Coveo. There are organic conversations happening about issues that organizations have with relevant information and Coveo's name comes up to solve that problem.
I'll always attend  Salesforce World Tour events as it allows you to see the pulse of the Salesforce Ecosystem. What is new, what is being talked about, how large the crowds grow over the years and from city to city…and who has the best coffee.
What did you think about the world tour events? What were your major takeaways? Let us know on Twitter @coveo!