Last Tuesday, Mark Floisand (SVP of Product and Industry Marketing at Coveo) joined Tabitha Cassidy (Content Manager and Analyst at Digital Commerce 360) for the live webinar: "When Online Shopping Becomes the Only Channel." This webinar took its audience on a deep dive into how our current circumstances have changed the environment in which commerce businesses operate as well as what they can do to adapt and succeed. 
Register for the replay to get all the details from Mark himself. But if you'd prefer to read rather than to watch, you're in the right place. 
Let's begin. 
A Whole New World 
The onset and spread of the coronavirus pandemic increasingly gave rise to the institution of stay at home orders across the globe. Currently, half the world is in lockdown and life as we know it has fundamentally changed.  
With work and life needing to take place at home, digital-only has quickly become the norm for everyone. For many, this may not be ideal, but the reality is that it's the only way to operate, and it may continue to be this way for a while. 
In this new reality, there will be winners and losers in commerce – and that bifurcation is clearly already under way. Powerhouses like Amazon have already demonstrated an incredible ability to adapt and thrive in these trying times: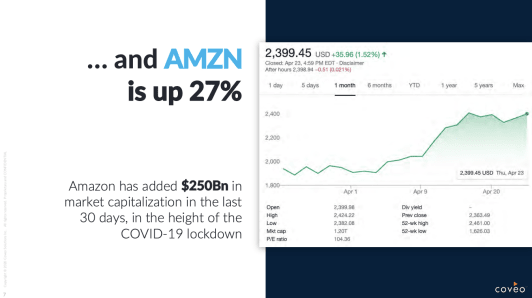 It is wise to look to those that are leading during these difficult times, like Amazon, to determine how to move forward yourself:
What can we learn from the ecommerce winners in this race? They're going beyond with personalization. Digital leaders are harnessing AI and data capabilities to deliver unique customer journeys. #DigitalOnly pic.twitter.com/G9KLjWjza7

— Coveo (@coveo) April 28, 2020
It's important to note that this is not a recent development. Far before this pandemic arose, digital leaders were already harnessing data pools and AI investments they'd made to accelerate and deliver personalized and relevant shopping experiences. In doing so, they conditioned how we expect to experience the world, meaning your customers have come to expect the same experiences from you: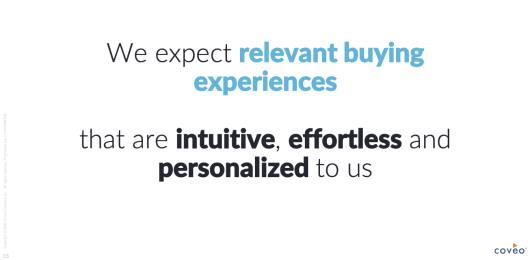 The need for you to deliver these intelligent shopping experiences isn't new, but the speed at which you need to do so and the cost that will come if you do not have both increased given the situation at hand. Going digital has become the only option for your customers, increasing their already-high expectations for the experience you deliver, making rapid digital transformation the only option for you to meet those expectations and continue to do so as they inevitably continue to rise over time. 
In a world that has become wholly digital, you can't fall back on your in-store experience to compensate for the digital shortcomings that you possess. If your customers can't find what they need quickly and easily, they will leave, and it won't be to drive to your store but to click over to your competitor's website in an instant. 
For many businesses, awareness of the need to transform isn't the issue – they know their eCommerce capabilities are lacking. In fact, 56% of the webinar's attendees indicated that they were not confident in their company's current eCommerce capabilities, with only 10% being "very confident". The real issue is that they don't know what to do about it, especially at a time when efforts need to be accelerated. 
If you fall into that category, don't worry. There is a way forward, and Mark dedicated the remainder of his presentation to showing you exactly what you need to do to succeed now and in the future. 
What's Next?
Mark started by setting out the four main objectives that need to be kept top of mind in accelerating digital transformation: 
Make most of your online channel, now.

Enable shoppers to find, explore and buy products, intuitively.

Deliver personalized product and content recommendations for each shopper.

Balance the shopper's experience with what makes business sense for you.
And then he revealed the key to achieving all of them: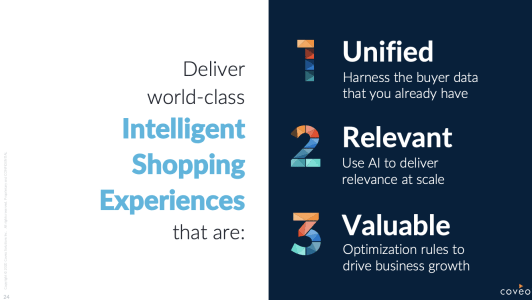 Let's break each of those components down in turn. 
Intelligent Shopping Experiences Must Be…
1.) Unified
Your customers expect to find what they need quickly and easily no matter how or where they look for it. By unifying stitching buying signals across all interactions and gathering together all product/content information, you can enhance product discovery and deliver the unified experience that they expect.
This can be done by embracing the following technological capabilities:
Intelligent Commerce Search: Increases conversions with frictionless search capabilities that learn from every interaction.  
Catalog Enrichment: Enriches raw product data with additional attributes, ensuring that every SKU ends up in the right customer's hands.
Journey Tracking: Complete journey tracking gathers buyer context across digital touchpoints.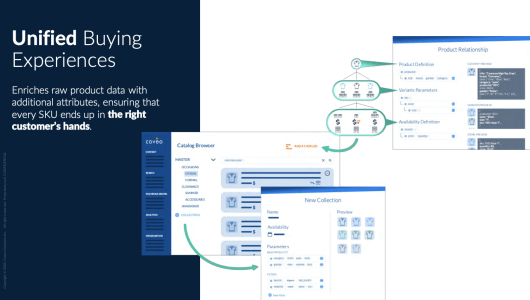 2.) Relevant
Your customers expect to feel known and have you respond to them as the unique individuals that they are. By developing a deep understanding of buyer intent, you can personalize every interaction and deliver the relevant shopping experience that your customers expect.
Just as with unification, there are specific technological capabilities that bring relevance to life: 
Intent detection: Automatic relevance tuning uses past behavior to predict which 

products and content will be most useful for each buyer.

Dynamic Navigation: Dynamic, intent-drive facets and values help buyers refine

searches, find what they're looking for fast, and increase add-to-cart.

Recommendations: Boost cross-sell and up-sell opportunities and inform better

buying decisions with highly tailored product and content recommendations.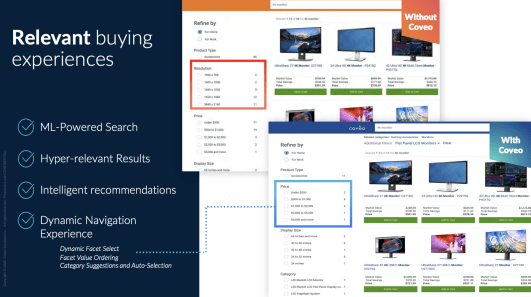 3.) Valuable 
Personalized experiences that optimize for customer satisfaction aren't enough – business outcomes must also be taken into account. By balancing business value with the needs of your customers, you can deliver the valuable shopping experiences needed for you and your customers to succeed.
Once again, let's look at the technological capabilities that let you put this into practice:
Intelligent Merchandising: Boost products and content automatically, giving you control while saving you time spent managing manual merchandising rules.
Business Optimization: Increase conversions from products with higher margins, promoted products, those with low customer support overheads, and more. 
Usage Analytics: Monitor business performance and improve the buyer journey using insights on search and buying behavior.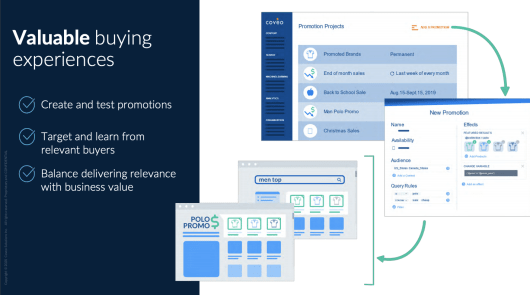 Now that you know what you need to do, you might be wondering how you can actually go about making it happen. Mark isn't one for cliffhangers, so onward we go! 
Experience Intelligence Platforms & The Power of Possibility 
The Coveo Experience Intelligence Platform (EIP) is the layer of technology that can give you the power to deliver world-class intelligent shopping experiences – those that are unified, relevant, and valuable. 
How? 
Effectively, the Coveo EIP brings together all the leading-edge technological capabilities you need to deliver on each of the core components of an intelligence shopping experience. From intelligent commerce search to usage analytics, it has everything you need to put the theory of delivering intelligent experiences into practice through the use of data and AI. 
Adopting this platform and embracing all the technological components that power it have proven to translate to real business outcomes in both the B2C and B2B worlds: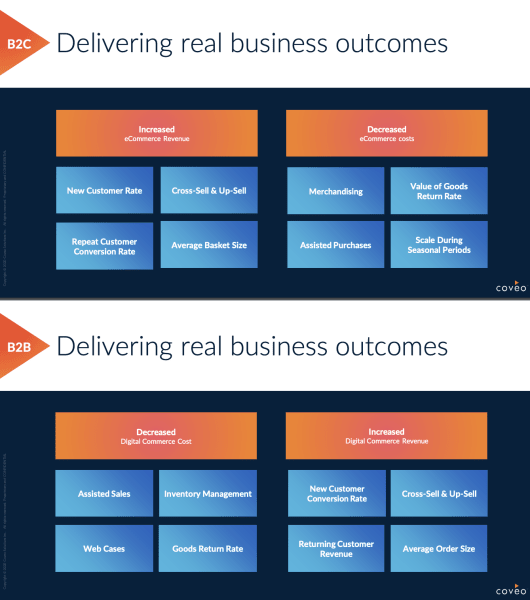 Don't just take our word for it. Our customers have reported measurable results, such as: 
Increased revenue per visitor (7%)
Increased conversions (14%)
Increased conversion rate (16%)
Increased time on site (27%)
And our customers haven't only expressed their success through the statistics they report. They've also done so through the stories they share: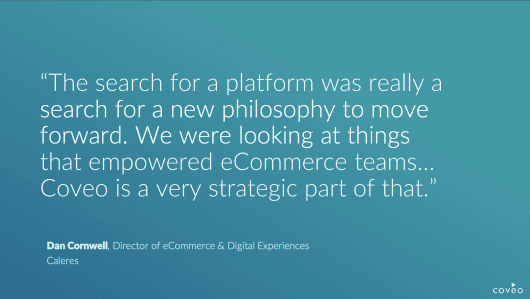 Helping you help your customers and your business through the customer experience that you deliver has been our mission for nearly two decades now. We have a rich history of technological advancement and innovation marked by the development of capabilities like secure unified indexing and enterprise search, contextual relevance, cloud and content analytics, behavioral analytics, ML-powered relevance, intelligent recommendations, unified interaction journeys, as well as natural conversation understanding, AI semantics and intent detection – all of which have now converged in the intelligent platform we have today. 
The adoption of this platform makes it so that you don't have to develop these technological capabilities yourself – we've already done that for you. This means you can jump-start your digital transformation and accelerate to meet present and future customer expectations, ultimately allowing you to become the experience intelligence hero in your organization.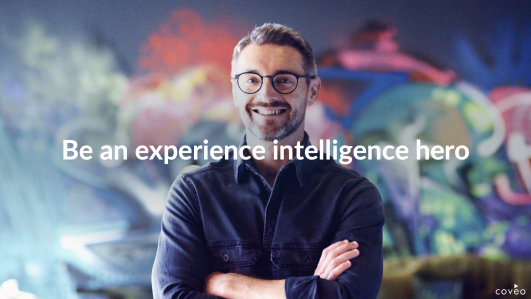 "This is central to our belief. We are here to help. We want to make you guys famous. We want to enable you to weather the storm, to get through this, and to have in place something upon which you can grow and build." – Mark Floisand
Mark brought his presentation to a close by revealing some exciting news that you might be interested to hear. Coveo is currently offering a free 30-minute assessment to get personalized recommendations on how to maximize the value of your eCommerce site, quickly. The opportunity to jump-start your digital transformation is calling, and it's just a click away.  We can't wait to help you. 
To discover even more about the state of shopping experiences today – and how you can create the intelligent experiences necessary to meet and beat rising customer expectations in our new reality – download our Guide to Delivering Intelligent Shopping Experiences.