"Have you ever felt like nobody was there? Have you ever felt forgotten in the middle of nowhere? Have you ever felt like you could disappear? Like you could fall, and no one would hear?"– "You Will Be Found" from Dear Evan Hansen
Gainsight CEO Nick Mehta has certainly felt like this, and he knows that he is not alone in feeling alone. He believes that a sense of connection is essential to everything we do- including business. Gainsight's purpose in launching their Pulse World Tour is to share the latest in cutting-edge strategies with Customer Success (CS) and Product Experience professionals. Beyond that, they are also aiming to create a human-first community by fostering innovation through collaboration. 
At the kickoff conference in New York City last week, Gainsight certainly achieved their goal of creating such a community. The day started with a networking hour where professionals from all industries spoke with each other about their experiences. Additionally, there was also an opportunity to chat with sponsors about innovative new products and services with great value-add potential.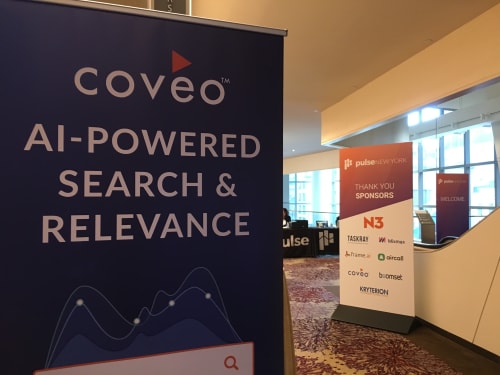 Mehta's lively keynote followed, along with panel discussions and breakout sessions specifically tailored to different professional tracks. An energetic audience and strategic event structure centered around community building gave rise to dialogue that yielded powerful insight into the evolution of the workplace. The main takeaways are represented by three key insights. 
1: The Growth of Customer Success 
The first key insight from this event is that Customer Success has established itself, and it is growing quickly. The number of LinkedIn users with the title "Customer Success Manager" (CSM) increased by 800% from 2015-18. This growth rate was even higher outside the US, increasing by more than 1000%. LinkedIn postings for Customer Success positions rose by over 84% in even less time. 
Customer Success has become a central component of a company's competitive advantage in its respective industry. Why? It is because customer expectations are higher than ever before. Providing exceptional outcomes is no longer enough to attract and retain business. Quality products and services are the norm, so value must be added elsewhere to ensure revenue growth. 
With more choice and a low-barrier-to-entry market, the opportunity to differentiate now lies in customer experience. CSMs already serve as important figures in that they bridge a customer's desires and the value delivered by the product alone. In closing the product gap, they ensure that customer needs are met and exceeded at every stage of their post-sale journey. 
However, to truly create a divergent customer experience, CSMs must be enabled to more than simply fill gaps; they must be empowered to innovate. They have the potential to be key drivers of a positive customer experience at a time when it is increasingly critical to business success. This potential will only be realized if the present value of this emergent field is acknowledged and strategic changes are made to allow it to continue to evolve. 
2: The Customer Success-Product Management Gap 
The second key insight is that the gap between Customer Success and Product Management is widening as customer expectations increase. A separation already exists given that the objectives of each group are different and do not always align. Customer satisfaction and business outcomes do not always go hand-in-hand. Instant gratification of feature and update requests might not always contribute to long-term health of the product and growth for the business.
Given that customers are now making more frequent and complex demands, CSMs must ask more of product managers. It is becoming increasingly difficult to strike a balance between customer aspirations for product features and updates and the feasibility of providing them. 
Where are trade offs made? How do you optimally align desired outcomes? The answer is not always clear, and with different objectives in mind, the conversation can be contentious. 
This was evident in the panel "How Customer Success and Product Work Together." The dialogue revealed significant frustration from disconnected communication. There was a great deal of confusion surrounding ownership of the customer journey and the division of responsibilities.
For example, some of the questions raised included, 
How much technical knowledge should a CSM have? 

How can you tell when a new feature is causing agitation? 

How do you tell a customer that their request doesn't make the product roadmap? Who takes part in this conversation?
Although panelists advocated for collaboration and touched on the benefits from pairing product managers and CSMs, there was a great deal of uncertainty and hesitation over how to actually bring about that unity. It was shown that CSMs felt responsible for vocalizing customer wants and product managers were focused on product needs. It also became very clear that these objectives rarely converge, isolating both groups and forcing them to work against each other in pursuit of progress. 
Not only is this gap widening as the result of higher customer expectations, but it is happening at a time when these groups desperately need to come together. Remember, value now lies in customer experience- satisfaction and product integrity are both required to deliver that experience. The best product still needs to be adapted to a variety of customers, but this must also be done in a scalable way that makes business sense. 
3: Data, the Double-Edged Sword
The final, and most important, insight is that data serves as the biggest obstacle and most powerful solution for the burgeoning growth of Customer Success. The issue is not with the data itself, but rather the aversion to strategically engaging with it. 
Used properly, data provides an opportunity to have a conversation where the knowledge of the customer and the product can come together in a productive and meaningful way, empowering CSMs to do far more than simply fill gaps in the product. Likewise, product managers and customers also benefit from data-driven collaboration. Mutually exclusive objectives have the potential to become mutually reinforcing when both sides have a better understanding of each other's goals and how they fit together. 
For many, "data" is messy and intimidating, but it does not have to be. If it is effectively gathered, unified, and activated, it has the capacity to provide powerful insight. It can be used to develop a greater understanding of customers and their needs. As a result, a better customer experience can be provided by CS professionals at a time when this is a differentiating factor for businesses. 
One way to activate data is through the use of artificial intelligence (AI). This technology not only combines large amounts of data, but it also learns patterns in customer behavior that it automatically acts upon. However, it is worth noting that for insights to be actionable, not merely interesting, there must be a practical purpose driving their discovery. Collected knowledge means little if it cannot be applied. 
Customer experience can serve as this focal point. For example, some companies have already seen the benefits of strategically applying this technology to in-product supportin order to create a better experience. Using AI to develop a high-level understanding of customers enables CS professionals to provide better support.
Another way that data can be used to support CS evolution is through its ability to narrow the gap between CS and Product Management. Data serves as the great unifier in that it can express both customer needs and business outcomes in the same language. The subjectivity involved in weighing those different objectives disappears; data is unbiased. 
With the application of AI, questions regarding trade-offs and weighting of objectives disappear. The optimal balance can automatically be found and acted upon in the form of data-driven product roadmap decisions. It becomes possible to meet customer expectations while also taking the reality of product managers into account. The result is a positive customer experience that also makes business sense. 
Bringing it all Together 
The bottom line is that Customer Success is expanding quickly as the result of current trends in customer behavior. There are certainly growing pains associated with this progress, but they can be overcome by utilizing data in a meaningful way to provide exceptional albeit realistic customer experiences.
What were your key takeaways from Pulse World Tour? Gainsight CEO Nick Mehta emphasized that we are better together, so tweet at us @coveo with what you learned!