At Coveo, we work hard and play hard, and we love doing meaningful work. It's a widely known fact that today more than ever, people are compelled to live with purpose and find meaningful work. As a bunch of passionate folks, it's unthinkable to countdown to 5pm on Friday to start living our lives and do the things we actually enjoy and appreciate.
Many employers recognize this trend but not everyone is able to cater to their employees' wishes. Don't think there could be a company that encourages employees to take time off community work? Think again. Coveo employees have two paid days off per year to volunteer for various causes: from poverty alleviation to environment, to coaching and mentoring, and fundraising for their child's school. The list goes on. All reasons for doing good in the community is a good enough reason for Coveo.
There are a couple ways to go about taking a day off to volunteer. There could be activities suggested to employees by Coveo or employees can elect to choose their own volunteer opportunities. For instance, Coding Workshops offered by Canada Learning Code is  a program for which Coveo offers volunteer mentors and meeting rooms in its Quebec office. "I went to a programming workshop and found it really interesting. It allowed me to put myself in the beginners' shoes and it showed me a different reality. I felt I could contribute to the initiative by applying the expertise I've been able to develop at Coveo," says Denis Blanchette, Coveo's R&D Team Leader.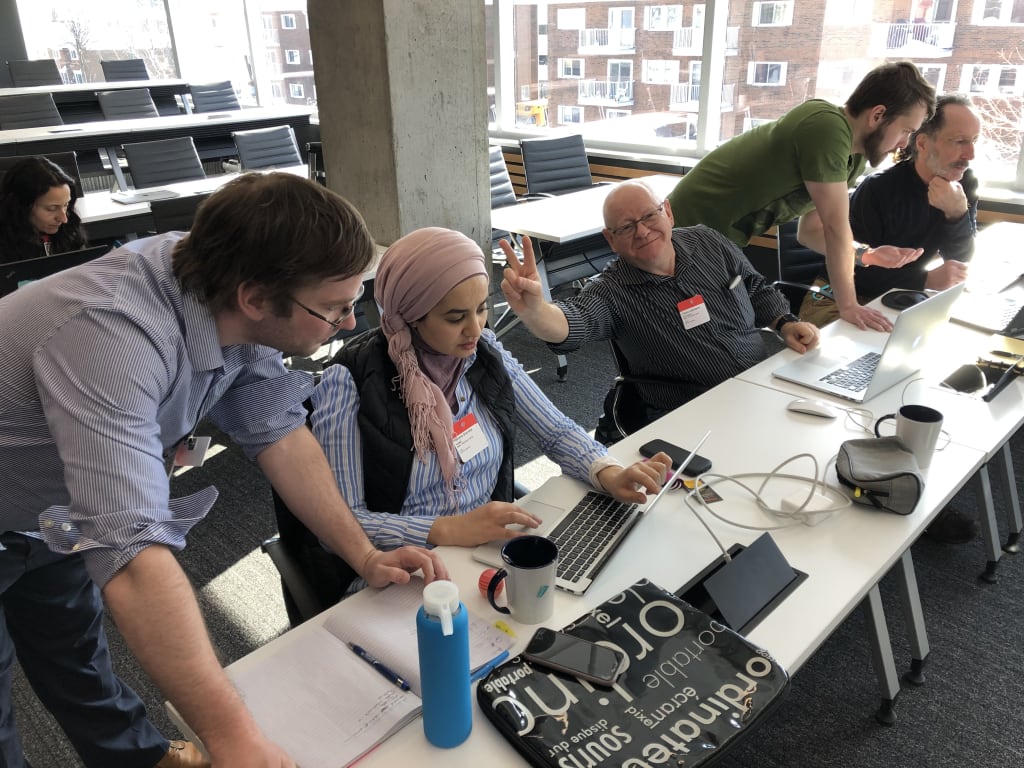 The initiative can also be selected by the employee: "Last year, I participated in a fundraiser for the Fondation Sourdine, an organization that supports a school for children with hearing impairment. They were struggling to find volunteers since the event was going to be held on a Thursday. But thanks to the generosity of my employer, I could take part in this great initiative that I intend to do it again this year," explains Sylvie Chabot, Quality Assurance Specialist at Coveo.
The employee simply needs to take the hours that they devoted to volunteering from their banked hours on the human resources platform. It is as simple as (but probably much more enjoyable than) taking a sick day!
Coveo's community initiative has been around for some time, but the idea of ​​officially granting employees two full paid days to volunteer for a cause of their choice was inspired by Susan Savage, Business Development Representative. Sue was involved with Habitat for Humanity, an organization to which she gave time every year at her own expense. Impressed by Sue's commitment, the management team pondered how to better support Sue's volunteer activity and also encourage others to do the same. The company-wide volunteering time-off program was born, and a donation-matching program was also established.
Making a positive impact
Today, we're seeing employees want more from work than a paycheck; we need to feel that we are making a positive impact in the world.  Not only must this feeling of contribution to the greater good be felt in our work, but also in our activities outside of the professional sphere.
Coveo's system administrator Alexandre Gallant explains how he volunteers at the Victoria Curling Club  in Quebec City, "I am proud to have even been nominated volunteer of the year! Participating in these kinds of activities outside of work helps me clear my mind and be even more motivated and focused on my work when I'm back in the office."
There have been cases at Coveo where team members such as software developer Matthieu Thériault put their professional expertise to serve the community: "I have been volunteering for a local soccer tournament for several years, but with my job and my family, my time was limited and I couldn't give as much time as I would have liked to. So I now do what I can; I help out on an as-needed basis working on their website, for example for online registrations and IT systems." He adds, "Thanks to the volunteering program introduced by Coveo in 2018, I am able to give my time on the Friday just before the tournament, and one day during the tournament when the team needs an extra set of hands."
Because we're deeply rooted in community
Coveo's Sustainable Development Committee offers all kinds of activities to give the team a taste of what it's like to give back. "We work with United Way to encourage employees to use their volunteer days to make a positive difference in the community, putting the well-being of community members at the forefront," explains Jean-Christophe Dumont, who is responsible for volunteer activities on the committee. "In the near future, we plan on proposing a cleaning blitz and a renovation project to revamp a gym for autistic children," he adds.
Without community, we would not be here. Coveo takes community involvement seriously and constantly seeks to make a positive difference whether it is through fundraising, investing our time and expertise, lending our equipment or providing a safe space for a community initiative. Coveo has raised and donated more than $450,000 to United Way in the past seven years.
Interested in working with a community-focused employer? Check out our current positions and join the #CoveoLife!