On June 14th, 2019, an email popped into my inbox with the subject line: Interview with Coveo! The sender? An intern in Human Resources named Marianne Dumais-Campeau. At that point in time, I did not yet realize the integral role she would play in my life. That quickly changed. 
Over the course of the following month, she skillfully guided me through every stage of the hiring process at Coveo: multiple interviews, technical challenges, and cognitive evaluations. All meetings were organized quickly and any questions I had were immediately addressed. 
Most importantly, Marianne made this process not only manageable, but enjoyable by being consistently positive across all interactions. She made my experience personal, so when I started at Coveo I sought to get to know her. I wanted to hear her story because it played a big part in mine. So, without further ado, let me introduce you to Marianne.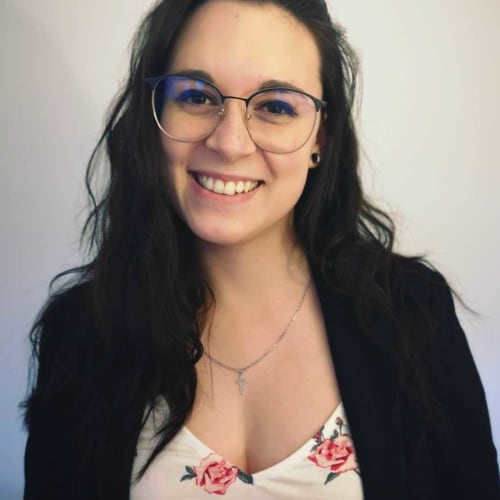 A native Montrealer, she made the three-hour move north to attend Laval University in Quebec City. At first, she felt somewhat lost without a way to convert her interests in human behavior and helping others into a field of study. 
Psychology was close, but not the right fit, so she set meetings with a guidance counselor who suggested a Bachelor's degree in Guidance and Counseling. Marianne was thrilled to find someone that went out of their way to get to know her in order to steer her towards success. Little did she know that this woman would not be her only believer. 
After finding a program that was the perfect blend of her interests, she then sought to find work experience that would let her apply all that she had learned. A posting on her university's career website gave her the exact opportunity she was looking for: an HR internship at Coveo. She had not heard of the company, however, the originality and dynamism of the offer's wording emanated passion which compelled her to join the #CoveoLife.
Just as her studies gave a direction to her passion for understanding and helping others, her intern experience at Coveo gave it a practical purpose. At first, she was admittedly afraid of performing a new role in an unfamiliar field, but her apprehension faded as quickly as her responsibilities increased. 
She started with coordinating interviews at different points across multiple candidacies. Now she is responsible for organizing the entire hiring process for some candidates, which includes:
Reaching out to prospects. Marianne serves as the first point of contact for many entering our recruiting process as candidates. 

Setting up interviews. She functions as a liaison between candidates and hiring managers throughout our multi-step interview process, and also takes part in interviews herself. 

Participating in evaluation. This is not limited to analyzing candidates already in-process, but also vetting prospects and providing recommendations prior to recruitment. 
Hiring ninety people in six months is no small feat, but people like Marianne make it possible. 
Do you think you have what it takes to be the next Marianne? Explore our internship opportunities here!
The most important factor in her personal growth was the community of employees that surrounded her. The inclusivity of the workplace was apparent from the very start. During the first two weeks of training, she found that so many people were willing to take time out of their schedules to provide help and guidance- she met with almost every person on the HR team. 
Everyone was genuinely committed to helping her learn new skills so that she could be successful, and that has not changed. The passion for people and understanding that she always had continues to be shaped by equally passionate people who believe she can flourish. In the words of Marianne, "I was always passionate, but now I am passionate about Coveo."
The people she met truly cared to make her experience personal and meaningful. As a result, she did the same for me. There, where our paths meet, lies the power of personalization- it engages and allows intrigue to spread and endure. 
Coveo was personal with Marianne, which is what engaged her, drew her in, and is what is keeping her here into her final year at university. As a result, she was personal with me, allowing me to feel the same pull that she did. This is why Coveo tailors the work experience the way it does. There is an awareness that every person is unique, and that there are significant returns to be attained by empowering that individual. 
As Marianne learned, not everyone is made to work here, even if they are successful in a position at another company. It all comes down to a passion for people. It cannot be taught or created, but it can be put to work, and Coveo enables its employees to do just that through personalization. Here, work is a lifestyle, and the dispassionate need not apply. 
Give purpose to passion, and come work with us!