Leading a modern sales organization comes with a set of universal goals that we all strive to achieve. We all want our sellers to be informed, agile, and decisive. We want to shorten our sales cycles and improve our conversion rate at every stage of the funnel.
If you're managing or supporting a sales team today, chances are you've encountered a few barriers to success. You aren't alone. Those same obstacles hinder many organizations of all sizes, across all verticals.
In this article, I'll focus on a few common sales execution challenges that I've encountered throughout my career in sales leadership, and the methods and smart technologies I've found that help to transform those challenges into competitive advantages for your organization. 
If you already have an intelligent CRM, learn more about how to truly make it work for you:
Next on Coveo Blog
Technology Alone Will Not Solve Your Sales Efficiency Challenges
Common Challenge #1: Sellers Spend Too Much Time on Non-Sales Activities
Business Development (BD) Reps need to plan their calls in order to be effective. This is especially true when your BD team is tasked with focusing on multiple industries and buyer personas, as this requires frequent context switching. A recent study revealed that sellers reportedly only spend ~36% of their time actually selling. The rest of the time consists of prep work, strategizing and follow-up activities. 
 A truly astounding finding from this study is that sellers only spend 18% of their time working within a CRM.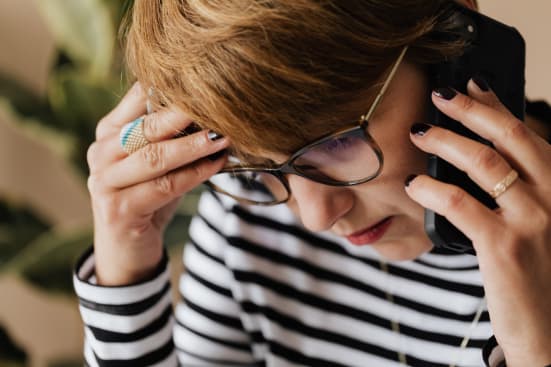 This indicates that sellers frequently have to interact with content outside of their CRM in order to effectively prepare for and follow up on calls. Sales reps shouldn't have to journey to countless different places to gather information. Our Business Development teams would be far more efficient if all the information they needed was available at their fingertips at all times, within their CRM.
Common Challenge #2: Onboarding and Training Resources Are Scattered 
Every company wants to make their sales reps as effective as possible so that they can close deals as quickly as possible. However, every new rep needs onboarding and training to gain the knowledge they need to become proficient. And that training requires an abundance of different materials, including general company information, product information, persona-based information, battlecards, etc. You may have put a great deal of thought into the production of these assets, but how much thought have you given to where they live?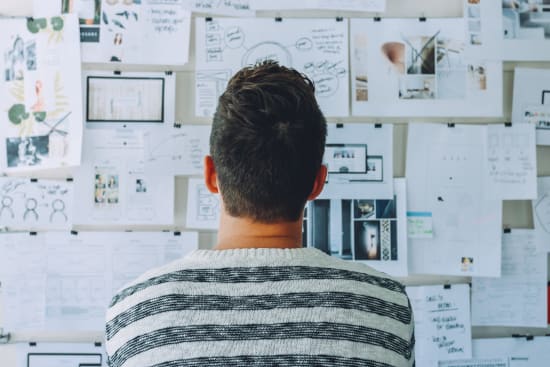 Usually these different resources are produced by different teams and housed in different systems, requiring sales reps to jump around to find what they need. This delays their sales readiness and impacts the sales cycle length. A more effective solution is one that can provide sales reps with a centralized and unified way in which to consume information and, eventually, one that is proactive and personalized. That leads us to common challenge #3 – helping sales reps in the flow of their sales cycle, starting with pre-call preparation. 
Common Challenge #3: Pre-Call Prep Is Difficult Without the Right Context 
After their initial onboarding and training, Business Development and Inside Sales reps typically need to gather a few bits of information before jumping onto a cold call in order to maximize their effectiveness. 
First, they need to know their prospect: what is their title, role, interest(s), and buyer persona? 
They also need to prepare their pitch: what value proposition will I lead with, what discovery questions will I leverage, and what use cases/case studies can I share to pique the prospect's interest?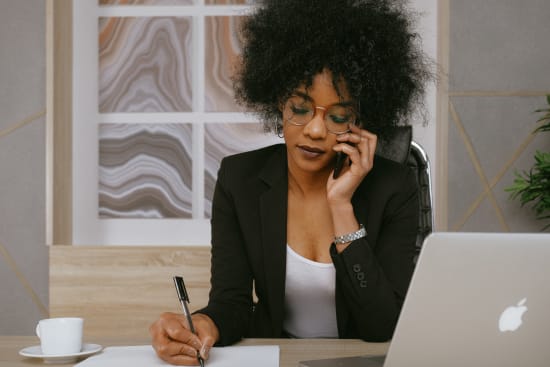 The need to gather all of this information from across different systems often becomes a scavenger hunt – one which wastes your sellers' time and increases their frustration. This can be avoided by bringing all necessary information into your CRM. 
It is important to bring end-to-end sales intelligence to support sales reps as they work through their sales cycle. For example, using the Lead, Contact, and Opportunity records in Salesforce, as well as key fields within these records, it is possible to apply AI and provide BDs and sales reps with proactive content recommendations to support their task-at-hand, whether that be: 
1) Searching for the right marketing content to support the cold call 
The content that will most effectively help prepare a rep for that critical first call is entirely dependent on the prospect involved. That being said, you should use what you know about your prospect to determine what information your rep needs and provide it to them in turn. For example, Persona and Solution fields in the Salesforce records can be tapped to help surmise whether a person-based or solution-based battlecard will be the most helpful in a given situation
2) Obtaining stage-based coaching to easily maneuver through the sales cycle
Based on the sales lifecycle stage, content can be designed to help BDs get ready for the call and quickly respond on the fly. Priorities can be informed by details from the record and the most appropriate content surfaced, such as:
Credibility statements and scripts

Discovery questions

Objection handling 
3) Accessing competitive insights
Oftentimes, prospects may share or bring up competing products to understand whether the product being pitched to them is similar. By having a competitive insights panel at their fingertips, sales reps can quickly respond with the right positioning and speak to the differentiation between offerings to help move the conversation forward.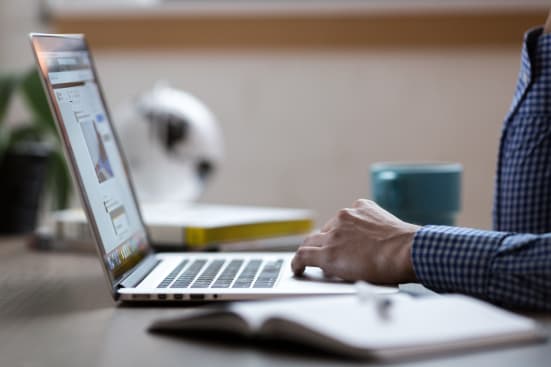 4) Leveraging customer case study insights
It is critical to share robust case studies with prospects, as they prove that you've solved a similar challenge for a similar company. By having quick access to the most appropriate case studies as well as business outcomes that were delivered, the sales rep can quickly establish credibility for themselves and the company. 
With the right technology and processes in place, all of this becomes possible. 
Common Challenge #4: Staying Relevant in the Follow-Up Call
Once a Business Development rep completes a successful call, they should have an action item or two to keep the deal moving throughout the sales cycle. This is another area where sellers can get choked up. What do I send? What case studies make the most sense for the prospect's use case and pain points? What information is sharable vs. what must we keep confidential?
An ill-equipped sales team can burn a lot of cycles searching for relevant and insightful content to share with a new prospect. Sometimes these efforts lead to asking others for help which further compounds a loss in productivity across the entire team, even across departments. So why send sellers on a wild goose chase for content? Using the same approach from pre-call prep, you can deliver relevant resources within the CRM to help BDs expedite the sales process. 
To help with follow-up call, an intelligent CRM can and should proactively provide reps with relevant content that is contextually relevant to the potential buyer. 
Common Challenge #5: Building On-Brand and Dynamic Presentations
Once we get beyond the onboarding, prospecting, and discovery stages, and are able to put an Opportunity into the hands of a Field Sales rep (or Inside Sales rep), it is inevitable that we're going to need to develop a presentation, even multiple presentations, for a prospect. In all of my years leading sales teams, one thing I've found for certain is that sales reps spend a lot of unnecessary time building presentations! 
Furthermore, sales reps have a tendency to keep their old presentations and reuse them. Even after Marketing has gone through the hard work of re-branding and creating new, fresh templates, many field sales reps will still use a presentation template from three years ago because it worked for them in the past.
The latter phenomenon is typically a result of the former condition: it is just too time-consuming to have to rebuild and recreate a presentation from scratch for every deal cycle. Well, you've probably guessed it by now, but there is a way forward. 
Creating an intelligent CRM experience can absolutely address this common sales and marketing challenge. By applying AI to presentation building, you can simplify the process. For example, presentation slides can be ranked and presented to a seller in an ideal order for assembly. Additionally, search filters can be created to isolate the presentation slides that make the most sense given a specific seller's needs. 
We know that sometimes you need to see to believe – so for all of you visually minded folks out there, we've put together a flipbook to illustrate how the adoption of an intelligent CRM can accelerate your sales cycle: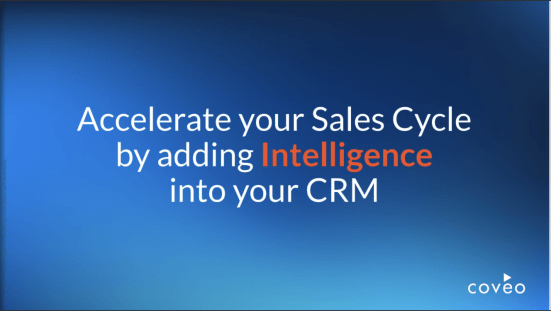 Let's Review
The end result of all of these digital workplace enhancements is that sellers can do more within their CRM. Providing them with contextually relevant information within their workflow enables them to complete non-sales as well as sales-related activities faster and with a higher degree of accuracy. 
What's even better is that machine learning models can be leveraged to constantly learn from user behavior. With machine learning, the data captured from the most effective agents is processed and leveraged to coach newer and less productive agents, raising the talent floor for the entire organization. 
If you have resigned yourself to the idea that Sales CRMs are outmoded, and if you haven't considered leveraging AI to improve your sales team's experience – it's time to reassess your priorities. 
Explore what's possible with applied AI
Sales Intelligence Demo
On its own, a CRM won't provide much value to the seller. It is more of an administrative burden they have to bear. However, when you layer in machine learning and AI-powered Insights to create a truly intelligent sales and CRM experience, you'll have a secret weapon that will help your sales reps execute flawlessly and decrease the sales cycle time.
Eager to learn more about how to use data and AI to boost efficiency and proficiency in the workplace? Be sure to check out my next blog post: Technology Alone Will Not Solve Your Sales Efficiency Challenges.