Today's sessions revolved around the impact of relevance.
Wow, what a day! After spending a late night at the Relevance Challenge and taking in our Customer Awards, we are a little tired (but still excited) for another exciting day at Impact. The schedule was jam-packed today with great sessions, including a few from some of our own employees. Today was all about business outcomes – and how innovation with relevance generates real results.
Organizations today are over-run with digital innovation initiatives. "Digital transformation" is, and has been, one of the major buzzwords for nearly every organization as a way to streamline operations with digital technology. What many of these projects fail to deliver, however, is relevance. Instead, employees, customers and partners are just drowning under a wave of content, apps, and other "digital projects" that fail to deliver results if they actually make it across the finish line at all.
The sessions today showcased some really powerful reasons why relevance is the key to generating those results. Catch up on all of the day's events on Twitter with #CoveoImpact.
Day 2 @coveo #impact19 @lsimoneaucoveo kicking off
"From Enterprise Search to Cognitive Relevance" pic.twitter.com/2wmQdWAWvz

— Isabel Tinoco (@itinocom) May 23, 2019
The one, the only, Nigel Piper of @Xero has taken the stage to talk about Xero Central, their outstanding customer community powered by Salesforce and Coveo. #CoveoImpact pic.twitter.com/jT5pfa1oXr

— Coveo (@coveo) May 23, 2019
We're tight knit with @Salesforce – and we're in the process of bringing even more Coveo to Lightning, Salesforce Console, Communities, Einstein Bots, and so much more. #CoveoImpact pic.twitter.com/Dfu72kL9eI

— Coveo (@coveo) May 23, 2019
Highlights from Day 2
#1 Coveo's future is very bright. Laurent Simoneau, our President, Co-Founder and CTO, kicked off the day with an exciting look into what the future holds for Coveo. We can't share much from the session and we're not a company that touts its own successes, but as our CEO often says, "It's good to be us."
We also have a motto of "If it were easy, someone else would have done it," so these plans depend on having the team and determination to get the job done. Laurent shared some very exciting plans and results that we've been able to deliver for our customers.
The bottom line: We've got big, BIG plans ahead to continue to exceed our customers' expectations and help them meet their goals. (Psst. Want to join us? Go to careers.coveo.com to apply!)
#2 Innovation is in our veins. Part of what has made Coveo successful is our (and our partners') ongoing commitment to innovation. We're investing heavily in R&D and always will; in today's business environment, your customers' expectations are always evolving and our platform ensures that our customers can keep up.
Our commitment to innovation was on full display with Innovation Live! Six of our partners showed off their best and most innovative applications of Coveo in front of a live audience. They were:
TA Digital presented a next-level Coveo connector for Adobe Experience Manager
MC+A demoed how Coveo can power conversational interactions and predict user intent

iTalent Digital took the stage with a

customized role-based search solution for Coveo customers

ImageXMedia showed off their unique Drupal-Coveo integration

Voicify showcased how to leverage Coveo across Voice Assistant platforms

Cognigy, last but not least, ended the event with their demo of a Coveo-powered "conversation" free from a traditional chat client.
Ultimately, the audience decided Cognigy was the winner!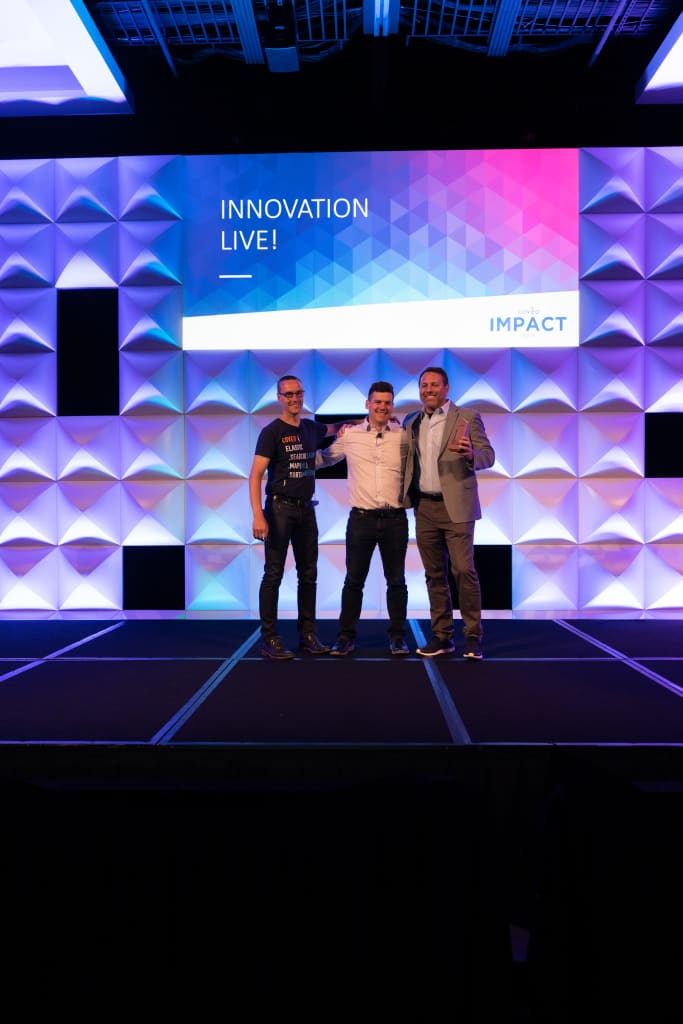 #3 Segmentation doesn't cut it anymore. In the past, putting a name on the greeting in an email was considered "personalizing," along with creating segments of email lists defined by certain characteristics and guessing at their similar needs. Thanks to the advent of consumer experiences like Netflix and Amazon, customers now expect individualized experiences. Just like the Netflix queue recommends the films and shows they should watch next, today's users expect their favorite brands to know them and recommend their next step.
When your customer base grows to include millions of users and multiplies by the millions of interactions that they have, this becomes a fundamental roadblock to your scalability. This is where AI and machine learning are having a seismic impact on organizations that invest today.
Forrester Vice President/Principal Analyst Brendan Witcher delivered the closing keynote of the day, explaining how 1:1 engagement at scale is now possible. Leading brands are now personalizing every digital touchpoint – and the results are powerful. Delivering this level of individualization is now the high bar that organizations must meet for today's digitally savvy consumer.
Proud to have @BrendanWitcher take the keynote stage at #CoveoImpact 2019. Time to talk personalization! pic.twitter.com/BjKk27ZorM

— Coveo (@coveo) May 23, 2019
"One common thread among the most admired brands: they use data-led decision making. In 2019 you need to be data led to truly be customer obsessed." – @BrendanWitcher of @Forrester #CoveoImpact pic.twitter.com/cEMCMfpmGV

— Coveo (@coveo) May 23, 2019
"Data is the new sexy." @BrendanWitcher #CoveoImpact

— Suhasini Pashikanti (@spashikanti1) May 23, 2019
#4 Relevance has a major impact on key business outcomes. What happens when you are relevant at every touchpoint to every customer, employee and partner? How do your key business outcomes change when every interaction is personalized?
According to the sessions we heard today, A LOT. From increasing conversion rates from your ecommerce site to delivering millions in savings in case deflection (and even an evolved perspective that case deflection is really a self-service success metric) the effect of relevance on your key business priorities cannot be underestimated.
American Society for Quality achieved 100% reduction in service calls, and doubled clicks to conversions. SMART Technologies saw a $650k reduction in assisted support calls.
Our partners also shared their own stories of how Coveo AI has changed their approach to their digital projects because of how Coveo accelerates time-to-value.
"Coveo for Salesforce is 100% lightning ready," said Scot Goodhart, Lead Developer for Rightpoint who helped Coveo customer Chamberlain Group transform their online support services. "Out of the box we had case creation, case deflection, search, and page tracker. As a developer it's a joy to work with."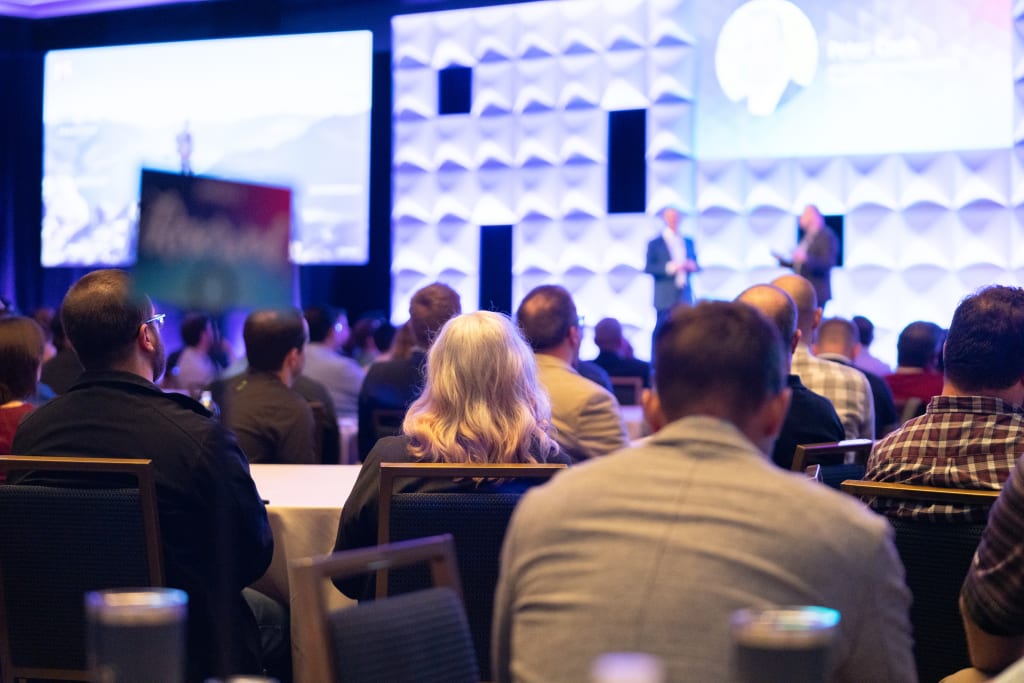 We ended the day with a few drinks at our Big Bash community party. It was so wonderful to get the community together for a little fun overlooking the San Francisco skyline!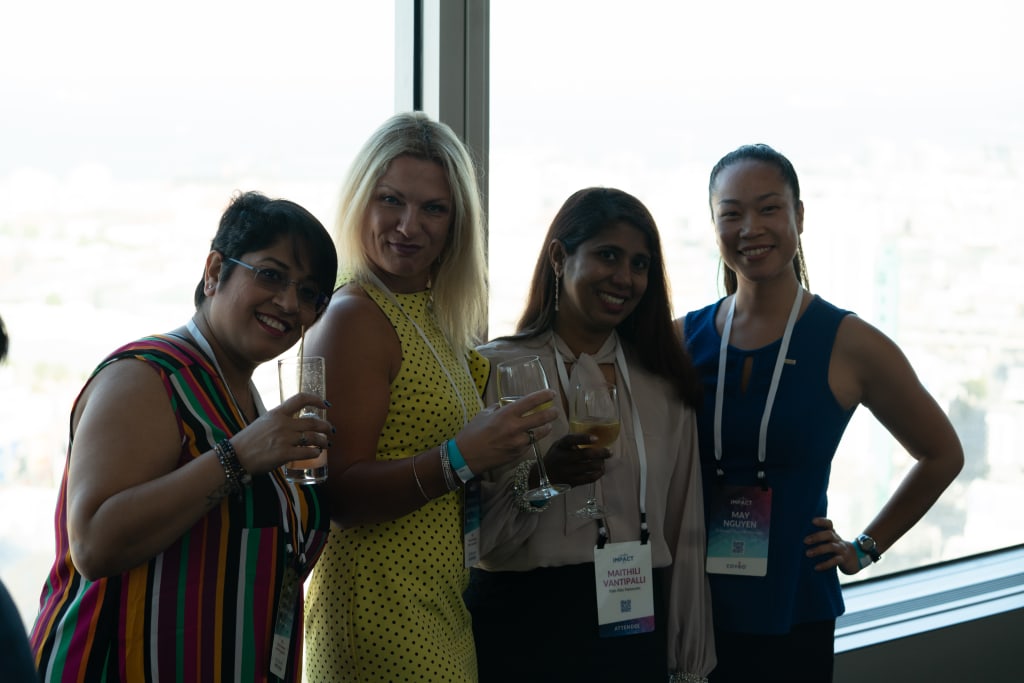 How do you feel about segmentation vs. individualization? What sessions are you most excited about for the final day? Let us know with #CoveoImpact!