There are countless songs that celebrate the city of San Francisco: Tony Bennett left his heart there, Judy Garland never wanted to roam from there, and Journey won't ever forget the sun shining on the Bay. The devotion to this bustling metropolis is powerful and for good reason. There are so many spectacular sights to see and incredible places to visit. 
Since you'll be visiting for Dreamforce, we know you have a tight schedule and limited time outside of the conference to explore. The last thing you should have to worry about is where to go and what to do if you do find yourself with some free time. We've put together a list of our top San Francisco recommendations, so that you can make the most of your stay in the City by the Bay.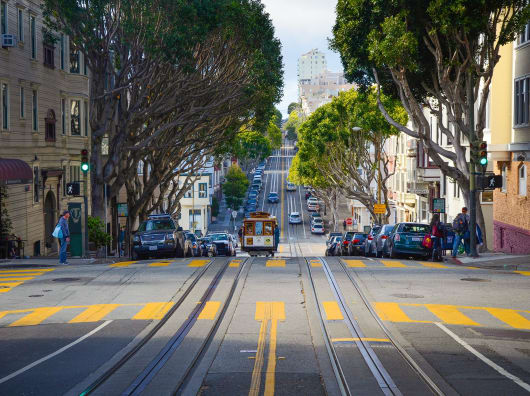 Eat
Mourad Lahlou came to the US from Marrakesh as a student and used cooking as a way to combat his homesickness. Now, almost 35 years later, he is a Michelin star chef that has reinvented Moroccan cuisine, providing a unique experience to every customer that walks in his door. Don't miss out on the opportunity to try out traditional dishes with a California twist. 
This restaurant is the perfect spot to start your day. Located in the historic Ferry Building, the ambience complements the incredible breakfast they serve. Be sure to stop by for your early-morning pastry fix to prepare yourself for an action-packed day at Dreamforce. 
At this bakery, baking bread is an art that the owners have taken great care to master. They are devoted to using the best ingredients and different techniques learned during their travels abroad. While you're there you can enjoy Coveo favorites, the brioche jam bun and porchetta sandwich, and the incredible street art as well. 
Drink 
With different espresso and pour-over options, this coffee shop lets you customize how you caffeinate. You can charge yourself up with one of their incredible brews and perhaps even pair it with one of their inventive toasts. How can you resist the combination of house-made Organic Strawberry Marmalade, Ricotta Cheese, Honey, Lemon Zest, Sea Salt, and Cracked Pepper on Toasted Pain de Mie? You can't, so your only choice is to go for it. We know we will. 
Each batch of coffee is taste tested to ensure that it's at peak flavor before you drink it, so you're guaranteed to get a perfect cup here every time.  It's hard to tell whether you'll be more amazed by the coffee or the contraptions they use to prepare it, so you'll just have to go find out for yourself.
This tiki bar will make you feel like you've been transported to another world. Located in the renowned Fairmont Hotel, this tropical paradise showcases a live band on a floating barge and creates tropical storms- complete with thunder and lightning. 
Sip and sing the night away at this Chinatown karaoke bar. Come join the Coveo team as we belt out our favorite power ballads. Depending on how punny we're feeling, "Dream On" may or may not be featured.
Connect yourself to San Francisco's lively history at this iconic underground venue. It lies deep beneath Market Street in the historic Hearst Building, and features live music as well as fun cocktails that will make for an unforgettable night. 
This modern tavern celebrates tradition, but also embraces current trends by applying inventive twists to the classic cocktails you know and love. Choosing from their impressive list of mixed drinks and wine options might be difficult, so check out the menu beforehand to avoid holding up your colleagues after a long Dreamforce day. 
Play 
This is one of Golden Gate Park's most treasured historical landmarks, boasting a Victorian-era glass greenhouse and botanical garden filled with countless rare and endangered plants. Visit this urban oasis to allow the magic of Dreamforce to make its way into your day even after you leave the conference center. 
Get in touch with your artistic side at the city's modern art museum. Much like the collaborative Dreamforce sessions you'll be attending, the exhibitions on display push you to think differently and challenge what you know to be true. 
These ferries depart from the famous Ferry Building (where you can also find Boulettes Larder + Boulibar) and offer fantastic views of the San Francisco skyline. There is indoor and outdoor seating, so don't fret about the weather and just enjoy the ride. 
Unwind with a spa day after a chaotic week at Dreamforce. With thermal pools, relaxation rooms, massages and more, Refuge has everything you need to relax and recharge. 
You will definitely be busy during your stay in San Francisco, so you may not get the chance to see all the landmarks you wish to see. Don't worry, one trip up to Coit Tower will allow you to see all of the famous San Francisco attractions: the Golden Gate Bridge, Alcatraz, the Transamerica Pyramid and more.
What do you have planned during your time in San Francisco? We'd love to hear about your adventures, so be sure to stop by booth #1625 to share your stories with us. In return, we can help you discover everything that AI-powered search and recommendations technology has to offer.