The 2020 edition of Coveo Blitz marks the 10th anniversary of our legendary AI competition, and we're celebrating this milestone in style – by welcoming the student teams to our brand new Montreal office!

Coveo Blitz is one of the oldest private programming competitions in Quebec; it's also an opportunity for students to get a taste of our famous #Coveolife. I sat down to chat with Marc Sanfaçon, one of Coveo's co-founders and the founder of Coveo Blitz. Since he literally organized every edition since its inception, I knew he'd be the best source of interesting insider info. 
How does Blitz work?
CEGEP and university students form teams of three or four. They must pass a technical challenge to register. Successful teams will be welcomed into our office on January 18th for a long – but fun! – day of coding.
"Coveo Blitz gives participants the opportunity to demonstrate their ability to develop intelligent algorithms that can compete with those created by the other teams," says Marc Sanfaçon. "It's also a good way to discover Coveo and meet our employees. Of course, people also need to have fun, we make sure of that!"
The winning team receives the eternal glory of having their names engraved on the Coveo Blitz Trophy and each team member also gets a cool prize! To give aspiring students a taste, over the years Coveo Blitz champions have won laptops, virtual reality headsets, 4K screens, iPads, and GroPro cameras, to name but a few. This year, each member of the winning team will receive a Vive Cosmos, the latest in virtual reality technology. Winners from previous years are encouraged to participate again, but can't go home with a prize if they emerge victorious a second time!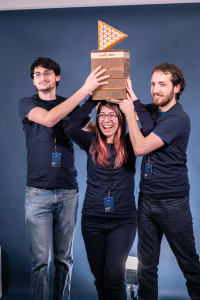 What can I expect?
Punctuality is critical! You only have eight hours to tackle the challenges and meet all the deadlines for deliverables throughout the day – this is incidentally why we called it "Blitz". Participants must bring their own computer and their talent.
All the code must be written live. Only the following languages ​​can be used during the contest: Java, C #, JavaScript, Python, Scala, Go and Typescript. The use of any other language or external library must be authorized by Coveo.
It's all well and good, but … what's the challenge?
Yeah, about that … we don't want students to prepare too much, so we keep the details a secret until the day of the contest. #sorrynotsorry
"We enjoy taking the students out of their comfort zone. After all, that's how you learn new things, and how you discover how much you can accomplish," Marc explains. He does, however, add this last morsel: "the contestants will have to design software that answers one or more questions in order to make points."
Seems a little mysterious? Yeah, we like it that way. 
_______________________________________________________________________
Blitz Anecdotes!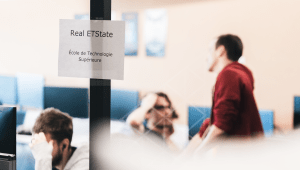 The weirdest team names
"We've had many funny names over the years. For example, Real ETState from a team of ETS students. We've also had teams submit a drawing as a name too ¯ (ツ) / ¯"
– Valerie Côté, Team Lead R&D
The time we narrowly avoided disaster
"Our Coveo Blitz platform had a few failures during one edition, which had the organizers breaking out in cold sweat. We had tested a few different scenarios with our platforms prior to the event and everything was working well – basically, a "works on my machine!" situation. But with a load of 20 teams of 4 people testing on our platform at the same time… the volume was too much and it failed!"
"Also, one year, up until the very last day of open registration we only had three teams registered. We thought about canceling, but at the very last minute – during our Christmas party no less! – we got an extra 15 registrations! The following year, we got wise and added a counter with the number of remaining places on the registration page, to motivate students to register sooner. It worked."
-Marc Sanfaçon, SVP R&D
All-time best Coveo Blitz moment
"One of the funniest moments in Coveo Blitz history was the year teams had to program a Mario Kart race. Only one team was actually managing to make points, so they were rolling away while every other team stayed stationary. It was very funny!"
-Marc Sanfaçon, SVP R&D
______________________________________________________________________