We've made it a customer success (CS) ritual to 'look back, before we move forward'. It's a retrospective team exercise that builds empathy, awareness and more mindful decision making. It offers us the opportunity to bask in our accomplishments, enjoy the fruits of our labor, and ignites creativity for more innovation. 
We've found solidarity in this practice; and agreement that the 'status quo' is not in our DNA. 
Fostering this alignment and cohesion in a rapidly growing team has been a significant challenge yet we've always managed to find a way to have fun and recognize how special our mandate really is. Dale Carnegie once said – "People rarely succeed unless they have fun in what they are doing." 
I fundamentally believe this. Passion, joy, and resilience are contagious.
This write up is an intimate glimpse into our retrospective practice, and how it's allowed us to create a culture of recognition in five parts. While our journey is unique (and yours will be, too), I hope this high-level blueprint gives you a new perspective. And you'll get to meet this year's MVPs!
🌟 Key learning: A culture of recognition is a living organism. It needs to be understood, cared for, and nurtured.  Meaningful and frequent recognition are staples of a highly engaged and dynamic team ecosystem. 
Part 1 – Our team  
We are a team of 60+ CS professionals; diverse, globally distributed, and mostly remote 
Role and Responsibilities: We have 6 business units, each with detailed and documented roles and responsibilities. We call this our 'Matrix'. This resource generates awareness, respect, and empathy, and most importantly, accountability. 
Hiring practice –  We have a seriously robust hiring practice. With purpose driven touchpoints,  candidates to get to know us, our ecosystem, their peers, and allows both parties to make the best decisions
Values – we are tight on our values

Ensure customers succeed, every time.
Take Ownership. Get things done. 
Do the right thing. Help the team.
Deliver Value. Earn Trust.
Elevate each other. Embrace differences.
Always Listen. Always Learn.
Cultivate Excellence
Part 2 – Conduct regular pulse checks 
Know when to evolve your practice –  our monthly recognition program was falling flat and our 'recognition scores' in our employee engagement tool were dwindling. It was time to push the reset button! 
We listened to signals from our team and created safe spaces for discussion 
We sent out custom polls to offer the option of anonymous feedback on what 'recognition' means to our team and how success could be measured 
We also conduct regular 'retrospectives' which are now super easy due to a tool we recently start using, a must with remote teams!
Part 3 – Recognition as a strategic priority 
Our CS leadership group is committed to making recognition a priority. We transformed our learnings from retros and surveys to a tangible OKR in 2022 (Objective and Key Result) 
We set clear goals, built out a new program, and shared it widely for team feedback and buy in 
We started small and introduced new tools to foster public recognition in spontaneous fashion.
By the end of March 2023, we have hundreds of detailed and heartwarming notes of recognition logged and shared
'Recognition' momentum is still going strong! Here are a few examples: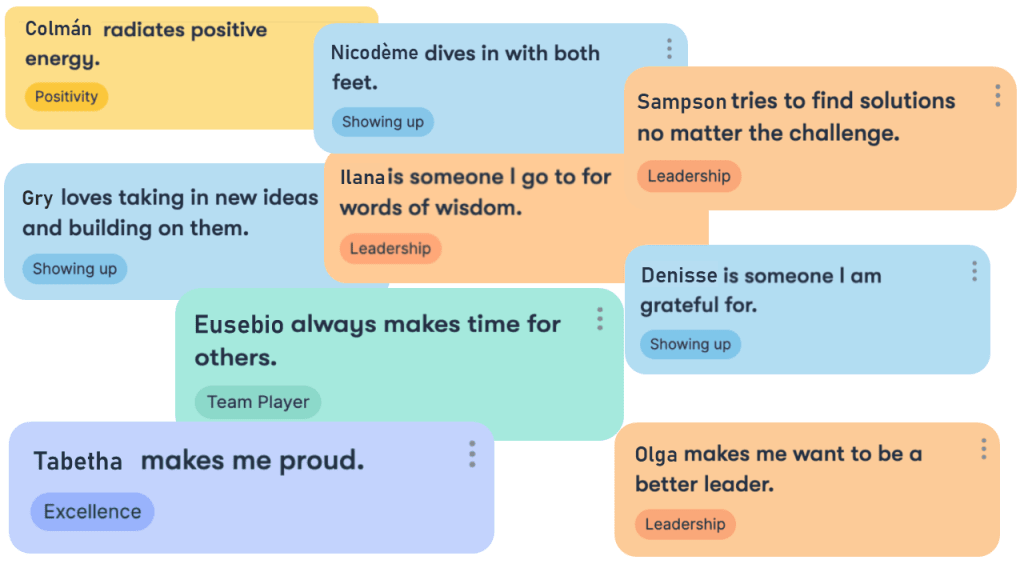 In the words of Kim Scott, author of Radical Candor (I am a HUGE fan) – ''Public praise is great for both recognition and learning. When you share specifically what was great and why it was great publicly, not only does it have more meaning for the person being praised, it helps the whole team learn something new.
Make sure to provide details about what the person did, the impact, and the context so that the whole team learns.''
Part 4 – Be fair and data driven 
We swiftly transitioned to a quarterly recognition program and an annual MVP award ceremony
No 'one' person decided on winners. Our managers formed a 'recognition committee' to align on winners based on the premeditated selection criteria. It's not always easy to select folks in a sea of high performers! 
We leaned into our role and responsibilitIes matrix which continued to foster cross team empathy and highlighted those that stepped out of their comfort zones or truly raised the bar
Being data driven means having the ability to measure your impact. Our recognition scores in Officevibe rose dramatically in the last 12 months. 
The build up is over…..Meet our 2022 MVPs! 
Our 2022 MVPs are highly celebrated by their peers, consistently excel at their craft, and are so very deserving of a little more public recognition!
Sara – Rookie of the Year
"I joined Coveo in April 2022 and it quickly became evident that I made a great choice coming here. The team is by far the biggest selling point. Despite being from different LOBs and working remotely from different time zones, it is an incredibly collaborative group. My colleagues, regardless of the team they are a part of or their hierarchical level, are all eager and willing to help me through various customer challenges, supporting and enabling me every step of the way. Leadership is also incredibly supportive and creates a culture that allows us as individual contributors to say 'I made a mistake' or 'I need support here' without feeling nervous or stressed. In my previous CS roles, leadership focused on product knowledge enablement primarily, but here at Coveo leadership emphasizes soft skill development, which enables me to tackle challenges in the future independently. Being a part of this team has allowed me to grow so much as a CS professional and with opportunities abound for upward mobility, I am excited to see what my future with Coveo brings!"
Veronica – Most Valuable Player
''I have never been a part of a team that is as collaborative and inclusive as Coveo's Customer Success Organization. The team is made up of seasoned thought provokers who are ready to jump in and act. Leadership who actively listens, takes action on feedback, and will go to bat for our team. And best of all – each person shares deep compassion for one another which makes me proud to work alongside everyone. I am constantly amazed and appreciative to be a part of such an exceptional group of people – second to none CS Org''
Louis-Guillaume – MVP Key Collaborator:
''Hello everyone! My name is Louis-Guillaume Carrier-Bédard, and I am a Customer Success Architect at Coveo. I am incredibly honored to have received the 2022 CS MVP award for Key Collaborator, and I wanted to take a moment to introduce myself and share a little bit about my journey with you all.
My role as a Customer Success Architect revolves around ensuring that our customers receive the utmost value from our solutions. One of my favorite aspects of my job is the opportunity to bring relevance at scale for our clients. I achieve this by actively collaborating with every department within our organization – Sales, Support, Professional Services, and R&D. Working at Coveo has been a truly rewarding experience, as we share many core values that aren't just empty slogans on the walls but are genuinely ingrained in our hearts. As we like to say, "It's good to be us!" These shared values have been the driving force behind our mission to provide exceptional service and foster lasting relationships with our customers.
As a firm believer in the power of teamwork, I am grateful for the collaborative environment that Coveo fosters. This collaborative spirit not only allows us to continuously innovate and grow but also enables us to better understand our customers' needs and provide tailored solutions that help them achieve their goals. I am thrilled to be part of such an amazing team and look forward to continuing our journey together. Thank you for giving me the opportunity to share my story, and I can't wait to see what the future holds for us at Coveo!''
Stephanie – Transformational Leadership
''As a contributing member of our award ceremony and the recognition committee, I was beyond surprised to receive my very own award! I am known to be impossible to surprise…well done team!
I am truly humbled to have received this award and to be recognized for transformational impact. This type of leadership is not possible without a team willing to think critically and raise the bar at every occasion. I have endless gratitude for our team and the experiences we get to create together at Coveo!''
Liudmila – Onboarding MVP
"One of the main reasons I've been in the Customer Success department at Coveo for over 3 years is because of the amazing people that I get to work with on a daily basis! I'm grateful to be part of such a knowledgeable, intelligent, collaborative and people-focused team. Not only are my colleagues amazing, but so is my leadership team. They have been crucial to my success at Coveo, and they are a big reason as to my happiness and motivation in my role.
Our department has a big focus on recognition, in various forms of shoutouts, awards, and praises, which is really key to feeling like your work is being appreciated. Winning the Onboarding MVP award is a big honor for me, and I couldn't have done it without the rest of the amazing Onboarding team, as well as the whole CS department!
Wrap-up
We've certainly come a long way and are humbled in knowing that what's right today may not be the best formula next year. We are in constant evolution and monitoring closely. 
Building recognition is going to look different for each company, but we hope this blueprint can inspire some ideas in yours. If this piece has ignited an interest in Coveo, learn more about us on our Instagram or LinkedIn.