Data is king, but how helpful is your data if it's sitting strewn across multiple siloed systems? Insurance distribution is powered by knowledge of customers, but the old days of paperwork and in-person communication are changing, and fast.
From digital intermediaries to the consumer desire for flexible options, insurance carriers must consider technology that helps them expand their distribution system infrastructure — and make the most of the treasured data stores they already have to personalize offers for insured members to gain a greater share of wallet.
At Silicon Valley Insurance Accelerator (SVIA)'s Powering Growth with Digitally Intelligent Distribution webinar, Travis MacMillian, Chief Business Officer at Xceedance, joined Bonnie Chase, Director of Service and Support at Coveo, to discuss how insurance companies can unlock those insights and give members the proactive, quick, and knowledgeable service they expect using artificial intelligence (AI) and machine learning (ML).
Personalized Insurance Strategies Help Insurance Companies Unlock Insights
Meet consumers where they are – at every life stage
Providing the right service – from agents to customers
Crafting a data-driven customer journey
Using Search Analytics to 'Hear' the Customer
Meet Consumers Where They Are, At Every Life Stage
Chase explained that the shift to customer-centric has already happened. No longer is it about bringing customers to the company, but instead "being where our customers are" to provide an effortless experience that provides information around the insurance product relevant to them. What's more, it's also about serving them in a way that they prefer – 40% of younger generations prefer self-service via digital channels, while older demographics want to be able to speak with a person.
And regardless of channel choice, 70% of customers expect insurance companies to give them personalized experiences. Insurance companies have the data to do this; they just need the technology that helps them start a conversation.
'With the focus on digital, the more access available to data, there really is that need to tap into AI; AI can help make use of those data points and optimize all those different channels.'
As insurance carriers roll out different ways of interacting with customers — chatbots, self-service portals, etc. in addition to contact centers and phone lines — these systems must work together intelligently to provide a data-driven connection to effectively reach customers and offer a meaningful policy. With machine learning, insurance companies can quickly and cleanly cut through the data noise to reach the heart of what customers want, and provide that coverage service with a greater degree of actuarial certainty.
From Agent to Customer, Provide The Right Service
Agents and brokers want the same thing that customers do — less paperwork, less chasing, less confusion across distribution channels. For all insurance audiences, speed, accuracy, and reducing friction is what matters.
MacMillian shared that one of the most frustrating things for brokers or agents is to go through the whole insurance policy application process with a carrier, only to later be denied by the underwriter for the client's lack of eligibility. This is often due to brokers and agents not being aware of data that underwriters might have access to.
"How do you bring that full-facing down to the agent so they know that client is going to fit, Day 1?" MacMillian said. "It's about harnessing all of the information that's out there, and positioning it through [new] tools in the pursuit of new business for agents and brokers."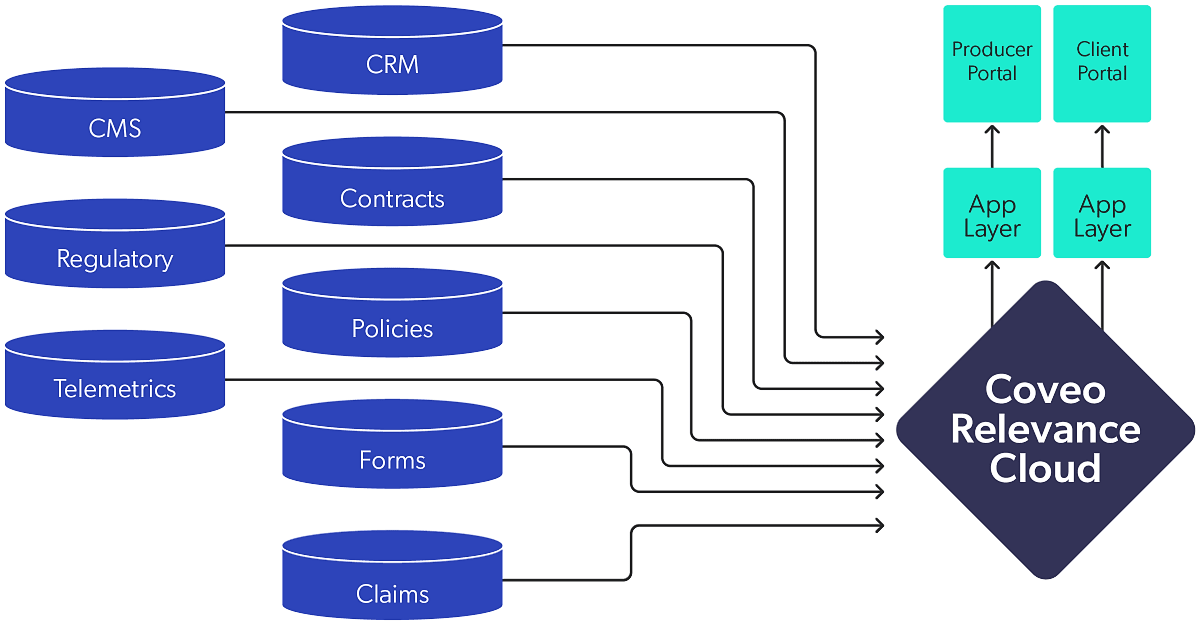 He further elaborated that agents and brokers are usually challenged around ease of use with carrier partners. They get put in a tough spot when they represent different carriers that all require different information from clients. Technology such an AI-powered relevance platform can help in this regard, due to AI and ML's ability to crunch an unlimited amount of data and then only require one or two additional inputs to provide an answer. This frees agents and brokers up from tedious data input to allow them to spend meaningful time with customers.
Speaking from a data profile perspective, Chase shared that insurance agents are under intense pressure to get everything right the first time. They need all of the relevant and required information from the get-go to avoid friction and confusion in the application process. 
"Reducing that waste of time and making sure [agents] have the information that's relevant to the type of policy, area that the [member] lives in, and meets those specific requirements," she said, "so they don't have to filter through a bunch of noise to get what they need is huge."
With the increase in digital channels, she highlighted that self-service can play a key role, empowering members to provide first-party data that helps agents and brokers serve them better.
Crafting a Data-Driven Customer Journey
A better customer experience is all about leveraging technology and data to drive improvement, according to MacMillian. He shared an example: a B2C startup wanting to build a tech platform for a high-value homeowner clientele that would only need one-to-three data points to kick off an underwriting process. Then AI would kick in to collect third-party data sources to pull in the risk context and determine if that risk met the underwriting guidelines. 
"The results would be turned around in a matter of minutes," MacMillian said. "It was actually a very successful model. We're starting to see more trends like this in the marketplace. An example of a bigger, evolving insurtech is Lemonade.
"They're focused on, 'how can I leverage technology and data to drive a different experience for the customer?'"
Chase described working with Manulife to improve their employee experience so those agents were then empowered to build stronger relationships with customers. An AI-powered relevance platform can use the same content sources and, while inheriting the same governance permissions from their sources, serve up relevant content and predictive recommendations to individualized audiences — captive agents, independent agents, brokers, customers — across an increasingly distributed network.
"If a customer is researching information about a specific kind of policy," she said, "[AI] can provide recommendations based on what others have actually purchased. It can also provide related content for what that consumer needs to add to their policy next. 
"There's all kinds of ways we can improve the customer experience."
To make this work efficiently, systems must talk to each other. When they don't talk, opportunities are missed — often resulting in a negative consumer experience.
"That's why we capture search and content data across all platforms," she added. "Community, website, chatbot, etc. And use search analytics from that to optimize the experience."
Using Search Analytics to 'Hear' the Customer
When it comes to connecting with customers, both experts stressed the importance of letting the data and analytics drive the customer experience.
Chase emphasized that the more data there is, the more machine learning can bridge content gaps. Whether through chatbots or self-service portals, ML can tap into existing systems to see what users are interacting with — where they're clicking, what they're reading, how they're searching.
Analytics provide two key insights: customers want and where they're struggling, according to Chase. This is discovered through search behavior — what customers are searching, clicking, not clicking, and if they are looking for things and come up short on answers or if the answers simply don't exist. 

"When we pair this [data] with a user profile, we can compare their behavior and profile to similar profiles to determine how [that user] will best find success and what we can recommend to get them what they need."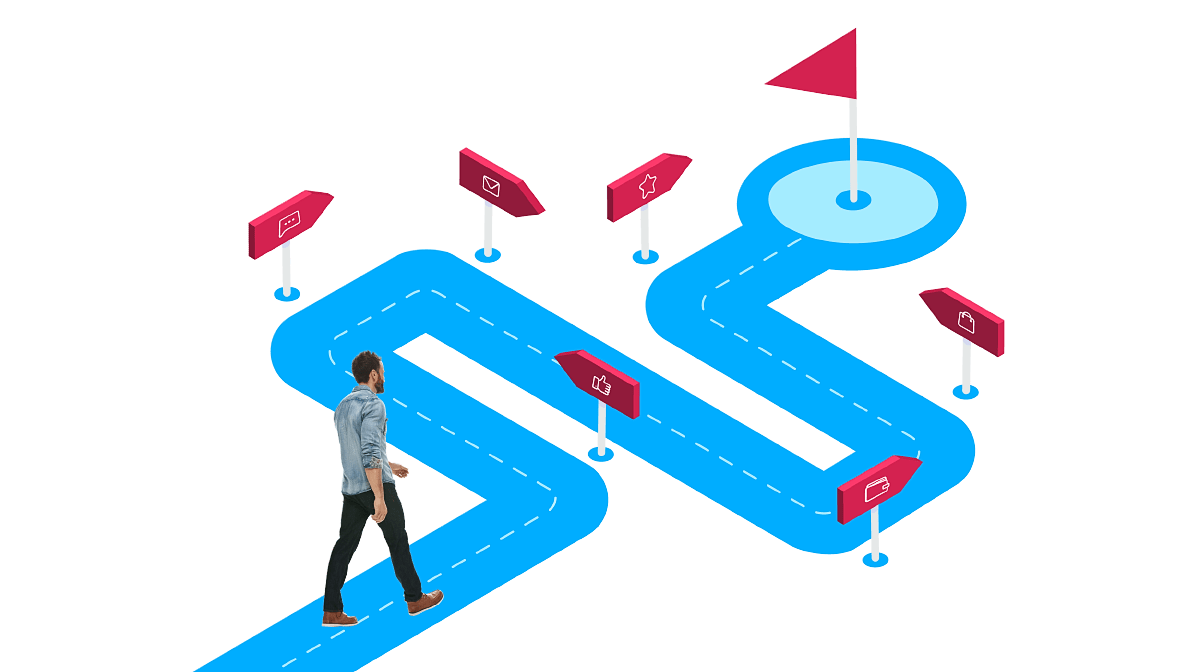 It's important to use analytics to discover what to offer customers. Analytics can help you understand if a certain channel is helpful for your company and your customers, because the answer isn't always the same. 
"Either way, the right answer is providing the information in the channel the customer prefers," Chase said. "An example is AARP, where they still have a lot of mail-in inquiries. Not everyone is going online to get support, which meant [AARP] still needed to be able to support that as a channel. 
"This is just one example of why analytics are important in understanding where to spend the energy, effort, and money."
How To Make A Business Case for AI in Insurance?
Implementing these types of cutting-edge technology doesn't have to be difficult. MacMillian described using modular technology replacement due to many having legacy technology.
"Carriers have spent hundreds of millions of dollars on technology," he said. "Over time, it's very hard for them to bite the bullet and say, 'OK, I'm gonna scrap what I have,' and go with something cutting edge."
Businesses don't need to rip and replace. Instead they can create a conduit between legacy systems and cutting-edge technology, such as AI, with options like headless architecture. 
In terms of return on AI and analytics, Chase said it's important to tie the goals of the project to high-level business objectives. 
"If you want executive sponsorship for an investment in technology," she said, "then you must ensure that the KPIs feed into a high-level value."
MacMillian agreed and added that the key is starting with a small pilot to get the information needed to do it right at large. To get executive buy-in, prove your business case, and secure funding, you need to acquire evidence at a low risk. Once you uncover any snags or adjustments needed to prove your hypothesis, the project can then be scaled. 
"The best thing is to start small with a concrete vision on what the outcome needs to be, then drive everything towards that."
If you missed the event, don't worry! We've got the full conversation for you, on demand.