Implementing knowledge management (KM) best practices can help you provide a seamless experience across multiple self-serve and assisted customer touchpoints. This was a top goal for 74% of companies interviewed by Gartner last year. That makes sense since companies experience significant economic consequences when customers, employees, and stakeholders can't find the information they need when they need it. 
For customers to successfully self-serve, they need access to your company knowledge. Your employees also need quick and easy access to your knowledge resources, particularly from more experienced staff who may leave the company or retire. This includes explicit knowledge (aka, codified knowledge), implicit knowledge, and tacit knowledge, sometimes called tribal knowledge or organizational learning.
If customers and employees are having trouble finding what they need, then strategies like creating a KM plan, and unifying organizational knowledge sources help create an optimal environment for Knowledge-centered Service (KCS)* in your organization. 
The High Cost of Poor Knowledge Access
Poor knowledge management practices are costly. Let's look at the significant consequences that can happen when knowledge transfer falls short:
Low return on information assets
Your team is spending time creating a knowledge base, but assets are trapped in silos, hidden away from your customers. Not only is your information underutilized, but you're also burning through company dollars by reinventing the wheel with every new knowledge asset that's created while tarnishing your customer experience.
Influx in calls to your contact center
Most customers will jump ship if they can't find what they're looking for. In the event they decide to pick up the phone, you better hope your support agents have the answers they need. Without an effective knowledge flow in place, this can become incredibly costly. It ties up agents, having them investigate problems that customers could likely resolve on their own. 
Plus, if your agents can't find the answer from your existing knowledge base, they may need to pull in subject matter experts, costing your company even more. 
Dissatisfied customers
If your customers spend more time searching than they do acting on information, you are falling short on their expectations. People want personalized experiences when interacting with companies online. According to Statista, 94% of respondents in a recent survey said that when they have a positive customer service experience with a company, they're more likely to make another purchase.
Effective Knowledge Management Benefits 
An effective knowledge management system helps drive business by:
Enhancing customer satisfaction. Putting the right information at your customers' fingertips drives significant and immediate customer satisfaction. Considering it costs five times as much to attract a new customer than to keep an existing one, it just makes good business sense to keep your customers satisfied.
Increasing Net Promoter Score (NPS). Empowering your customers to successfully self-serve contributes to the overall experience they're looking for. It also increases their willingness to recommend your product or service which ultimately results in additional business.

Shrinking support workload. Whether customer or employee, self-service improves the user experience by rewarding curiosity. Empowering searchers to find answers on their own means fewer dollars spent on break/fix. Those resources can instead go to educating customers on getting the most out of their purchase, or adding on products and services. You can also fund employee training to help upskill proficiency.

Reducing content duplication. Only create (and pay for) content once. An effective knowledge management strategy keeps tabs on what information exists, allowing your employees to build on past work. Usage analytics help identify true knowledge gaps rather than wasting resources on content duplication.
Generating more revenue through partners. Customers and employees aren't the only ones turning to your platforms for answers. Providing your partners with relevant resources allows them to do more business with you and add value to your business. Learn how to enable your partners for self-service success.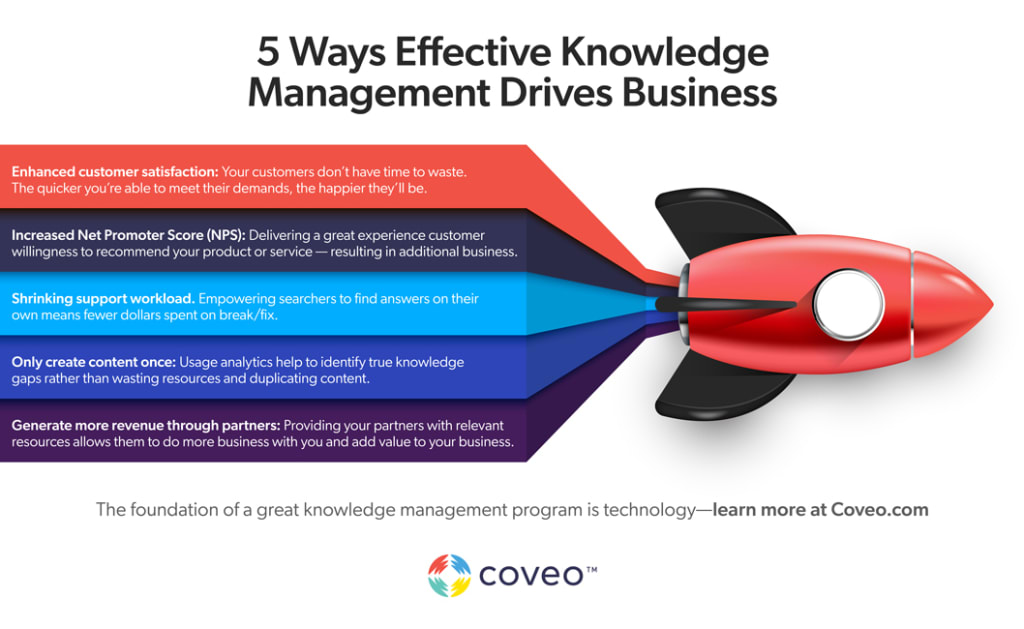 5 Knowledge Management Best Practices 
Enhanced user satisfaction, increased content discovery, and a more efficient use of everyone's time are great reasons to get a handle on your knowledge management process. What often remains elusive though, is how to effectively achieve this. 
Here are five best practices we recommend to help demystify—and simplify—the process:
1. Understand how organizational knowledge circulates
"We've all been there — trying to find an answer without success," said Sara Feldman, Director of Member Engagement at the Consortium for Service Innovation, during a  conversation on Enterprise KM in the Hybrid Workplace with Bonnie Chase, Director of Product Marketing, Service at Coveo. 
Per Feldman, understanding how elements in your organization connect is key to designing or choosing a solution that is easier than asking a co-worker for the information. Start by taking an inventory of knowledge requirements across the organization so that you know what people are looking for and how they're searching for it. This also uncovers stale content, which can muddy search results.
Once you understand your knowledge requirements, including where knowledge is siloed and how your employers and customers search for it, you can make it more accessible through unified search — a process that combines federated search with a unified index.

Federated search, which retrieves information from a variety of sources, helps users find information more quickly. It works particularly well when paired with a unified index — a system that creates a single unified index of content regardless of where it's stored. When further paired with AI (as discussed above), unified search can transform the way your employees and customers discover content.
2. Leverage technology, particularly AI 
The right technology lets you embrace knowledge sharing by automating and innovating many of the steps inherent in the knowledge capture process. Cloud search, for example, allows you to index information in a universally accessible knowledge reference. 
AI can help you leverage critical knowledge and navigate big data to improve performance and increase innovation, while also expanding perspectives for your entire team. AI-powered tools connect and combine relevant knowledge across different platforms for searchers to access as needed. 
A key client example of this is UW Healthcare, an academic, not-for-profit medical center that serves 600,000 patients in South Central Wisconsin. 
According to Noah Locke, manager of web development, whose team oversees that search, 80% of users are looking for 20% of the content. UW Health used Coveo's AI-powered search across their intranet to help surface and deliver relevant results, giving their health teams better access to critical information.
3. Build a strong knowledge-sharing culture
A key factor in information management and knowledge sharing, regardless of department, is organizational culture. A KM initiative requires people to change their behavior. That is, document and share all their hard-earned knowledge assets and intellectual capital. As such, a strong knowledge sharing culture with a spirit of collaboration is a critical driver for success for most companies, according to the Technology & Services Industry Association (TSIA).
It's not enough to encourage knowledge sharing practices among employees. You need to build a top-down culture around it, supported by executives and driven by a dedicated KM team that helps guide and mentor employees. 
This is particularly important with hybrid and remote work arrangements. According to Gallup, remote work will continue into 2023, with about 75% of remote-capable workers going fully or partially remote. 
Eliminating knowledge gaps and information silos will be crucial for remote workers' success.
Connect your remote workforce in 5 easy steps
Ebook: Guide to Building a Connected Workplace with a Remote Workforce
4. Develop a dedicated KM program – and support it
A strong knowledge-sharing culture can only happen with a dedicated KM initiative. Having a KM team is a good start when establishing a foundation of knowledge sharing. It's becoming more popular with companies who want to leverage KCS. 
Many organizations still lack a comprehensive knowledge management solution, but there are signs of steady improvement. According to the TSIA, KM programs are maturing, with a rise in dedicated staffing and program management, and more executives including strategic objectives in operational reviews with future research being planned.
The TSIA says search strategies are also becoming more sophisticated. There is a rise in unified search — connecting everything from content repositories and product documentation to learning courses and community discussions.
"Intelligent unified searching adds natural language processing, artificial intelligence, and machine learning to this, so search results become more accurate over time based on which search results are accessed, and results are based on the intent of search terms, not just actual search strings," it says.
5. Identify what works (and what doesn't) with analytics
Lastly, enable knowledge workers to contribute directly to shared knowledge as it evolves and changes. Documents can quickly become out of date, and encouraging employees to contribute to updating knowledge gives them more ownership and independence, Feldman said.
Knowledge evolution also looks back to see if the knowledge is being used, who is using it and how, and tying the use of the knowledge to success metrics. In other words, you analyze your knowledge to see if it's helping you achieve what you want to do. 
"We're creating this environment of knowledge… and it needs to evolve with us as our needs change and in the context of each individual," Chase added. This helps organizations decide on how they can optimize their content moving forward.
Analytics also can help determine what employees are searching for and the knowledge that they turn to the most — giving the organization an idea of areas where they might need to improve processes, such as onboarding, and gaps in knowledge and how they can use it for product improvement.
KM Best Practices Reinforce Value Of Knowledge 
As your understanding of knowledge management needs grows — by looking at people, processes and technology — so does the need to underscore how important it is to the smooth functioning of an organization, Feldman said. "There is no set it and forget it in knowledge management."
Do this by sharing stories "about the painful before and the better after" and rewarding employees for contributing. 
Those rewards should focus on outcomes, not activities. For example, setting a goal of editing a certain number of documents a week encourages people to edit documents, not create high-quality documents. Creating a document that many employees use is focused on outcomes.
Other examples of outcomes are: 
Employees can self-serve more easily and efficiently.
The organization makes employee knowledge available to customers through the appropriate channels.
Employees duplicate work less often.
Customer inquiries change, even if the volume doesn't.
Collateral will be used by X number of people instead of making five new things for the sales team. 
Those outcomes should connect to the organization's values, which are ideas and concepts that employees should already be bought into.
Build each KM best practice by starting small so that you can get a thorough understanding of one area at a time. Pick one team's knowledge area to map at first, Feldman said, adding that two teams will also work if you want to bring their shared knowledge together. 
As people hear of successes in one area, the knowledge management project will gain momentum. Capitalizing on that moment is important to the health of the project.
Dig Deeper
In this session, TSIA's John Ragsdale highlights some common challenges to successful knowledge management (KM) and how to overcome them. And from OSIsoft, a market-leading data management platform for industrial operations, Business System Analyst, Darragh Perrow and Knowledge Engineer, Alex VanFosson, share their strategy for bridging knowledge and both the employee and customer experience, including:
Key considerations for a knowledge management (KM) strategy
The best practices for identifying content gaps and leveraging the voice of the customer
Ways to streamline and accelerate your KM program
Transform your knowledge-sharing process.
Transform your knowledge-sharing process
On-demand Webinar: KCS Aligned KM Best Practices for a Successful Customer Support Experience with Osloft