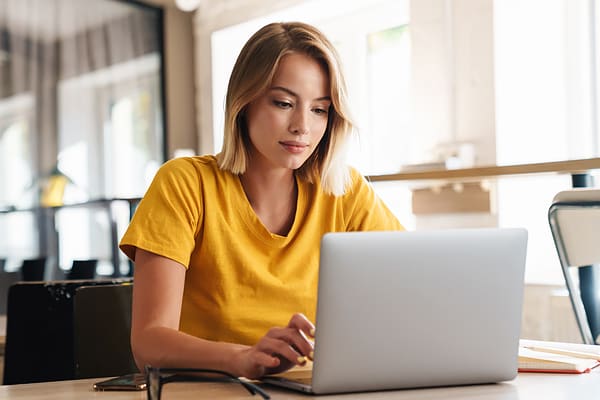 Conventionally, B2B businesses have considered B2C website features to be irrelevant. There's a common consensus that flashy features only fit the B2C model, leaving B2B to just focus on the bread and butter options. This is misplaced thinking; the same shopper psychology spans across each. The features that allow B2C brands to excel in the online space are there because they work. Most notably, personalization.
Research indicates that 73% of Millennials are now involved in B2B purchasing decisions. As a result, B2B businesses aren't immune to this changing consumer behavior. This new generation of buyers values independent research, completing 57% of the buying process before they even contact a business. With B2B buyers becoming increasingly self-sufficient in the buying journey, personalization is no longer a nice-to-have; it's expected. Over 70% of B2B buyers now expect a personalized, B2C-like experience from all websites.

Improving the Awareness stage
When B2B buyers start their research, they have already identified a challenge or need and are looking for a solution. To ensure they not only find your company and also find answers to their challenges (which could be product of information) your site needs to offer optimal buying experiences.
Often, B2B organizations sit on a wealth of information and content; the challenge lies in helping prospects to navigate it.

A recent McKinsey study found that when asked "what ways of interacting with a supplier would be most beneficial to you when researching/considering suppliers going forward?", B2B buyers overwhelmingly chose onsite search. When they get to your website they want to search for the product or solution they are looking for, easily find more information, and process their order.
The preference for onsite search shows that the buying and research process is digital-first and driven by self-serve opportunities. This shows a drift towards on-demand information, giving buyers the ability to research at their own pace.
Cognitive search engines, sometimes called insight engines, or relevance platforms, make it easier for users to browse relevant products based on their search terms. When this functionality is implemented in a commerce platform, personalization displays its real investment value. Using artificial intelligence, cognitive search will index entire product inventories to list appropriate items against search queries, eradicating the dreaded 'no results' page. Underpinned by natural language processing (NLP), it intuitively acknowledges human errors (think typos, awkward spaces, and abbreviations) to predict the intention of search queries, understand the data, and generate better results.
In a B2B context, there is an education component that also needs to be considered. In addition to products, search needs to identify and return related, rich content, such as videos or warranty guides, that are important to the buying decision.
The solution provides users with the necessary information, insights, and answers without reducing productivity or satisfaction. In turn, it speeds up the buying journey and improves conversion. Cognitive search should also be able to handle multiple data formats, text, video, and audio. It has the potential to provide digital assistant functionality, with integrations into audio, video, and Internet of Things (IoT) search functionalities.
Having a well optimized on-site search also has the added benefit of providing further insight into what buyers are looking for and what the roadblocks to purchasing are. This information is gold; it either shows demand, or it shows opportunity. It also provides all the insight your business needs to deliver personalization. By letting clicks and queries shape the experience, you can deliver content, interfaces, and journeys tailored to individuals, not segments.
Live Chat Combines AI With Humans
The second preference buyers indicated in the aforementioned McKinsey study was 'live chat'. Rather than scheduled phone calls or back and forth emails, buyers are opting for the on-demand option, enabling them to engage with potential suppliers when it suits their schedule.
In the same study, buyers indicated that there is still a soft preference for sales rep-led interactions in B2B. This shows the importance of a personal touch – even in an increasingly digital market. When delivered well, a live chat system that combines automated and staffed solutions can help at this stage of the buyer journey, delivering the digital experience buyers want, but with a personalized touch.

By utilizing the data captured of the user's interaction with the business to date, from search queries to content visited, a live chat or AI-powered chatbot can deliver the personalized digital experience the buyer is looking for. Parts of this can be decided in the background, such as knowing which page the visitor is on and using this information to inform which representative joins the live chat.

Winning Customer Loyalty
Personalization has always played a role in commerce, stretching from in-store sales assistants to B2B sales reps. It's always been about learning a customer's needs, pain points, and how they like to conduct business. But these relationships take time to build; it's a long-term process of listening, learning, and responding. While human-to-human contact is still valued, digital technology can now bear the load. When implemented well, personalization can nurture prospects into loyal customers.
B2B purchases usually involve a company hierarchy with a set of key decision-makers. The larger the company is, the more people involved. Enabling personalized, self-service options can make the commerce experience slicker for both vendor and buyer. Users can create a buying workflow where an assistant buyer can manage repeat orders or submit recommendations for approval. This data allows the provider to personalize content to improve the experience and help increase up-sell and cross-sell opportunities. Because every buyer is unique, the more customized profiles can be, the more B2Bs can provide the self-serve options that buyers are demanding.
When fewer buyers are generating more business, efficiency matters. User friction is a big deterrent, and even the smallest mistake can have major implications. It's not as simple as rectifying the customer relationship with a discount voucher or free delivery. Personalization technology has advanced so far in recent years that it can be fully customized to fit within the complex mechanisms of a B2B sales cycle.
Bridging the Complexity Gap Between B2C and B2B
Consumers can order almost anything online in just a few clicks and more than 70% of business buyers want the same experience. Admittedly, the B2B buying journey can be far more complex than in B2C. B2Bs have to build far more dynamic systems that are customizable to the diverse needs of their client base, varying buying cycles, and the complexity of compliance information.
While in many ways B2B user experiences may be playing catch up to those of B2C, they are not being left behind. B2Bs who see the role of AI and cognitive search often surpass B2C brands in precision and technical excellence. y embracing personalization at every stage of the buyer journey, businesses can both streamline the path to conversion and secure long-term client satisfaction and loyalty.