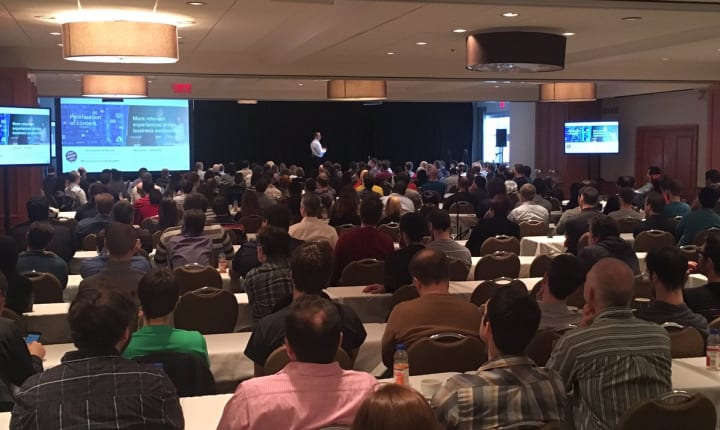 How to Make Your Next Sales Kick-Off (SKO) a SUCCESSFUL Kick-Off
Quebec City in January may not be everyone's cup of tea. For the Sales, Marketing and Support teams of Coveo, however, this is the beautiful, albeit cold, location of the annual Sales Kick-Off. Last year was my first kick-off and was by far my favourite corporate trip of the year but last year's event pales in comparison to this year – and not just because we were all put up in the beautiful Hotel Le Bonne Entente, just outside the city. Not only did we get the chance to start the year aligned as a team, we learned the true meaning of SKO.
We were upgraded to a fabulous resort and don't get me wrong, accommodations were top-notch but it was the event itself that left a lasting impression and left me reevaluating the definition of an SKO. Last year's Sales Kick-Off was very much sales-focused. This year, however, there seemed to be a fundamental shift in the content and overall company focus. A more appropriate name for the event would have been Coveo's Strategic Kick-Off.
In fact, many lessons can be taken away from this gathering and introduced at other organizations in order to ensure that they too can have a Successful Kick-Off (see what I did there?) to the fiscal year. As such, here are a couple variations of the traditional acronym that may influence your company's next meeting. All of which are exemplified by Coveo, one of the many reasons I'm so happy to work for such a great company.
Sunset Kool-Aid Openings
Many kick-off events open with keynote delivered by a member of upper management designed to get the attendees to "drink the corporate Kool-Aid". Yes, it is important to display positivity on the position of the company. However, the employees attending your event are already working for your organization. They WANT to be there. Obviously, they have already drank the corporate kool-aid you served them during the recruiting process or they wouldn't be working for you now. You don't need to serve it to them again.
But, if you must, serve it to them in a shot glass rather than with a pitcher and a straw and instead, focus your opening keynote on company performance and objectives.
Shift to Key Objectives
In order to look ahead, there needs to be reflection on the past. There needs to be some time dedicated to the company's performance in the previous fiscal year. But that shouldn't be the sole focus of the gathering.
Highlights of won opportunities from the year, especially those that drastically impacted the bottom line, or that was a hard-fought win, or a surprising loss, can be of value to upper management and the sales force. However, those attending from other departments may not see the value of to them in their roles by analyzing each and every sale.
Save the deep-dives into the previous year's opportunities for the sales team break-out sessions and make the details available to anyone who wants to review them in a centralized document. Instead, focusing on the goals and key objectives of the upcoming year will benefit all in attendance.
Schedule Knowledge-Sharing Opportunities
Workshopping new concepts to the broader team is a great way to get buy-in from those that are going to be executing on the grand plans that have been developed. Use the time when everyone is gathered together to find out what works and what doesn't before going to market, but ensure that the groups are a manageable size to allow for equal opportunities for input.
Start Knowing Others
Provide chances for your own employees to network with each other. In many cases, not everyone in attendance will have gotten the chance to be in the same room with their colleagues or the opportunity to collaborate with them. Let everyone sit where they want and develop conversations around the table and ideas will just start to flow and bonds can be made that may otherwise have never been discovered.
Don't force the networking by arranging a seating chart as that can just take some people completely out of their comfort zone if they are surrounded by virtual strangers. It should happen organically and if there is at least one familiar face at the table it could really change an otherwise quiet person's demeanour and allow them to really open up to others.
Encouraging upper management to spread out amongst the tables would help to ensure that there is an open, transparent dialogue throughout the event. This way you can avoid the 'management monologue' which is often management speaking AT attendees rather than WITH them.
Solidifying a Kick-Ass Organization
You can't have a great company without great people, and great people stay at your organization because it's a great place to work. Keep your company culture front and center. If your culture is similar to the one at Coveo and you live by the mantra "Work Hard. Play Hard.", make sure your kick-off is a reward for the hard work everyone displayed last fiscal year by letting them play hard together, like by organizing a night out in a winter playground.
They will walk away from your event with memories of bonding with their coworkers in a well-disguised team building exercise that will reinforce your company culture.
Your Sales Kick-Off is a great way to get your entire organization aligned towards the same goals for the new year. Using the time wisely and efficiently will not only get your sales team and supporting players excited about what is to come, but it can also be a way to get all employees to hit the ground running with the momentum you need to start the year.
Header image courtesy of Scott Bideau.